GANSU, Northwest China — Parked on an unused track outside a grain depot overlooking the barren hills, a rainbow-colored train is bringing a medical miracle to China's impoverished countryside: Inside the train, doctors restore the eyesight of those who can't afford treatment.
Like a farmer eagerly anticipating the first rain of the season, Dingxi City resident Gou Shuyu had anxiously awaited the arrival of the Lifeline Express, an ophthalmic hospital on wheels that journeys through rural China providing free surgery.
The train's staff described their experience treating patients in places like Gansu as an opportunity to "get in touch with the real grassroots." Most of the volunteer medics come from wealthy urban areas along China's coasts, where access to quality health care is the norm. In rural China, however, the high costs associated with hospital visits — often compounded by general distrust of medical facilities, as well as the long journey many must undertake to reach the nearest one — often keep people from seeking treatment.
Gou, now 62, was visually impaired for more than 10 years. As her cataracts worsened, she became unable to help with household chores or watch her grandchildren's faces change as they grew. Her relatives finally stepped in last year, urging her to get treated.
Volunteer doctors perform thousands of free cataract surgeries every year in rural China aboard the Lifeline Express. By Tang Xiaolan/Sixth Tone
"They told me that eyesight is important and helped me pay for the surgery," Gou said. "But it was only enough for one eye," she added, explaining that even with health insurance, she still paid 1,500 yuan ($225) for a single surgery — an astronomical expense for many in rural China. When a neighbor told her about the train offering surgeries for free, she didn't hesitate to sign up.
A month later, on a bright July morning, Gou waited outside the train's operating room wearing a blue gown and a patch over her untreated eye. Sitting in the air-conditioned compartment, she and six other patients were unfazed by the hot sunlight piercing through the glass window. One by one, they each took their place in the brightly lit chamber, where a team of medics first made a small incision in the eyeball, before peeling off the cobweb-like cataract and inserting an artificial lens to restore vision. The entire procedure took less than 15 minutes per patient.
The seven doctors, nurses, and other staff performing surgery at the train's stop in Longxi, a county under the administration of Dingxi, make up just one of the many medical teams who volunteer for the program, started by a nonprofit in Hong Kong 20 years ago. Today, the Lifeline Express — inspired by a similar initiative in India — is part of a national health care project managed by several government departments that provide logistical support, with the nonprofit raising funds to cover the surgery and operational costs. To date, the train has treated more than 181,000 cataract patients in 110 places across China.
This year, between April and December, the Lifeline Express will travel to 10 provinces. At every station, between 1,000 and 1,500 people will be granted the ability to see again.
Cataracts are a treatable condition that develops gradually as proteins in the eye form clumps, creating a cloudy spot on the lens. The World Health Organization estimates that a total of 2.5 million Chinese suffer from cataracts, with around 400,000 losing their sight entirely every year. Given China's rapidly aging population, this figure is only set to grow. In the U.S., half of Americans have cataracts by age 75.
In rural China, cataract conditions are exacerbated by the fact that many people wait too long to seek medical attention. "People often come in for treatment only at a very late stage, so the surgeries are more complicated than in [urban areas]," said Wang Kai, a cataract specialist at Peking University People's Hospital and three-time resident surgeon on the Lifeline Express. Wang spoke to Sixth Tone after performing seven surgeries that morning, all of the cases more challenging and advanced than those he typically treats in Beijing.
Located three hours from provincial capital Lanzhou, Dingxi is an up-and-coming but still poverty-stricken city with wide streets and numerous high-rises under construction. In a city that still relies heavily on farming and has one of the lowest incomes in the country — Dingxi's per capita gross domestic product is 11,867 yuan, far less than the provincial per capita GDP of 27,508 yuan — cataract surgery costing between 4,000 and 5,000 yuan per eye at public hospitals is prohibitively expensive. Since Gansu launched medical reforms in 2015, up to 70 percent of the total bill for such surgeries is covered by insurance, but patients are still left with fees they can't pay. "The main problem is that we don't have money to spare for surgery," Gou said.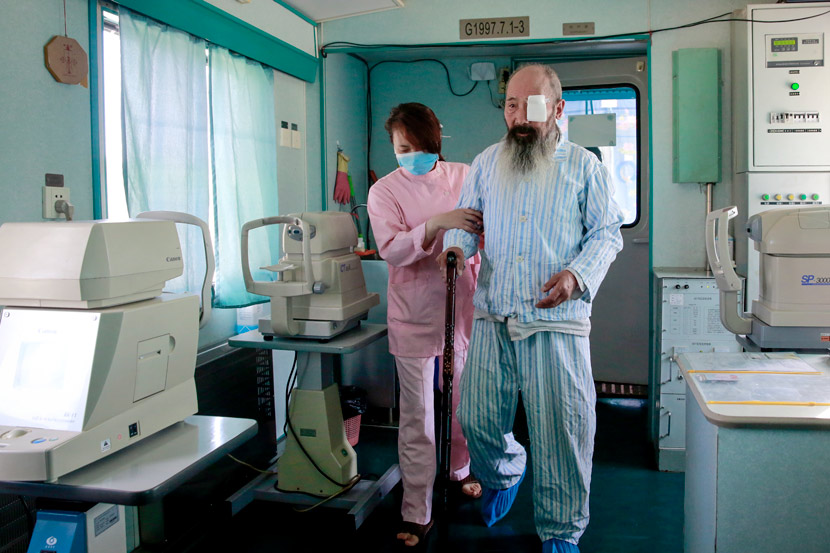 Tian Xijun, a 78-year-old cataract patient who was visually impaired for more than a year, walks with the help of a medical staff member on the Lifeline Express in Longxi County, Gansu province, July 25, 2017. Bibek Bhandari/Sixth Tone
Many rural patients have never even visited a medical facility for their cataracts. When Tian Xijun felt like his "vision was clouded with smoke," the 78-year-old with a salt-and-pepper beard brushed it off as an "age-related problem." He didn't bother to see a doctor.
For patients like Tian, the Lifeline Express is their last hope of ever being able to see again — taking them on a literal journey from darkness to light.
Though each surgery lasts just minutes, preparations begin months before the train arrives at a stop along the track. Patients in Dingxi are screened at the Longxi County No. 1 People's Hospital and later recover there. Liu Binfeng, the hospital's chief ophthalmologist, said there's always an uptick in cataract patients when the train arrives.
Though the hospital can perform simple cataract surgeries, the 900-bed facility lacks advanced equipment with fast sterilization cycles, as well as machines used for quicker microscopic surgeries. In 2015, the hospital only performed 130 cataract operations during a six-month period and had to invite experts from outside Gansu to help, while doctors on the Lifeline Express completed 600 surgeries in just three months.
The dearth of specialized doctors is another problem in rural areas. Although recent government data suggests that China has some 36,000 ophthalmologists, the WHO puts that number closer to 22,000, with half of them specializing in cataract surgery. Countryside hospitals like those in Longxi suffer from an acute shortage of staff, said Liu, as most medical school graduates choose jobs in wealthier coastal areas.
"We are unable to recruit more graduates [in ophthalmology] because of the low salaries and benefits," Liu said. "I end up devoting a lot of my personal time — if these people don't undergo surgery, they'll eventually go completely blind."
In addition to a general shortage of ophthalmologists, Wang believes many hospitals lack skilled doctors who can perform phacoemulsification, a cataract surgery technique seen as standard in more developed areas. One of the Lifeline Express' objectives is to train local doctors to perform these surgeries, Wang said, as the procedure is simpler and the risks lower.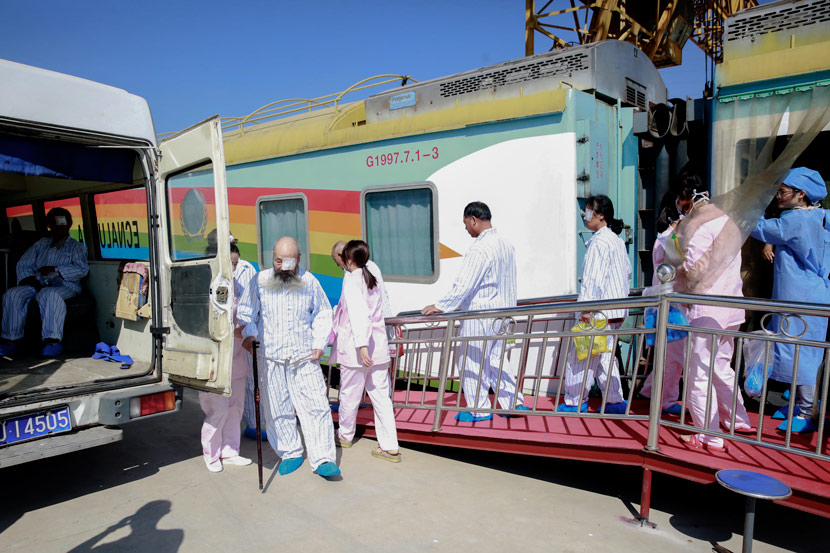 Patients leave the Lifeline Express after undergoing cataract surgery in Longxi County, Gansu province, July 25, 2017. Bibek Bhandari/Sixth Tone
The train is also part of a national push to increase the volume and coverage of cataract surgeries across China. Under the current Five-Year Plan, the government aims to better equip 90 percent of county-level hospitals so that they can perform cataract surgeries independently by 2020. Almost a month after Sixth Tone visited the Lifeline Express, the government announced plans to offer free cataract surgery to people in impoverished counties like Longxi.
The morning after Gou's surgery, a nurse at the Longxi No. 1 People's Hospital slowly removed her eye patch and asked her to stand in front of an illuminated eye chart to test her vision. Gou confidently read the letters aloud, before undergoing a second test to confirm that her vision falls within the normal range.
"Finally, I can sew clothes for my grandson," Gou said, holding her daughter's hand as she walked out into the daylight, able to see the world clearly for the first time in years.
Correction: A previous version of this article stated that Lifeline Express doctors completed 600 surgeries in six months. They completed 600 surgeries in three months.

Editor: Denise Hruby.
(Header image: A patient returns to the sleeping carriage after undergoing cataract surgery on the Lifeline Express in Longxi County, Gansu province, July 25, 2017. Bibek Bhandari/Sixth Tone)