A report released Friday by China's food and drug authority revealed an increase in the recorded abuses of several controlled substances last year — most notably methcathinone, known as the "zombie drug."
Year-on-year increases in the abuse of heroin, crystal meth, and ecstasy are also noted in the report, which looked at drug abuse across China in 2016.
Methcathinone use almost tripled between 2015 and 2016, though it accounted for less than 0.3 percent of all recorded drug abuse, the report said. Methcathinone abuse was also shown to be highly geographically concentrated, with 98 percent occurring in one province: Shanxi, in northern China. A review of methcathinone-related legal cases in Shanxi discovered that nine out of 10 came from one city, Changzhi.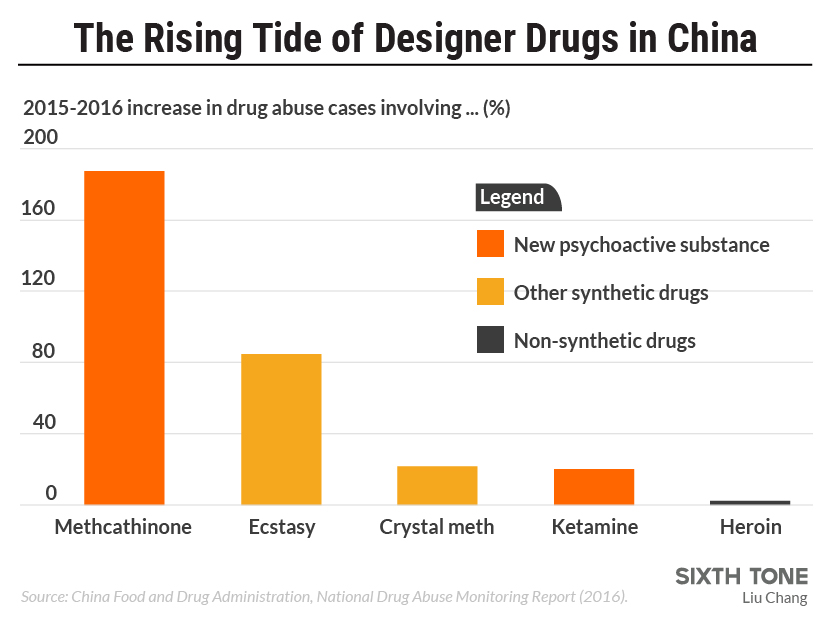 Methcathinone is a psychoactive stimulant with effects similar to those of methamphetamine. Wang Gang, director of the addiction treatment department at the Changzhi Voluntary Rehabilitation Hospital, told Sixth Tone that the drug can cause increased aggression in users. When people take high-purity methcathinone, Wang said, they can lose control over their movements and saliva secretion, earning it the nickname "zombie drug."
Though methcathinone was first produced in 1928, it is relatively new to China. The government first classified it as a drug in 2005, and some of its variants weren't recognized as drugs until 2014.
But Wang said methcathinone abuse has been common in Changzhi for quite a while. He suspects that the rise in recorded cases is due to increased police efforts to combat use of the drug. According to an article written by two Changzhi police officers, about one in 15 residents of one county administered by the city has used the "zombie drug."
Methcathinone use has given rise to its own subculture in Changzhi, Wang said, and the drug even has a nickname in the local dialect: jin'er, which translates as "something exciting." "People don't see it as illegal behavior but rather as a common habit," Wang said.
Changzhi native John Zhao told Sixth Tone that his family has struggled for years with his father's jin'er addiction. "He was a strict father, but he would never take it out on his family," Zhao recalled. "But in 2012, he became irritable and started to suspect that my mother was cheating on him — that's when I started to realize that something was wrong with him." Zhao was studying in a different city at the time, and during a visit home, he saw his father at a business event with a drug dealer.
Zhao talked to his father about quitting drugs several times. After their first discussion, his father abstained from methcathinone for several months. However, he relapsed when his business relations pressured him to take drugs again. His later attempts to quit failed, too.
What shocked Zhao most was how rampant methcathinone use was in Changzhi. He recalled that when he met up with hometown friends in 2012, only two out of eight people had never tried the drug. He also discovered that in rural areas near the city, methcathinone was readily available at small stores. "It was like the eve of the Opium Wars," Zhao said, referring to a time in Chinese history when drug abuse was widespread.
Despite the recent drug report's findings, Zhao believes there has been less methcathinone abuse in recent years due to greater awareness of the drug's dangers among both civilians and police. Several of Zhao's friends and relatives who previously used the drug have quit, he said. But not his father. "I would prefer if the police came and put my father in prison," Zhao said, "rather than seeing him on jin'er forever."
Editor: Kevin Schoenmakers.
(Header image: A barrel of methcathinone, a synthetic stimulant, is sealed by police in Changsha, Hunan province, June 16, 2013. VCG)