SHANGHAI — At the current pace of climate change, China's most populous city could be largely submerged within a century, and the country's artists don't want people to forget it.
Amid bleak predictions of the city's fate and questionable commitment from the government to tackling climate change, an artistic project in Shanghai aims to present the cruel reality that awaits the city should humans continue to plunder the earth's resources. Since its inception in late 2016 at the privately funded Shanghai Himalayas Museum, the Shanghai Project — a self-styled "ideas platform" — has brought together artists, writers, ecologists, entrepreneurs, and architects, all of whom are dubbed "researchers."
Joining the ranks of Chinese artists using their craft as a spark plug of social change, the researchers have been tasked with developing perspectives on humans' effect on the environment, focusing on Shanghai as an example of a highly developed coastal city acutely vulnerable to climate change.
Shanghai is a choice case study for such a project. Without drastic measures to combat climate change, global temperatures are predicted to rise 4 degrees Celsius by 2100, according to a 2015 report by climate science publication Climate Central. In this scenario, rising sea levels would displace 76 percent of Shanghai's population.
The project coincides with increasing scrutiny of China's stance on climate change. The country emits more carbon dioxide than any other, and with the U.S.'s recent withdrawal from the Paris Accord, some in the international environmental community have turned to China to lead the way. But current efforts to curb climate change through domestic emissions standards sidestep the issue rather than meet it head-on, given that much of the country's carbon footprint can be traced to investment in energy-intensive projects beyond its borders.
Sixth Tone spoke to the "researchers" behind three works on display at "Seeds of Time," an exhibition that opened to the public in April. Chinese-born American science fiction author and translator Ken Liu shared his vision of a city harnessing its innovative spirit to deal with its submersion; renowned oil painter and Beijinger Yu Hong invoked humans' indifference to the crisis surrounding them; and Taiwanese light installation artist Lin Shu-min focused on the health care challenges that Shanghai's uncertain future will herald.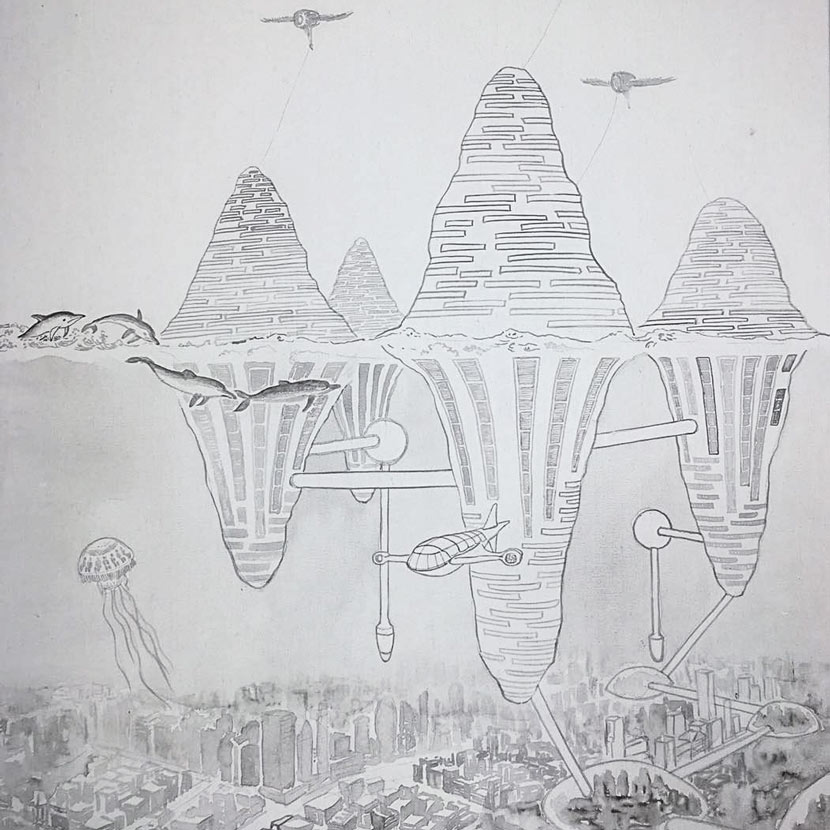 Detail from 'Route of the Future,' an illustration by Qiu Anxiong used in Ken Liu's 'Shanghai in 48 Hours,' 2017. Courtesy of the artist
Science fiction author Ken Liu penned "Shanghai in 48 Hours," a droll and disorienting four-page guidebook welcoming tourists to a mostly submerged and deeply changed city. Liu, perhaps best known for his English translation of the highly successful "The Three-Body Problem" by Chinese sci-fi author Liu Cixin, moved from China's northwestern Gansu province to the U.S. at the age of 11, and his work draws on concepts and traditions found in both English and Chinese science fiction.
Despite lying largely submerged in water — Liu conducted his own calculations based on the city's terrain elevation — the author's future Shanghai is still largely inhabited thanks to its residents' ingenuity. The city center is preserved in an underwater structure, while most residents live in iceberg-like megastructures — cities in themselves — that float above. Despite its predicament, the city has become a hub for the global virtual reality market.
If it weren't for the somber circumstances to have befallen Liu's future Shanghai, the city's current leaders might applaud the prediction. In recent years, the municipal government has championed a multisector campaign to brand Shanghai as the "city of innovation." "It's important to present human ingenuity as being useful," Liu said, speaking to Sixth Tone over the phone from his home office just outside of Boston. "Otherwise, you just end up being helpless against all of this."
But Liu's faith in a technological solution to climate change goes beyond the salvation of humankind. In his vision of Shanghai, once-endangered sea mammals glide between Pudong's skyscrapers. A genetically engineered coral reef flourishes in acidic oceans that devastated its organic predecessors.
"Technology and design of the past focused on isolating us from the effects of nature," Liu said. "But it doesn't have to be that way."
This concord between humankind and the natural world, Liu hopes, presents a lesson from classical Chinese philosophy that is at odds with the climate crisis facing the world today. "We don't do what we do in binary opposition to nature," Liu said. "We do what we do as part of nature. We're children of nature. We are part of its forces and part of its consequences."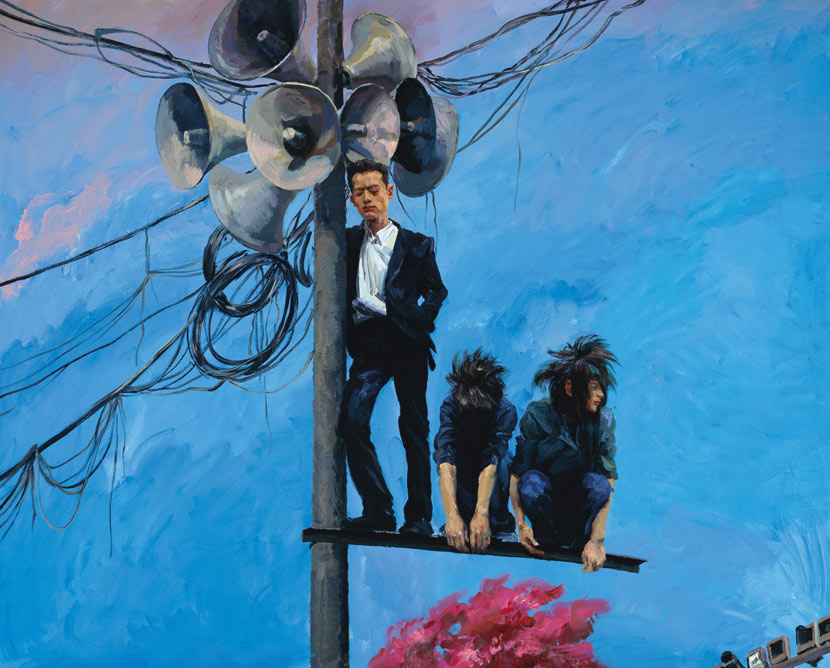 Detail from 'Ever Higher, Ever Further,' an acrylic painting on three panels by Yu Hong, 2015. Courtesy of the artist and Long March Space
Painting a bleaker image of humans' response to the climate crisis is Yu Hong, one of China's leading oil painters known for her exploration of the relationship between the individual and the country's rapidly changing society. In her towering 6-meter-tall acrylic painting, titled "Ever Higher, Ever Further," humans populate the length of a vertical pylon that houses wires, speakers, and surveillance cameras, as torrential waters swirl below. Yu contributed her painting to "Seeds of Time" after one of the curators saw it in her Beijing studio and was struck by its resonance with the project.
"The pylon on which our existence relies is trapped in the floodwater, along with our memories," Yu told Sixth Tone. "It's a reflection on the environment and the crisis surrounding our state of survival."
Yet in a commentary on humans' inaction in the face of destruction, the characters in Yu's work appear unfazed by the crisis below. In the lowest of the piece's three panels, a young person stands with their arms around the pole, surveying the torrents of water at their feet. In the middle panel, a smartly dressed urbanite leans against the pylon with his eyes closed, as two bored-looking youths reminiscent of China's widely derided rural-chic shamate style squat beside him. In the highest panel, a pair of feet protrude from an oversized bird's nest, their owner apparently oblivious to the outside world.
"Our economic overreaching has continued to impact the environment," said Yu, whose most intimate experience of humankind's impact on the environment has been Beijing's suffocating smog. "Everyone is always talking about development, about affluence. But bit by bit, we are losing the basic, precious, and essential things in our lives," she said.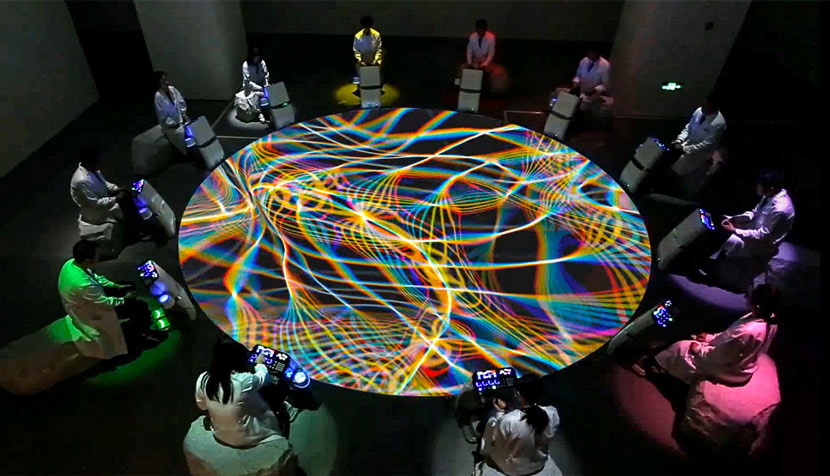 'Information Field,' an installation by Dai Zhikang and Lin Shu-min at the Shanghai Himalayas Museum, 2017. Courtesy of Lin Shu-min
For the exhibition, Taipei digital imaging artist Lin Shu-min — working with Shanghai-based entrepreneur Dai Zhikang — focused his predictions of the city's future on the trajectory of health care, placing faith in a resurgence of traditional Chinese medicine (TCM).
In the interactive artwork "Information Field," an imagined medical device uses images of the five traditional elements and electronic pulses to stimulate participants' qi, or vital force. Lin believes that Western medicine prioritizes profit over well-being, and as such will fail to provide adequate care for humans as environmental conditions aggravate health issues.
It's a controversial stance, given TCM's increasingly divisive position within public discourse. In June, a prominent chemist at the Chinese Academy of Sciences presented a lecture about qi and its theoretical links to quantum mechanics, eliciting widespread backlash labeling him a crackpot and characterizing qi as witchcraft.
But Lin believes that TCM has been unduly written off as "superficial," arguing that the Western model of medicine has its fair share of flaws. "Over the past 100 years, hospitals have been dominated by Western medicine," Lin told Sixth Tone. "It is focused on profit. It is very capitalist."
Lin doesn't believe that Western medicine alone is enough to deepen our knowledge of the body; he feels that a more proactive, preventative understanding will be necessary to preserve humankind in the face of worsening environmental conditions and increasing social pressures.
"If you go to your yearly checkup, it's an examination of what has gone wrong — it's a bit like passing a test," Lin told Sixth Tone. "We need to work ahead of time, to know our bodies and direct them in the right direction ourselves."
Additional reporting: Lin Qiqing; editor: Owen Churchill.
(Header image: An atrium view of the exihibition 'Seeds of Time' at the Shanghai Himalayas Museum, March 29, 2017. Courtesy of The Shanghai Project)