A Chinese-language imitation of innovative "news chat" mobile app from online news outlet Quartz has been released by China National Radio, the country's state-owned radio station.
The app, called "Xiawen," allows users to experience the news by interacting with a bot in a mock instant messaging session. A beta version was made available on mobile app stores on June 28 after four months of development.
The app from Quartz, an online-only spinoff of American magazine The Atlantic, caused a stir when it was released in February of last year, offering users an innovative and interactive way to take in the news. The app's chat bot sends summaries of articles curated based on positive or negative user responses, interspersed with humorous GIF images. After each summary, users can opt to read more or skip on to the next.
Opening Xiawen for the first time, users are presented with a similar-looking chat screen. "Welcome to Xiawen's news world," reads the opening message from the bot, which then offers a short explanation of how the app works.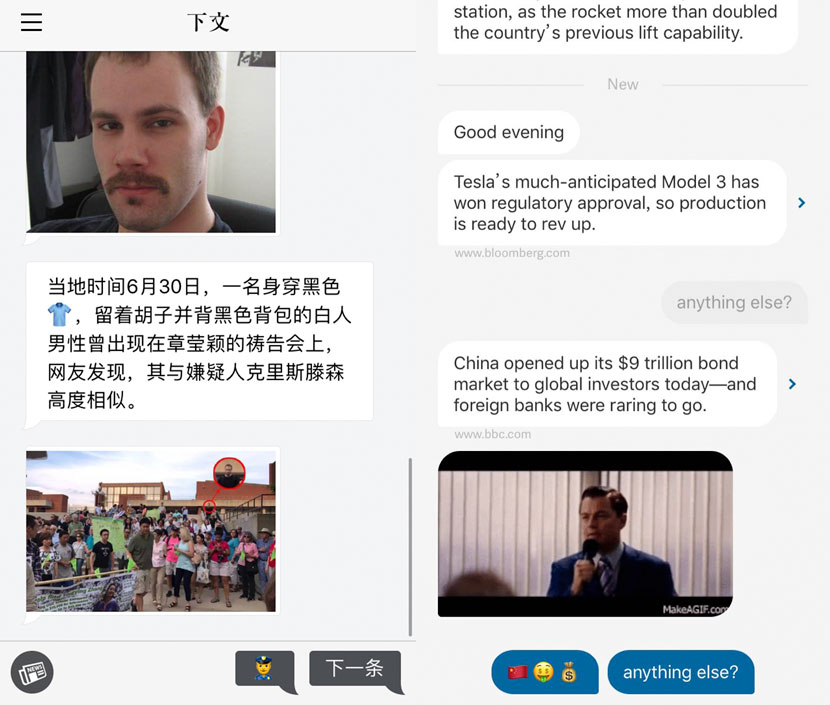 Side-by-side screenshots of two similar interactive news apps: Xiawen (left) and Quartz (right).
Xiawen builds on the Quartz formula by presenting news in a wider range of formats, including audio and video, which can be saved and shared more easily to social media, such as China's ubiquitous messaging app WeChat. A built-in web browser means users can read articles from their original sources without ever leaving the app.
China National Radio, based in Beijing, has added an additional level of interactivity by occasionally prompting users to answer multiple-choice questions. A news item about foreign investment in London's housing market, for example, invites users to guess whether the majority investors are from China (correct) or the Middle East (incorrect).
Some news features end with a "discussion" icon that can be pressed to open an in-app chat room devoted to the topic in question. Participation in discussions is only open to users who have read the original article from top to bottom, as detected by the app's internal browser.
"China's media industry has struggled to strike a balance between offering what readers are interested in and what readers ought to know," Zhuang Shengchun, a team leader at Xiawen, told Sixth Tone on Monday.
Zhuang credits Quartz as the pioneer behind the wave of "news chat" apps. Last year NetEase, a leading Chinese internet company, drew inspiration from the Quartz format to create an immersive chat news web application called "Echo of Radiation," which allowed users to explore the story of the Chernobyl nuclear disaster on the 40th anniversary of the tragedy.
Successful Western apps — especially mobile games — are often copied and localized for the Chinese market. In March 2016, Finnish game developer Supercell launched its now wildly profitable mobile game "Clash Royale." Within one week, a knockoff version had already been released in China. And in March 2014, NetEase and Blizzard, the developer behind StarCraft and World of Warcraft, sued a Shanghai company for $1.65 million after it produced a clone of the online card game "Hearthstone".
"My colleagues and the wider academic field are all discussing how so-called news should be defined," said Hong Bing, an associate professor at the School of Journalism at Shanghai's prestigious Fudan University. "News media are currently undergoing challenges and definitely need to adapt in some way. Apps such as this — and its U.S. equivalent — demonstrate how the presentation and format of news is undergoing radical change."
According to Hong, Xiawen stands out for its messenger client design, its varied media formats, and its chat room feature, all of which enable the app to appeal to a younger audience. "I'm still more used to traditional, text-based media," Hong muses. "I guess I belong more to the print media generation."
Correction: A previous version of this story said the Xiawen mobile app was produced by China Radio International. It was produced by China National Radio.
Contributions: Yin Yijun; editor: David Paulk.
(Header image: The Xiawen interactive news app is displayed on a smartphone, Shanghai, July 3, 2017. Tang Xiaolan/Sixth Tone)