This article is part of a series about poverty alleviation in rural China. Parts one, two, three, and four can be found here.
Recently, I traveled with a Southwestern University of Finance and Economics delegation to study poverty relief in the rugged mountains of southwestern China's Sichuan province. I had never visited Sichuan before, despite its significance as southern China's hotbed of poverty. Having already witnessed the deprived conditions in rural Gansu province in the country's northwest, I knew that traveling to Sichuan would help me better understand the government's well-publicized drive to eradicate absolute poverty by 2020. So I temporarily put aside my research at my school the Peking University and took to the road with the joint team..
Our first research stop was one of the villages in southern Sichuan's remote Mabian Yi Autonomous County. The road into the village in which we were based was little more than a dirt track, making the bumpy drive seem almost interminable. When we arrived at the village — the majority of whose residents were Yi — two Party secretaries, Jiang Bao and Ah Hu, came out and greeted us enthusiastically.
On the way to the village, we met a few middle-aged, casually dressed Yi men. The only incongruous aspect to the scene was the strange ceremonial tools they held as they walked, capered, and sang together. It turned out that they were bimo, or local Yi shamans: The bi means "to recite scriptures" in the local language, while the mo means "knowledgeable elders." After the Communist Party reunified China in 1949, the government regarded shamanic culture as superstitious and banned all related activities. However, the Yi continued to have shamans secretly perform traditional rites when villagers got married, held funerals, or fell ill.
Secretary Jiang, who belongs to the Yi ethnic minority, became a civil servant after graduating from vocational school and now oversees poverty alleviation for the village. Secretary Ah Hu left the village at a young age to work and later returned with some savings. The village's economic conditions were, frankly, terrible. There were also no hotels, so our entire group of researchers stayed in the basement of a small shop.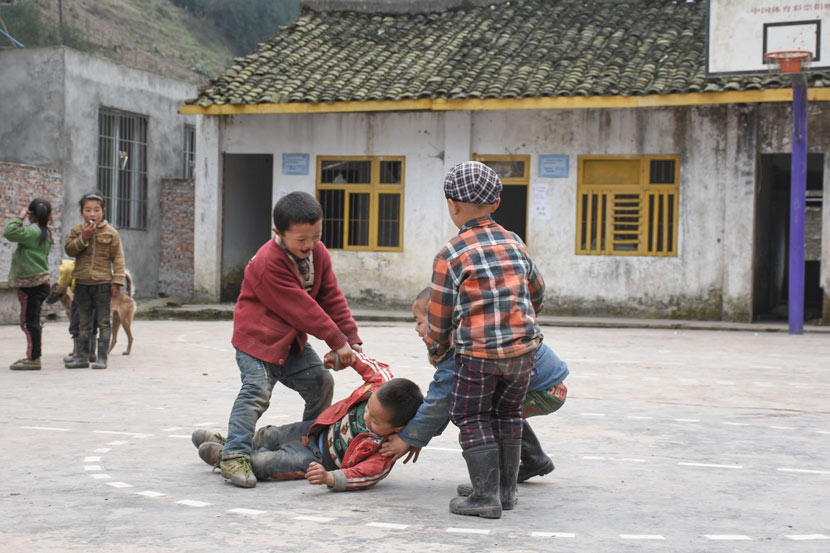 Students from the Yi ethnic group play with each other at a local primary school in Mabian Yi Autonomous County, Sichuan province, March 28, 2017. Courtesy of Xu Yang/Southwestern University of Finance and Economics
Confusion reigned supreme during our interviews at the village. As it turned out, older Yi villagers didn't understand Mandarin, and most Mandarin-speaking young people had left the village to look for work. Fortunately, we were able to make some progress, thanks to the village chief, the branch secretary, and a few young volunteers. The Yi people were especially helpful.
We ate lunch on the pingpong tables at the village elementary school right after class had finished. When the children caught a glimpse of all the researchers from beyond the mountains, they were curious but too timid to approach. They stood at a distance and watched us eat. A few female colleagues started handing out cookies and bread that we had brought from the city. Suddenly, all the students streamed toward us. Many of them lined up again and again to get more. A teacher probably scolded them for it, because later they went back to their classrooms and wouldn't take anything else we offered.
In the course of our research, we realized that the villagers were poorly educated. Most of those who had only completed primary school couldn't speak Mandarin. Education is the foundation of regional and personal development, but at the same time, it takes a long time to see the tangible results of investing in it. Without access to better education, it is likely that Yi children will be consigned to a lives of poverty, just like previous generations.
It was 7 or 8 p.m. by the time we sat down for dinner. The restaurant itself was simple, but it was clear that the place didn't get many customers. The people we interviewed confirmed that the villagers were largely self-sufficient. They ate the food they planted, rarely had cash to spend, and shopped infrequently. After dinner, everyone squeezed into the 10-square-meter village government office, the only place in town with an internet connection.
Our work on the second day began against an idyllic backdrop. We drove down to the riverbank, where a wooden bridge connected the shore with the bamboo forest opposite. In the distance were lush, green hills shrouded in clouds and mist. As we went up the winding mountain path, we saw women herding goats ahead of us, carrying their children on their backs. Other children stood idly in the fields, watching their parents work.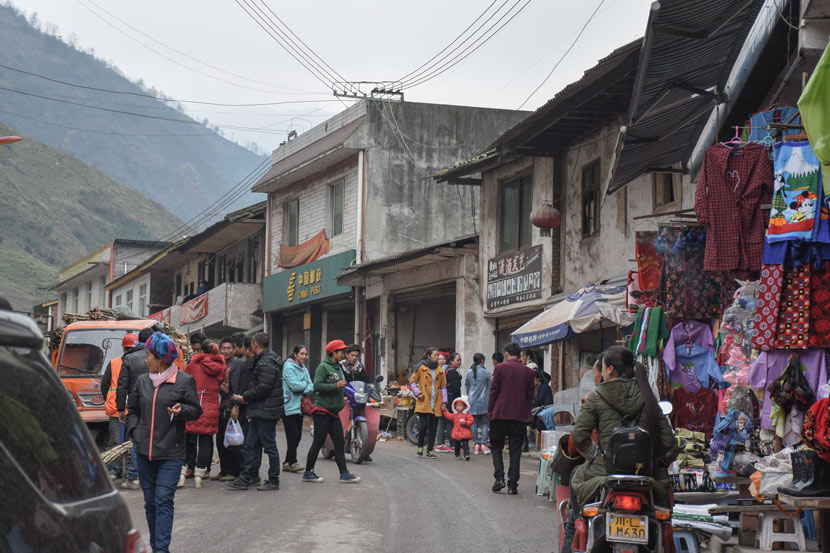 A view of a town center in Mabian Yi Autonomous County, Sichuan province, March 28, 2017. Courtesy of Xu Yang/Southwestern University of Finance and Economics
Secretary Ah Hu sat with me during dinner and discussed the difficulties of his job, which mostly concerned improving the village's living conditions. He spoke about the customs of his Yi family, describing how his relatives sent him a herd of cattle after his mother passed away more than 10 years before.
According to local tradition, every single animal should have been killed, but Ah Hu pleaded with his father to sell the cattle instead. However, his father resolutely disagreed and said that if Ah Hu dared to do that, then he would disown him. Later, though, the rest of the family convinced Ah Hu's father to change his mind, and Ah Hu ended up selling the cattle and made sure the money went toward looking after his elderly relatives.
It's a Yi custom to buy lavish wedding and funeral gifts. A local saying goes: "Treat guests better than your neighbor, even if you don't have a spare pair of pants to wear." Recently, Ah Hu had brought the villagers together and persuaded them not to kill more than 10 cows for a funeral or 15 pigs for a wedding. As for the future direction of his poverty alleviation work, Ah Hu said that relief payments were not a viable long-term plan. Instead, they had to start thinking about poverty alleviation for the future, motivating local people to seek out ways to emancipate themselves from poverty while cooperating with government efforts.
Before I headed back to the city, secretaries Jiang and Ah Hu shook my hand and said that we would meet again. The craggy, muddy mountain road reinforced the vast distance, both geographically and psychologically, between this village and the outside world. I clung to this sense of isolation, and told myself I would not soon forget it, or the people I'd met who experienced it every day, once I got back home.
Translator: Katherine Tse; editors: Lu Hongyong and Matthew Walsh.
Correction: The author's visit to Sichuan took place recently this year, not in 2016.
(Header image: Students from the Yi ethnic group look out of their classroom window in Mabian Yi Autonomous County, Sichuan province, March 28, 2017. Courtesy of Xu Yang/Southwestern University of Finance and Economics)