ZHEJIANG, East China — When Zhang Peng emerges from his small shelter, the sun has not risen over the East China Sea. Yet the island he inhabits is already filled with the excited chirping of birds. Groping in the dark, Zhang dives into the brushwood, a Canon camera and a long lens in hand.
It is Zhang's second day on Tiedun Dao, an islet the size of three football fields east of the city of Ningbo that will be his home for the next three months. Together with an ecology master's student, Zhang is going to live an austere life in a shack with no water for showers and instant noodles and plain white rice as his main sources of food — hardships he's embraced in order to observe and record the breeding habits of the endangered Chinese crested tern.
"It's a dream come true," the tall, muscular 38-year-old tells Sixth Tone. In the past five years, Zhang has spotted and recorded a total of 220 bird species, but waiting around for one that is almost never seen has Zhang so excited that he's barely slept in the past two days.
Professional bird observer Zhang Peng begins his three-month stay on Tiedun Dao, where he will document the mating habits of the Chinese crested tern, one of the world's rarest birds. By Tang Xiaolan/Sixth Tone
Every summer, the white-bodied, black-crowned waterbirds make their long journey from their wintering grounds in Southeast Asia to eastern China to breed. The species' total population is estimated to be fewer than 100 worldwide, a number so small that scientists say conservation efforts in the birds' limited breeding grounds, including islands around Taiwan and coastal areas and archipelagos of mainland China, are urgently needed to make sure the bird doesn't go extinct.
"If I can do this, I will have no regrets in life," says Zhang, who used to work at the Chinese embassy in South Korea, where he began shooting photos of wild birds in his spare time. "Almost every weekend, I would go out and find birds, even when it was raining," he says. Zhang started keeping records on his iPad of the birds he saw, categorizing them and taking notes of when and where he spotted them.
A few months after he returned home, Zhang came across a hiring notice: the Zhejiang Museum of Natural History was looking for a bird observer. In an instant, he decided to apply.
"When I saw the long letter he had written, it touched me," says Chen Shuihua, the museum's deputy curator. Chen, who also oversees the museum's Chinese crested tern project, goes on to describe how Zhang seemed genuine and passionate enough to spend three months in near-isolation on the island. Zhang's skill for detailed record-keeping also gave him a leg up on the 300 other birdwatchers who applied for the position.
The museum's job pays 200 yuan (about $29) a day — much less than Zhang's previous job at the embassy — and it also means he will miss the chance to celebrate his 10th wedding anniversary. But Zhang never went into this field for the money; instead, his love of birds prompted him to make the decision.
Like many birdwatchers in China, Zhang cultivated an interest in nature and birds at a very young age. He still remembers how he was given a black-tailed hawfinch when he was a child, and how the little bird died because he didn't know what to feed it. "I didn't understand [how to coexist with birds] at the time," he recalled. "Later, I realized that recording them [in the wild] is a better way."
China's birdwatching society has experienced rapid growth in recent years, rising from 600 registered members in 2000 to 20,000 in 2010, according to a World Wide Fund for Nature report. Fu Yongqin, a project manager at the Hong Kong Bird Watching Society, told Sixth Tone that there are now more than 40 birdwatching societies on mainland China, many of them kickstarted by the Hong Kong group.
Yao Li, secretary-general of the Shanghai Wild Bird Society, tells Sixth Tone that members are also becoming increasingly skilled, and that veteran birdwatchers in China can often identify over 800 kinds of birds.
Some birdwatchers are so passionate about their avocation that they dedicate all their spare time to studying birds, says Chen, who also founded the Zhejiang Wild Bird Society. "Many hobby birdwatchers now recognize more birds than I do," he says.
A Chinese crested tern with a fish in its mouth flies near Tiedun Dao, Zhejiang province, May 18, 2017. Zhang Peng for Sixth Tone
Although birdwatching is becoming increasingly popular and professionalized in China, Terry Townshend, a British birdwatcher based in Beijing, says there's still plenty of room to grow. Shanghai has around 160 active birdwatchers; in Beijing, there are about 400, or roughly one for every 50,000 residents. "It is still small compared to the U.K.," where one in every 50 residents is a registered birdwatcher, he says. "But [China] has potential."
Online forums such as birdnet.cn and the China Bird Watching Network have given birdwatchers a chance to connect and compete, which in turn fosters their eagerness to learn more about the hobby and become more involved in local birdwatching groups.
To prepare for his stay on the island, Zhang read up on the Chinese crested tern in several languages. He learned that the bird had not been seen for 60 years and was even considered extinct before it was spotted in Taiwan in 2000. Four years later, the ecologist, Chen, and his team discovered around 20 Chinese crested terns on the archipelago near Ningbo. They launched a project that would facilitate breeding and give conservationists a chance to properly document the birds, tracking their populations and breeding patterns.
On his first day on the island, Zhang moved rocks, cut grass, and spread sand to create the perfect conditions for the birds to come and lay eggs. With his bare hands, he even caught a snake — a natural predator that poses a threat to the eggs. Then, Zhang set up dummy birds that researchers hoped would draw the real ones to the island.
About 500 kilometers south of Zhang's little islet, a team of avid birdwatchers in eastern China's Fujian province have been observing the terns when they roost every spring before continuing their journey north. These enthusiasts record the birds' dates of arrival and their numbers — data that is vital to addressing the species' conservation needs.
"Birdwatchers in China are starting to do more professional work, such as monitoring the birds," says Chen. "They are participating in scientific research and helping [bird conservation] develop. That's what we call civil science." Unlike other research, bird monitoring requires more manpower but often yields scant data that can be put toward scientific purposes.
"Statistics from civilian projects may still be inconsistent," says Chen, "but over time they will become more standardized." Chen hopes that in the future, data collected by birdwatchers will reveal previously unknown information about China's native species.
In the weeks since Zhang first arrived on the islet, the usually clean-shaven man has grown a beard reminiscent of Robinson Crusoe's. To kill time while he's waiting for the elusive terns to arrive, Zhang made a barbell from a couple of rocks and a steel pipe, and he works out to stay in shape.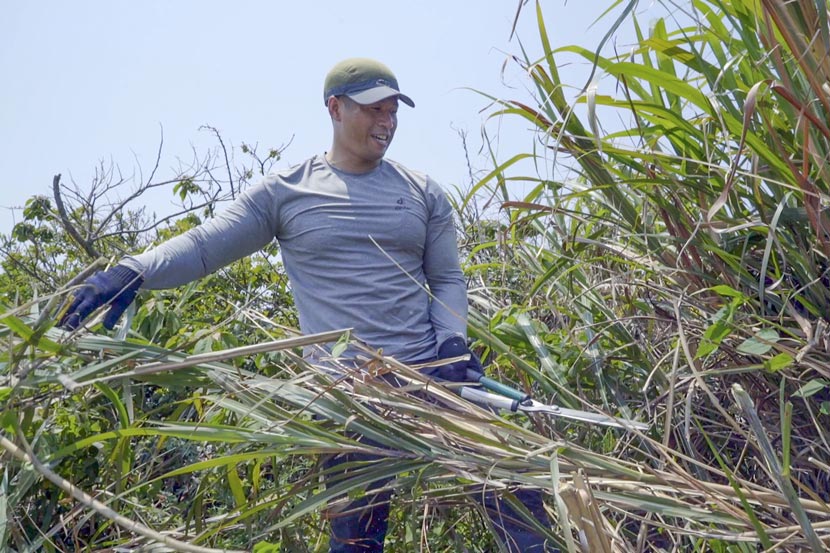 Zhang Peng cuts tall grass to make a breeding ground for the Chinese crested tern on Tiedun Dao, Zhejiang province, April 23, 2017. Tang Xiaolan/Sixth Tone
Every morning and afternoon, Zhang dutifully climbs up to his observation hut, which sits on stilts. He records the weather, wind, visibility, and water current, and keeps an eagle eye out for terns. "I have to fulfill my duty first," he says, "which is to keep everything on track and record what happens every day."
Finally, in early May, the first Chinese crested terns arrived. Zhang was brushing his teeth when he saw two of them zip past the island. "I was really excited — I immediately grabbed my camera to take a photo," he says. So far, however, the terns haven't settled down to breed; instead, they seem content to keep gliding on the thermals above the archipelago. If they choose another islet, Zhang won't be able to document them, but he hopes the dummy birds will make the real birds' decision an easier one.
Regardless of whether the birds lay their eggs on Tiedun Dao or on another nearby islet, Zhang says he's pleased to be given a chance to contribute to the field of birdwatching. "I am honored to be working on behalf of the Chinese crested tern," he says. In Zhang's view, his job to protect the birds has only just begun.
Editor: Denise Hruby.
(Header image: Zhang Peng sits by the shore on Tiedun Dao, Zhejiang province, April 23, 2017. Tang Xiaolan/Sixth Tone)