A rock climber in southern China's Yangshuo County needs three main things: gear, a ride, and the latest intel on the locals. These climbers scale some of the best rock faces in East Asia, rappel down, and dodge fees levied by locals looking to cash in on a tourism industry that has long failed them.
Straddling the banks of the Li River in the Guangxi Zhuang Autonomous Region, Yangshuo was once a sleepy fishing village. Initially developed for modern climbing by foreigners, it has become China's rock climbing hub with more than 900 climbing routes. But, like many of China's rural communities kick-started into development, its transformation has come at a cost, angering locals who feel their land is serving people with little interest in the good of the area.
Seeking to ease tensions and cement the county's climbing credentials in a way that serves the local community is Zhang Yong. The 42-year-old, who hails from the other end of China in the northeastern province of Liaoning, is an elite climber, coach, guide, and — more recently — a political advocate for the sport.
Zhang has been living in Yangshuo for over a decade, having moved there after a climbing trip in 2004. "It reminded me of my childhood in the countryside," he tells Sixth Tone. "As an adult, it's hard to have the fun I enjoyed as a kid."
When he isn't in Yangshuo, Zhang is likely to be found with a handful of other elite Chinese climbers traveling to the far corners of the country to lay — or "bolt," as climbers call it — new routes for potential climbers far from centers like Yangshuo. Over the past five years, climbers organized by Chinese outdoor gear company Kailas have bolted 717 routes; the remote climbs may not be used frequently, but bolting — if done well — brings one kudos and authority within the climbing community.
Zhang has already begun to harness this authority to ensure that the climbing in Yangshuo remains top-notch. In 2015, he started a chat group on China's premier messaging app, WeChat, to which he invites Yangshuo climbers to discuss techniques and evaluate new routes, provided they can prove themselves by surmounting a particularly difficult grade of climb. To date, the group comprises a core set of 30 climbers, a mixture of Chinese and foreigners.
But in Yangshuo, there are tensions that go deeper than simple concerns about the quality of routes and the caliber of the climbers who scale them.
The rural area inland from China's wealthy, developed eastern coast has long struggled with debilitating poverty. With a new generation of climbers, mostly middle-class professionals whose first ascent was at an urban indoor climbing center, the sport's rise in China has fallen right into that tension.
Domestic tourists had already begun to flood Yangshuo after the 1960 film "Liu San Jie" depicted the beauty of the county's azure waters and limestone pillars. Profiteering opportunists soon followed, renting out villagers' land and homes.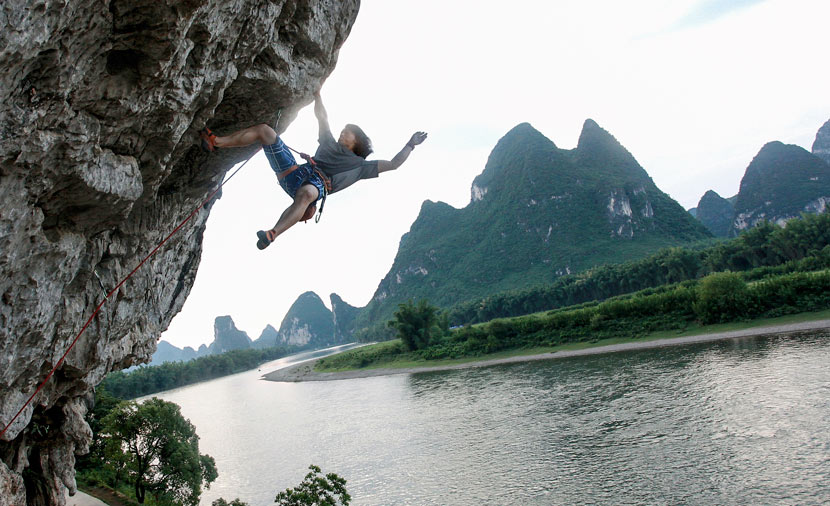 A climber scales a rock face in Yangshuo County, Guangxi Zhuang Autonomous Region, May 19, 2012. Liu Jiaoqing/VCG
But it was the outsiders, not the locals, who saw the lion's share of the profits from tourism, says Andrew Hedesh, an experienced American climber who has lived in Yangshuo for the past decade. Locals watched money flow in and then back out, with little staying in town. When modern climbing arrived in the '90s, it found itself caught between a rock and a hard place, with the primarily foreign climbers a visible manifestation of the long-embittering specter of tourism.
Reports of clashes between climbers and villagers abound. According to Zhang, locals have held rock faces hostage, charging 20 to 50 yuan ($3 to $7) for access; removed climbing gear and confiscated bicycles; and even threatened to cut climbing ropes — all incidents that Zhang documented in a 2011 blog post.
Though he may disagree with their methods, Zhang thinks it's reasonable for the locals to demand money. "Some climbers from outside are unfamiliar with the rules here," he says, citing issues that have arisen from visitors' use of a local school playground as a parking lot. "We know to park some distance away during weekdays; they don't know, and they drive into the playground laughing, joking around, and littering when the students are still having class."
One local woman was so outraged by climbers cutting through her property that she poured manure on them. According to Hedesh, she's been known among climbers ever since as "Poop Lady."
Tensions reached new heights last year when a group of climbers spending an afternoon at White Mountain — which some consider the best rock face for climbing in China — were approached by a knife-wielding local who demanded they each pay a fee of 20 yuan. A scuffle ensued. Eventually, the climbers snatched the knife, tied the local man up with a rope, and called the police. The man, identified in local news reports by the surname Li, was sentenced to 14 months in prison.
The government stepped in, and the rock wall where the feud occurred was split. The rights to half of the wall went to one village, and the other half went to another. In addition, the agreement designated the area around the rock face as agricultural land, protecting the rock from being developed by local construction projects. That stipulation became significant last year when controlled blasting during the construction of a highway destroyed six climbing lines and severely damaged two. Following expressions of concern among the climbing community nationwide, construction was eventually halted, with the official reason being that the land was an agricultural zone.
Whether the agreement will assuage tensions for good is still up in the air, but Hedesh believes there are signs of a growing community that — while revolving around climbing — has a long-term commitment to integration with the local culture. Previously, he says, the combination of foreign visitors and gym-trained climbers who only stayed a short while meant that the climbing community had no way to develop sustainably. But as more climbers have stayed in Yangshuo, infrastructure in the area has risen to meet the newcomers' needs, and the visiting population has snowballed as a result. There are now more opportunities to work as coaches, instructors, guides, and videographers, while the rising number of gear shops, hostels, restaurants, and bars means more work for locals.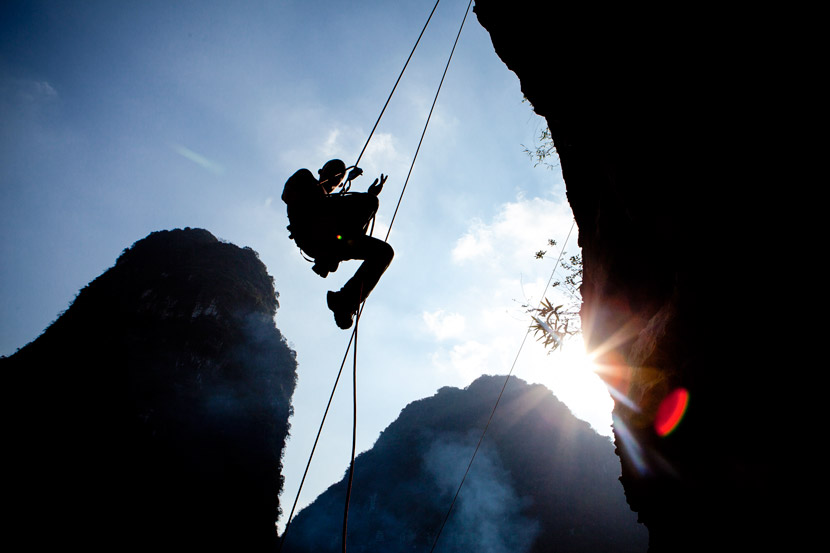 A rock climber in Yangshuo County, Guangxi Zhuang Autonomous Region, Nov. 11, 2011. Liu Xianbiao/IC
Hedesh also points out that there is an increasing number of routes in Yangshuo bolted by Chinese climbers — around a third of the more than 900 routes in the area, he estimates. Just two years ago, that proportion was far more skewed toward foreign climbers, he says.
Meanwhile, Zhang believes that the responsible development of the climbing community in Yangshuo — and elsewhere — requires support from the government. Last year, he was elected to the local committee of the People's Political Consultative Conference, a Party-run administrative body that guides local government. Zhang's objective was to launch a rock climbing development initiative, with economic promise for locals on the horizon. "There was a supportive attitude, but nothing was ever put into action," Zhang says of the committee's response.
The cohort of elite climbers who have made a home and a vocation out of rock climbing in Yangshuo are bombastically competitive in climbing and in business. Having grown into a loose alliance, those climbers are now seeking to register as a public association, a crucial step for any sporting body in China that wishes to attain official recognition. Initially, the local ministry required a quota of Yangshuo locals in the organization — which the climbers couldn't meet — but in March, the policy changed, and the stakeholders submitted a new application. Confident that it will go through this time, they have already held preliminary elections for group leadership.
It remains to be seen whether the rock climbers will continue to gain support for their interests through official channels. By the time the Yangshuo Rock Climbing Association learns of its fate, Zhang will be bolting new routes in Puzhehei, in southwestern China's Yunnan province, on the first of two bolting trips he's scheduled to take this summer — a welcome distraction from the politics of Yangshuo.
"At our age, there is so much on our plates — work, life, kids — that we only have this one month to focus on helping out our friends, our fellow climbers," he says. "For us, these yearly bolting trips are a holiday."
Additional reporting: Yin Yijun; editor: Owen Churchill.
(Header image: A climber rappels down Moon Hill in Yangshuo County, Guangxi Zhuang Autonomous Region, Aug. 18, 2011. Liu Jiaoqing/VCG)