Three days after Zhou Xingbo, 29, threw his homemade bomb — a beer bottle filled with firecracker powder — across the check-in area of Shanghai Pudong International Airport, senior staff were hauled in and reprimanded.
But their bosses from the Civil Aviation Administration of China (CAAC) hadn't come to the country's second busiest air travel hub to interrogate staff about the last desperate actions of a reportedly indebted gambler who attempted to take his own life after the explosion that injured four other people.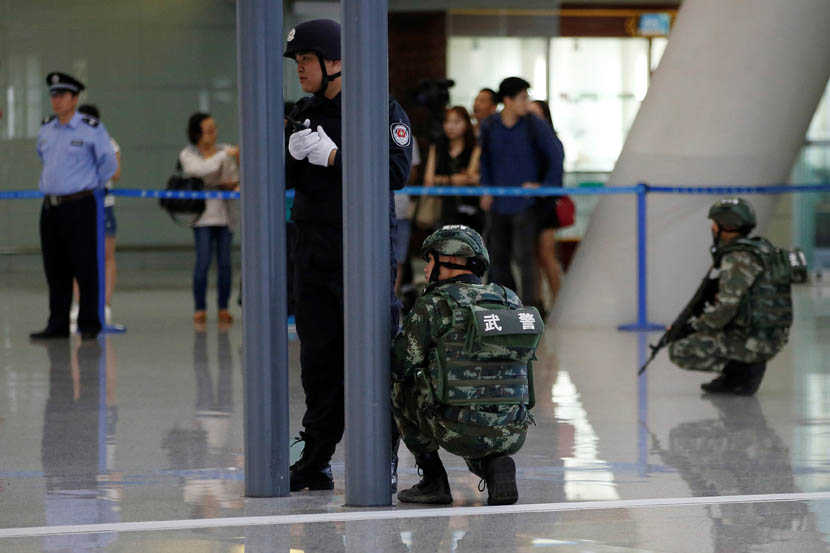 Paramilitary police officers position themselves behind pillars as a bomb disposal team checks suspicious luggage near the explosion site at Shanghai Pudong International Airport, June 12, 2016. Aly Song/Reuters
Rather, what had initially upset them was a previous incident from May 26, when a 16-year-old boy climbed a tree, jumped over a security fence, and slipped into the cargo hold of an Emirates airliner bound for Dubai.
Two major breaches of safety at Pudong airport in May and June this year have put China's air travel security systems firmly into the spotlight.
Shanghai's busiest airport paid a price for its lax approach to security. Each summer, China's airports apply to the CAAC to operate additional flights to meet the holiday rush, but Pudong has been barred from this process.
"We're very lucky," said Huang Quan, associate professor at the law school of the Civil Aviation University of China. "That boy could have been a terrorist."
Of the three lines of defense that make up Pudong airport's perimeter security, neither the towering fences, nor the surveillance cameras, nor the security forces patrolling the periphery managed to stop or even notice the intruder.
This is a particularly alarming fact given that China in September is hosting the G-20 leaders' summit, for which world leaders will travel to neighboring Hangzhou, capital of coastal Zhejiang province.
Since early 2016, the CAAC has publically declared its intent to tighten safety nets ahead of the summit.
"We are steadfast in our determination to do all the jobs assigned by the party and the people, and we will uphold the highest standards, the toughest attitudes and the most thorough measures," wrote Gu Qiming, a top security official with the CAAC on WeChat in the wake of the Pudong explosion.
He declined Sixth Tone's request for an interview due the sensitivity of the subject.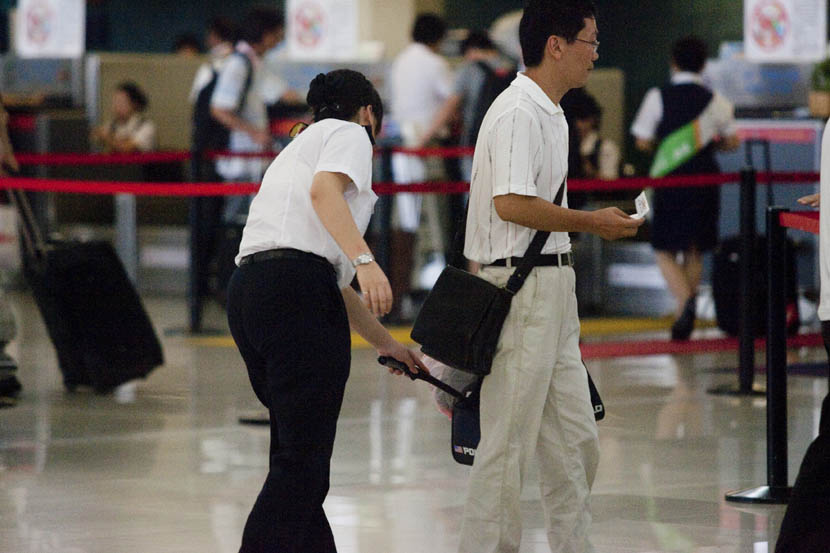 A security officer checks a passenger's bag using a metal-detecting wand at Shanghai Hongqiao International Airport, Sept. 3, 2009. Zhang Dong/VCG
However, a source close to Gu Qiming said he was publicly disciplined by his superiors when a passenger who boarded a Shenzhen Airlines flight from a small airport in Zhejiang province later attempted to bring the aircraft down by setting fire to the cabin.
Fifty-year-old Zhai Jinshun from Zhejiang boarded the plane carrying a lighter, a knife, and a bottle of kerosene, but cabin crew and passengers managed to prevent him from inflicting great harm to other passengers.
In the aftermath of the incident, the CAAC went on a firing spree: Several airport officials lost their jobs, as did the security guards who were on duty at time, and all airport operations were completely shut down for one month.
In the past decade, the CAAC has changed tack in maintaining airport safety. Formerly a uniform, government-run apparatus, it has since been transformed into a coalition of police, industry watchdogs, and private security firms performing day-to-day safety duties.
Airport security has been outsourced to private firms, said Gu Zhengzhong associate professor of aviation security at the Shanghai Civil Aviation College. "Our system is faulty," he said in a phone interview with Sixth Tone.
He notes that other countries, such as the US. and the U.K., treat airport security as a branch of homeland security, with greater authoritative powers and higher budgets.
Germany, on the other hand, runs security operations in a similar way to China, he said, though he notes that companies and personnel there are considerably better compensated. For each person who passes through security, German companies charge, on average, 7.5 euros. In China, however, Gu Zhengzhong said the security firms get paid a paltry 1 yuan ($0.15) per person, a rate set in 2007 that has never been adjusted for inflation.
"About one-third of these companies are struggling, and this negatively impacts their recruitment rates, salaries, and staff morale," he said. "We need a dedicated task force that's empowered by law to maintain air safety, and for reasonable pay," he added.
In terms of security technology, China has done a better job of investing in the future. The country's airports are well-equipped with the latest X-ray scanners, security doors, and metal detectors.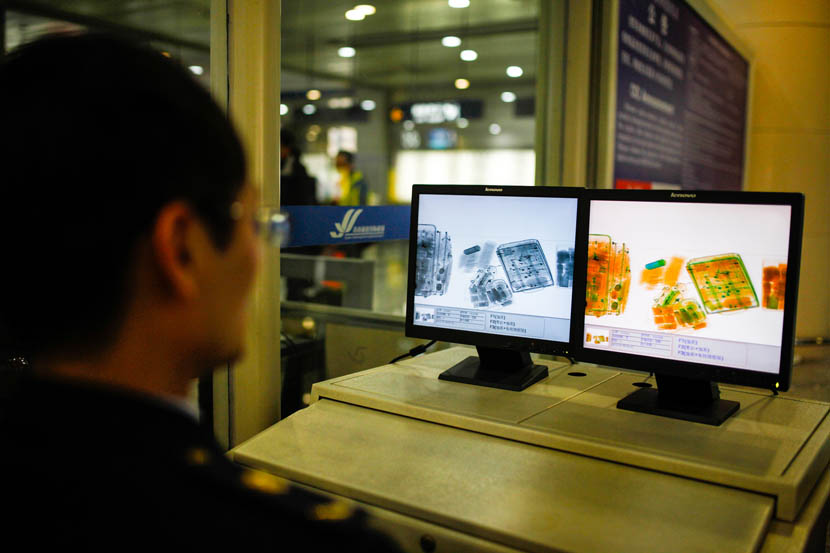 A security officer checks X-ray images of carry-on luggage at Sunan Shuofang International Airport in Wuxi, Jiangsu province, Dec. 22, 2014. Wang Yu/VCG
The Beijing and Shanghai airports are also looking to upgrade their scanners using locally sourced technology. In 2013, China developed its own version of a millimeter wave scanner, which takes 3-D images of the human body to determine whether items are concealed between skin and clothes. American airports have been experimenting with similar systems since 2008.
As for other issues requiring attention, Gu Zhengzhong said that internal confusion and a lack of coordination between the coalition partners of China's security infrastructure are also creating problems.
Each airport has just one CAAC security inspector to coordinate both airport police and security staff. There are also not enough police allocated to airports by city governments to help the security staff enforce a safe environment.
The CAAC used to have its own police corps in each airport before the system was reformed in 2003.
Unlike their official police counterparts, staff of private security firms have limited access to information on potential threats. State police officers carry portable devices with information about terror suspects that they can access instantaneously to track and apprehend criminals.
"Our security teams aren't equipped with the information they need," Gu Zhengzhong said. "Instead, they are sitting ducks, just waiting for disasters they are ill-prepared to handle."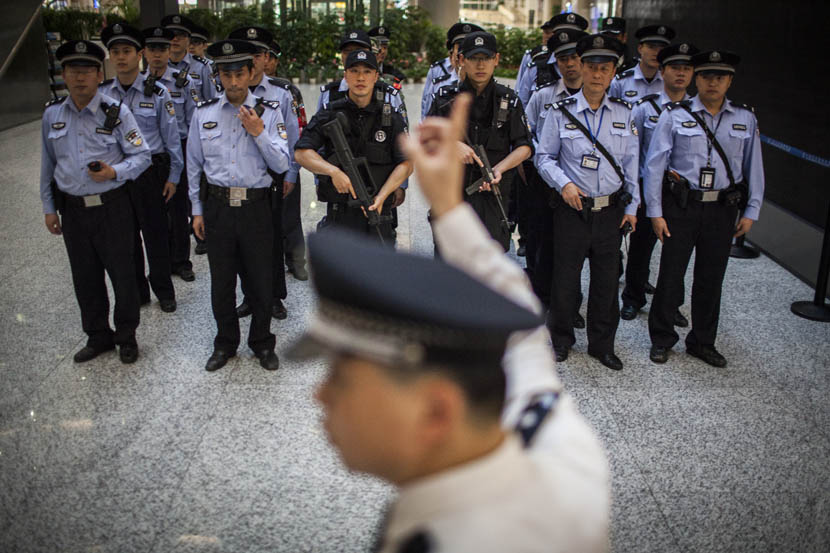 Armed police receive orders from a commander office at Shanghai Hongqiao International Airport, May 14, 2014. Kou Cong/Sixth Tone
A senior security trainer at Hongqiao International Airport, Shanghai's other air traffic hub, echoed Gu Zhengzhong's sentiments, suggesting that airport security is fighting a lone war against terrorism without the ability to readily identify potential threats.
Speaking on condition of anonymity due to the sensitive timing after the Pudong attack, the trainer said China should explore more rigorous methods, such as facial recognition technology, for evaluating safety risks. He estimated there are between 70,000 and 80,000 people manning airport security across China, and that around 80 percent of this number are from private security firms.
"Airport security checkpoints in China are generally short-staffed," he said, citing the strain that building new airports places on staff recruitment and the pressure government puts on staff to improve its performance after security lapses.
After the Pudong blast, airport security has been upgraded to Level 2 — medium risk — out of four. This designation requires bomb squads to be deployed at the airport entrances, and half of all passengers to have their bags searched by hand at security checkpoints.
Yet the trainer said that hiring and retaining capable staff to oversee such systems has become the industry's biggest problem.
"The job stability which we enjoyed eight or nine years ago has gone," he said. "Job tension, lots of overtime, and rigid regulations are driving young people away from the team, leaving the rest of us to pick up the slack."
(Header image: A police officer on patrol at Shanghai Hongqiao International Airport, May 14, 2014. Kou Cong/Sixth Tone)