Hours of heavy rain on Sunday have flooded Liye, a historical town in central China's Hunan province, and one fireman reportedly died during rescue efforts.
The downpour started on Sunday morning and lasted nearly 24 hours. An embankment along the You River, a tributary of the Yangtze, collapsed at around 3 p.m. on Monday. In addition, a number of highways have been flooded, and the power supply in some areas has been disrupted.
Liye is home to archeological sites dating from the Qin dynasty (221-206 B.C.) and to nearly 40,000 bamboo slips from that era with writing carved on them. Tian Dazhi, secretary of the Liye party committee, told science blog ScienceNet.cn that "parts of the archaeological site in Liye have been submerged" and "they are waterlogged right now."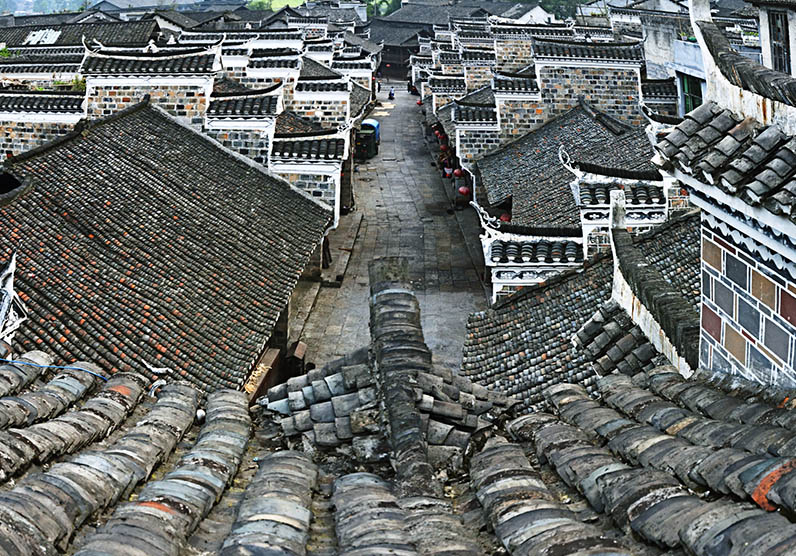 An old street in Liye Town, Hunan province, Aug. 9, 2012. Xiao Dianchang/IC
Lei Zhijun, an official from the local fire brigade, told Sixth Tone that the bottom floors of several buildings in the area have been flooded. "Most Liye residents who are in danger have been evacuated, except for a small group of elderly ones who are unwilling to move," he added.
State news agency Xinhua reported on Tuesday evening that one fireman had died in the rescue efforts.
According to the flood control bureau in Longshan County, where Liye is located, around 48,700 people in 92 villages in the area were affected. By Monday evening, 18,500 residents had been temporarily relocated.
Heavy rainfall has caused flooding in 10 southern Chinese provinces in recent weeks. Dozens of rivers have flooded or reached water levels deemed alarming. So far 460,000 people have had to be evacuated, 42 people have died, and 25 are missing.
Officials warned in March that this year's rainy season, which lasts from May to August, could potentially be one of the worst in decades.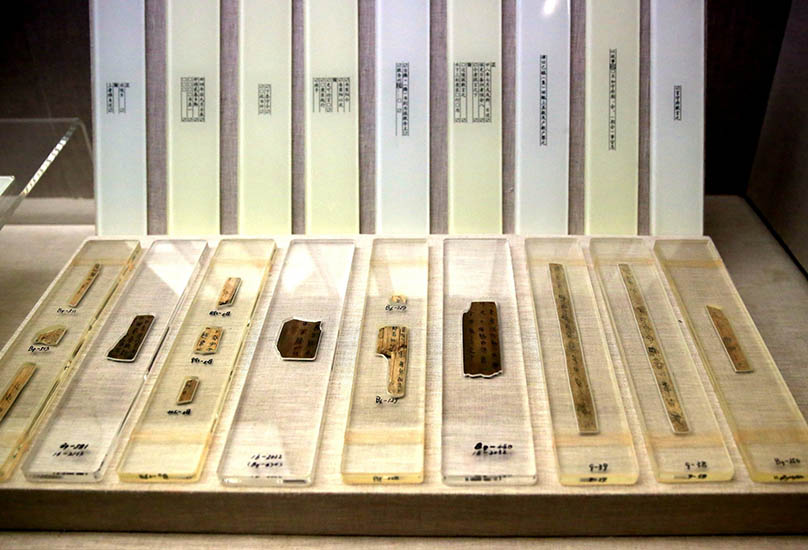 Bamboo slips are displaced in the Qin Bamboo Slips Museum in Liye Town, Hunan province, June 18, 2016. Peng Biao/IC
The Qin Bamboo Slips Museum in Liye was also flooded. An official from the museum told Sixth Tone that, following the floods, they have been busy with cleaning, and that the bamboo slips themselves had not been damaged. On Tuesday the museum wrote on its Weibo microblog account that all antiques in the museum had been transferred to safe areas.
With its Qin-era ruins, excavations, and historical village, Liye was in 2002 included in the central government's list of important cultural relic sites, which gave it state-level protection and made the area a tourist attraction. After its opening in 2010, the Liye Ancient Town Site Park attracted more than 100,000 visitors within half a year.
(Header image: After torrential rains, Liye Town is inundated by flood waters, Hunan province, June 20, 2016. Zhang Jing/Xinhua)