The advent of ride-hailing apps has many Chinese earning money after hours, but a rural government official has gotten into trouble for just that, a local news outlet reported on Friday.
Hong Shen, the 38-year-old deputy township head of Wangcun Town, in She County in eastern China's Anhui province, is under investigation after he was reported for picking up people using Didi Chuxing, China's most widely used ride-hailing app.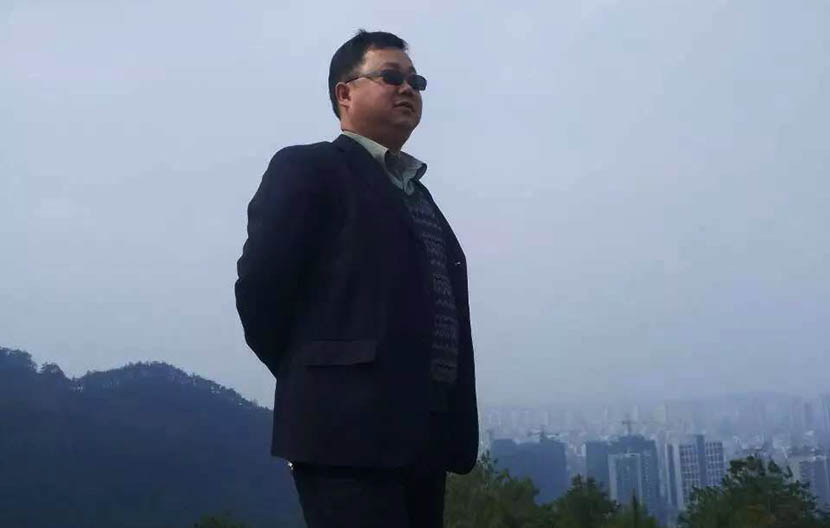 Hong Sheng poses for a photo. From The Beijing News' official Wechat account.
According to a Saturday article by state newspaper The Beijing News, Hong, who picked up a passenger during office hours on Wednesday, said the man "was heading in the same direction as me." When he arrived at the destination, earning around 4 yuan ($0.60) from this ride, he was surrounded by a group of taxi drivers who then dialed the police.
Didi enjoys great popularity in China, with 300 million registered users and 14 million daily rides. Nevertheless, Hong said he was told the app is illegal.
An official at the She County transportation bureau, who requested anonymity because of the sensitivity of the issue, told Sixth Tone that ride-hailing apps have made life difficult for local taxi drivers. "This is not the first case where a Didi driver was besieged by a bunch of taxi drivers," he said, adding that drivers of unlicensed cars are usually fined up to 2,000 yuan. "However, what makes Hong's case unique is that he is not just a Didi driver, but also a government official," he said.
According to The Beijing News, Hong began driving for Didi in mid-May out of financial pressure. As a single father and a son of two parents in their 60s, Hong found it difficult to support his family with his monthly salary of around 3,000 yuan. In addition, he borrowed 18,000 yuan in April to undergo medical treatment for gout.
The She County discipline inspection committee hasn't yet published the results of its investigation. "We first need to clarify some matters," an official told Beijing Youth Daily on Friday. "For example, during what time was Hong driving? Was he driving an official car or a private car? How many orders did he complete? And how much profit did he make?" When reached for comment on Monday, a committee official told Sixth Tone that the investigation was still ongoing.
She County isn't the only place in China where the legality of ride-hailing apps is disputed. In May Taiyuan City, in Shanxi province, northern China, launched a three-month campaign against unlicensed cabs, such as those used by Didi drivers. Citizens can be rewarded 100 yuan for each report.
Other cities have seen rising conflicts between the traditional taxi industry and the newly emerging ride-hailing services that cut into their profits. Last week, taxi drivers in Qingdao, in eastern China's Shandong province, went on strike to protest against the impact of ride-hailing apps on their business.
Ride-hailing apps have also been scrutinized for safety concerns. In May a Didi driver in Shenzhen, southern China, allegedly murdered his passenger.
According to the Regulations of the Communist Party of China on Disciplinary Actions, government officials are forbidden from engaging in profitable activities, regardless of whether they do so during or after work hours. As a result, many civil servants, especially entry-level officials, choose to leave their jobs because of low pay, with some turning to new ways to boost income.
Online, most net users showed sympathy for Hong. "At least he is earning money by himself, while some other officials are embezzling money from ordinary people," said one highly upvoted comment.
In a statement posted to its Weibo account, Didi said: "We have noticed some reports on Hong. On the Didi platform, many drivers are serving society and the public through their efforts, and at the same time they are earning to support their families. We hope Mr. Hong will get better soon."
(Header image: A passenger pays a driver through Didi's mobile app, Shanghai, Feb. 18, 2014. Xu Xiaolin/VCG)