There are approximately 2,000 street peddlers who hang around Shanghai's North Xinjing area. For the area's Neighborhood Committee, which I lead, these loitering hawkers stand between us and a clean, orderly city.
They all scream over each other in an effort to sell their wares, not only blocking the flow of people trying to move past, but also constantly harassing nearby residents.
They can be unmanageable sometimes. They always strongly oppose us when we try to get them to disperse, and in many cases even resort to violent means to resist our enforcement of the law. This only serves to create a hostile environment and places more pressure on us.
These are the difficulties we chengguan — city management officials — face every day. Although we always try at first to politely manage these situations, the reality is that we are often forced to skip the niceties and ensure the law is enforced.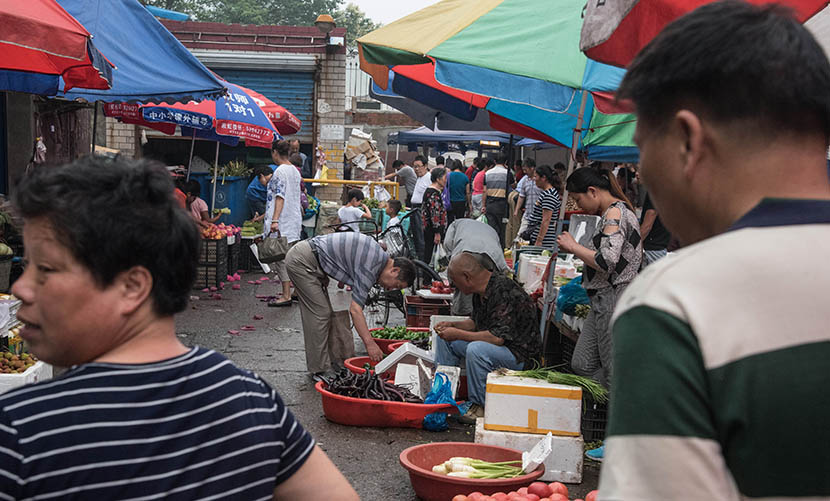 A wet market in North Xinjing, close to the alley market set up by the city management officials in Shanghai, June 16, 2016. Zhou Yinan/Sixth Tone
Most of the hawkers in North Xinjing are migrants or low-income local residents. Since they mostly peddle out of necessity, forcibly removing them is not ideal — they simply return as soon as we disappear. Thus, we decided to try a new approach and create a legal marketplace in which they could lawfully conduct business.
In 2010, Shanghai launched a series of initiatives to clean up the streets in preparation for the world's fair: Expo 2010. Our troops were bolstered and we were given additional support by the government. More importantly, our plan to move the hawkers to a place where they wouldn't bother local residents and where we could regulate them was approved.
We immediately began looking for a place. After a lot of searching, we finally decided on a 100-meter alley on West Tianshan Road. It bordered a residential area to the north, but the alley itself was fairly secluded, meaning the hawkers wouldn't bother anyone who didn't deliberately seek them out.
Next, we decided on some ground rules. To counter any problems that might arise with food safety, we outright banned the selling of any food or drink. All stall owners were required to sell articles of daily use, or offer repair and replacement services.
Of course, the trickiest part would be trying to get the stall owners to remain there permanently. They were used to moving around, going with the flow of traffic to wherever was busiest. A lone alley wasn't very appealing to them.
One hawker who sold various household items had stationed himself at the mouth of the nearby Pingtang Road. He had a steady stream of regular customers and lots of passing trade, so he was naturally worried that there wouldn't be any business for him on the new site.
Every time he saw me approaching from a distance, he would disappear in a flash. When I finally managed after a great deal of effort to get him into the alley, he waited until the second I wasn't looking to high-tail it out of there.
There were a lot of hurdles, but in the end the little alley market gradually took shape. Nearby residents began going there for all their household wares, and soon business was thriving. One day the hawker from Pingtang Road showed up without any encouragement. From that day on, he was all smiles.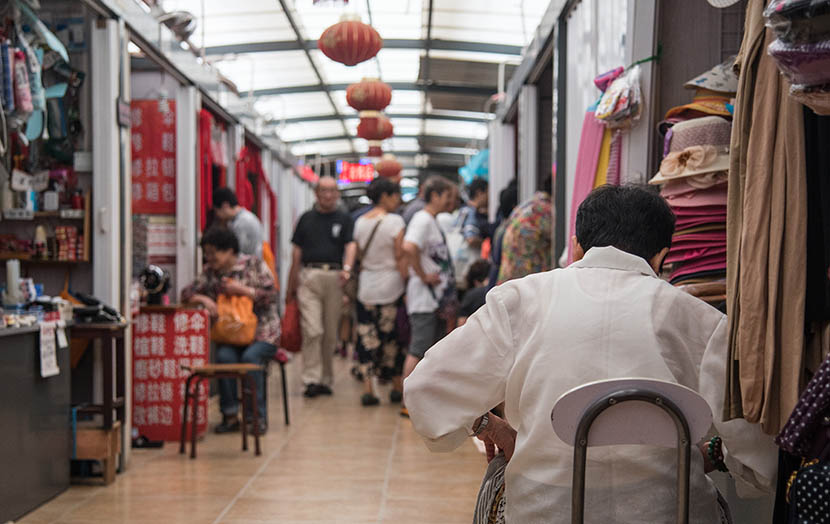 People shop for household wares in the alley market set up by the city management officials in Shanghai, June 16, 2016. Zhou Yinan/Sixth Tone
But as business got better, conflicts began to emerge. To attract the greatest number of customers, all the stallholders would vie for the spots nearest the alley entrance. Their arguments would occasionally descend into violence.
To try and ameliorate this, we used rulers to mark out evenly placed stall spaces and assigned each peddler a fixed location — 45 spots in all. However, most of the time things would just turn into a free-for-all as soon as we left.
Some people would bring their carts and some would just spread their wares on the ground. Whenever it rained, everyone had to pack up and take shelter under the eaves of the houses on either side of the alley.
With a little help from the government, we managed to obtain a 500,000 yuan (about $76,000) grant, which we put toward improving the alley. We got proper counters for everyone and hung up waterproof awnings to keep the rain away.
To do business in the alley, everyone was required to obtain and hang an official license over their individual stalls. All of this helped decrease the fights between hawkers and made the entire market much more organized.
As things were going smoothly, we decided to go a step further. We allowed the stallholders to set up autonomous working groups and asked them all to sign pacts that dealt with work attendance and forbade subletting their spaces to other sellers. These initiatives fostered closer ties between the hawkers and friendships began emerging.
At one point, when a stallholder suddenly fell violently ill, the working group raised money for him. It was incredibly touching to see everyone's willingness to come together and care for their neighbors.
Fast forward several years and the alleyway no longer needs us city officials to manage it. After a recent anonymous visit, the Shanghai Green City Bureau expressed its approval and announced a 1 million yuan investment into the alley's development. Thanks to them, the stalls now feature locks and electric fans.
The number of individual spaces in the alley has expanded to 71, and we currently have a waiting list of about 20 sellers waiting to be assigned a place. We call it the "Champs-Elysees of North Xinjing." One of the sellers — a woman in her 80s who still radiates vitality — told me the other day that she will never give away her spot in the alley. Those on the waiting list will just have to wait a little longer.
(As told to Sixth Tone's Wang Lianzhang.)
(Header image: People shop for household wares in the alley market set up by the city management officials in Shanghai, June 16, 2016. Zhou Yinan/Sixth Tone)