In the midst of China's push for urbanization sits a young professional who is seeking to recalibrate her focus from the city to the countryside. Through her professional experience, she is looking for ways to give back to her hometown. Her name is Cai Yeling.
Cai is an industrial designer born in the late 1980s. She decided to use her experience in design to connect her hometown of Zhuji, in eastern China's Zhejiang province, with Shanghai, where she currently lives. She plans on doing so by rebranding a specialty of her hometown: Torreya grandis.
Torreya grandis is a plant in the yew family. Its seed is a nut with anticancer properties that's also used for treating constipation. With 6,000 acres of plantations, Zhuji is the world's largest cultivator of the plant. The local Xiangfei Forest Park is home to the world's only Torreya trees, which are over 500 years old.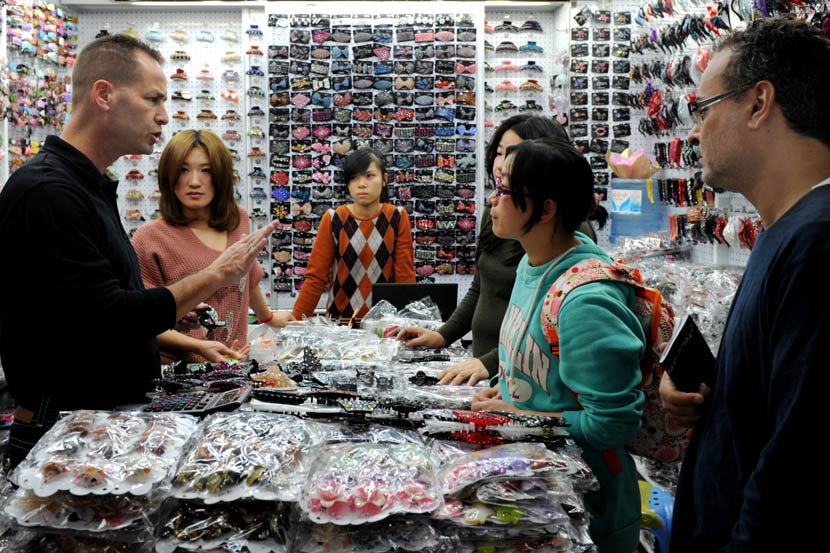 A foreigner negotiates a price with Chinese shop owners at Yiwu International Trade City, Zhejiang province, Nov. 24, 2011. Zhang Jiancheng/VCG
Unfortunately, cultivating the trees comes at a high cost, especially when pursuing the organic method like Cai's father does, by using a special environmentally friendly soil fertilizer as opposed to the much cheaper chemical fertilizer.
Torreya trees take three years to fully mature and begin seeding. After the seeds are harvested, they must go through a month of natural fermentation, as well as two separate manual frying processes. Only then will they become the golden aromatic nuts that appear on store shelves.
The complexity of the process has always caused Torreya to fetch a high market price. To make more money, some dealers mix the cheap, low-quality seeds from previous years or from younger trees into fresh batches.
Of course, this problem is not unique to the Torreya market. Many agricultural producers in China have come under fire for deceiving customers about the origin or quality of their goods.
Distrust of the market has affected Torreya sales in recent years, taking a toll on the livelihood of farmers like Cai's father. Just putting food on the table became tough, not to mention sustaining the expensive organic farming methods that best preserve the trees.
Cai wanted to help bear her father's burden, as well as alleviate some of her own guilt for leaving her family behind for a glamorous life in a faraway city. She decided to use her five years of designing and marketing experience to rebrand Torreya.
Through new packaging and advertising methods, Cai aimed to create a stylish brand image and to bring the traditional product into the 21st century.
In 2015, Cai and her father registered their brand name: "Shao." Working from Shanghai, Cai would be in charge of design, branding, and marketing, while her father would be responsible for production and quality control from Zhuji.
Cai believes the target market is people born in the 1960s or 1970s who are health-conscious and have relatively high incomes. Another potential customer base will be those born in the 1990s, many of whom are interested in novelty products.
Of course, the switch from industrial designer to brand manager hasn't been a cakewalk. She now has to juggle product sales, marketing, and finances. Clients often need individual attention, and her workdays normally go well into the early morning.
But because of the business, Cai has managed to meet a host of fascinating new people and has reignited a love for her hometown. She feels happier, more grounded, and closer to home even though she remains in a distant city.
Cai also has an excuse now to return more frequently to Zhuji. Each time she does, her father takes her up to the top of a nearby mountain and tells her stories of the Torreya trees.
It pains the old villagers to say goodbye, but they are supportive of their children living and working away from home. They are proud that their descendants have managed to work their way up to life in the big cities. It's rare that young people choose to return home to build a career.
Cai's next plan is to expand her brand, as well as increase the product range to woodcrafts, essential oils, and pastries. She's even considering organizing tours and Torreya-themed bed-and-breakfasts.
She hopes that her brand will forge closer ties between rural and urban areas, and preserve the charm of her home while simultaneously bettering its economy. The business will not only help Cai's father, but also the entire local community.
An improved economy will allow the locals to better care for the trees. Through modern marketing practices, Cai's brand may become a driving ecological force, allowing the 500-year-old trees to be conserved for generations to come.
The only thing that worries her is the declining workforce. As more young people are migrating to urban areas, age-old farming practices are being forgotten. The older populations in Zhuji can keep up their quotas for the moment, but as the labor force ages, who will step up to take their place as cultivators?
(Header image: A village is partially hidden by Torreya trees in the Xiangfei Forest Park, Zhuji, Zhejiang province, Oct. 19, 2014. Courtesy of Cai Yeling)