China's official association for artists has taken action against the creator of a performance art video that depicts a woman painting traditional calligraphy using her vagina to wield the brush.
On its official account on messaging app WeChat, the government-led China Artists Association announced Tuesday that Sun Ping — otherwise known as member 3685 — was to have his membership revoked.
The statement said the style of artwork, which it called "sexual calligraphy," had an "adverse effect" on society and inflicted "considerable damage" to the association's reputation. It added that the association shared the public's unanimous disdain for the "vulgar" work, which it described as having "wantonly defiled calligraphy and trampled over civilization."
The avant-garde artist's best-known example of this kind of "sexual calligraphy" is "Unknown Tao," a 2006 multimedia representation of a woman using a calligraphy brush held in her vagina to write characters from traditional Chinese texts. Photographs and video of the performance show a half-naked woman squatting over large stretches of paper, a calligraphy brush hanging down between her legs.
According to Sun, the work aims to challenge the almost sacred position that traditional art holds in Chinese culture, while asking viewers to question their understanding of vulgarity. "The vagina is too often considered vulgar," he told Sixth Tone in a telephone interview. "But it's where we all come from."
Sun, who comes from China's northeastern province of Heilongjiang and has had art displayed in China and places abroad such as the U.K. and Italy, had been a member of the China Artists Association since 1985. The 63-year-old has been producing such performance art for some time, but the association cited his ongoing promotion of the work both within China and abroad as cause for the disciplinary action.
Sun himself appears unfazed by the association's decision. "My first reaction was laughter," he told Sixth Tone. "I felt honored to have become a 'broken shoe.'" In Chinese, the word for 'shoe,' pronounced xie, is a near homonym for 'association.'
"Ever since I began doing modern art in the late 80s, I never had anything to do with them," Sun said in reference to the "extremely conservative" association, which he said he joined as a young artist just so he would get invited to take part in more exhibitions. "It was funny to be suddenly reminded that I still had the slightest connection with them."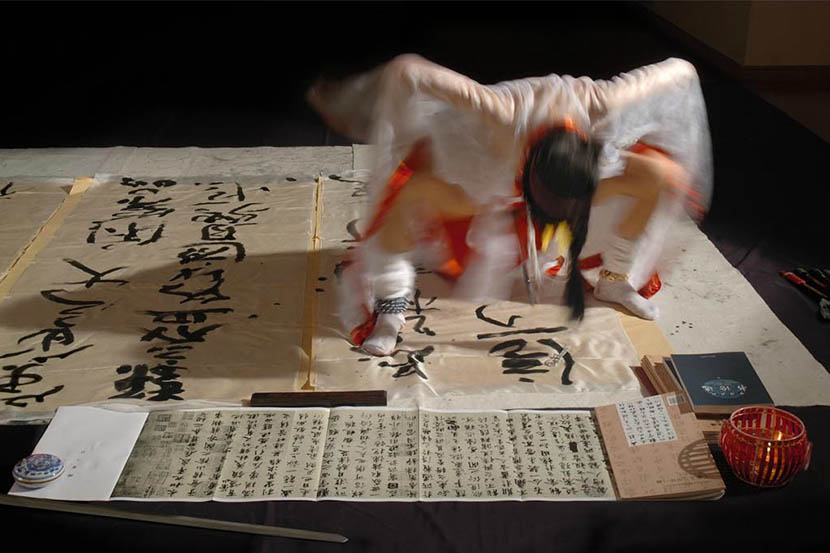 A woman writes Chinese characters with a brush held in her vagina as part of Sun Ping's 'sexual calligraphy' work. From Sun Ping's Weibo account.
A spokesperson from the membership department of the China Artists Association maintained that the organization prefers to take a hands-off approach with its artists and does not oppose the creation of work with sexual themes. "We don't have rules that limit the creativity of artists — the artists are free," she told Sixth Tone under condition of anonymity.
The spokesperson pointed to the association's constitution, which, while not expressly stipulating against the creation of work with sexual themes, does say that the organization strives to "raise the ideological and moral quality of the artist community."
"Sun Ping has just had too adverse an effect on the art world," the association's spokesperson told Sixth Tone, adding that the decision to ban the artist came after an internet user reported him to the association.
Lan Qingwei, an art critic and the director of the Chengdu Museum of Contemporary Art, told Sixth Tone that Sun Ping is not alone in China in his exploration of nudity through performance art. But what makes him unusual, said Lan, is that there is essentially no one else using sex organs in artistic expression.
The China Artists Association's decision to expel Sun does not necessarily signify growing conservatism within China's art world, Lan believes. "The association does not represent artistic standards," he said. "If you are expelled, it doesn't mean that you lose the right to produce art."
Reactions on microblogging platform Weibo seem to suggest that the association was correct in its assertion that many people treat Sun's artwork with disdain. "Calligraphy is one of Chinese culture's most quintessential treasures," said one user, echoing the sentiment of many other commenters. "It shouldn't be ruined or used for entertainment."
Along with those who criticized Sun's work, there were a small minority who saw the humorous side of things, however. "What sophistication," said one user. In Chinese, the word for sophistication, bige, contains a character that is vulgar slang for vagina.
The association's spokesperson said the China Artists Association would not rule out letting Sun rejoin. "It would depend on his future output," she told Sixth Tone. "We do accept second applications."
Sun said a return to the association would come with its own condition, however. "I would demand to be the association's chairman," he told Sixth Tone. "If not then I'm going to join the China Calligraphers Association."
Additional reporting by Li You.
This article has been updated to reflect comment from Sun Ping.
(Header image: Modified brushes used in Sun Ping's 'sexual calligraphy' work. From Sun Ping's Weibo account.)