In the southern metropolis of Shenzhen, grassroots labor activists are challenging global mega-retailer Walmart, hopeful that the country's largest union will back them in their long-running dispute over wages and rosters.
Over the last two years, current and former Walmart workers across China have built their own unofficial group, the Walmart Employees Network, and now they're campaigning against a new scheduling system that they believe would reduce workers' overtime and holiday payments, giving them less security.
The activists hope to enlist the help of the All-China Federation of Trade Unions (ACFTU), the country's official union. With 200 million members, the ACFTU is the largest labor union in the world. But the state organization is often seen to represent the government's interests in stimulating business growth more diligently than it backs workers on the ground.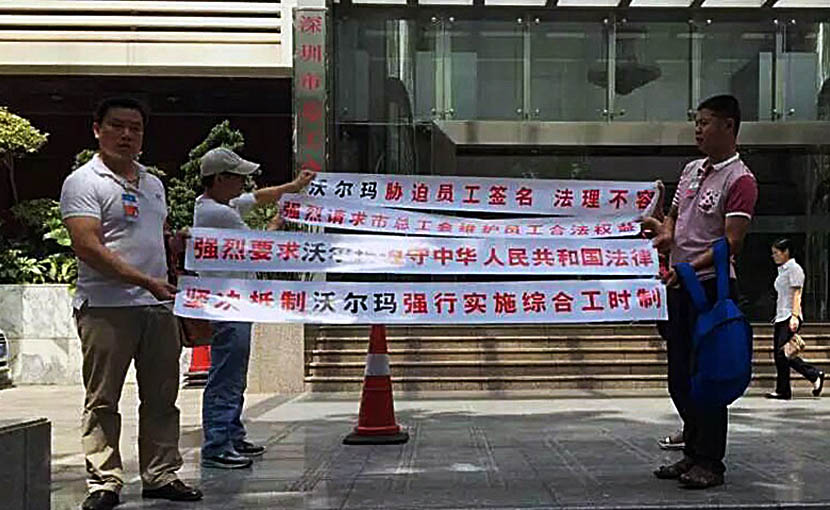 Activists protest against Walmart's comprehensive working hours system in Shenzhen, May 23, 2016. Courtesy of Zhang Liya
On May 28, the Walmart Employees Network sent an open letter to the ACFTU, which called on the official union for support and accused Walmart of forcing workers to sign their agreement for the new scheduling system.
Campaigner Zhang Jun told Sixth Tone that more than 800 Walmart workers have co-signed the letter since it was posted online on May 25.
Zhang says the deputy chair of the Shenzhen chapter of the ACFTU, Wang Tongxin, spoke up in support of the workers at a meeting last week. But as yet, no official response has come from the union's national office.
A 30-year-old employee at a Walmart store in Nanjing told Sixth Tone that most workers supported the open letter from the workers' network. She has worked at Walmart for four years, with a no-fixed-term contract, and was afraid to reveal her name to Sixth Tone for fear of repercussions at work.
The employee said that she wasn't clear on the implications of the new system but felt wary. "My starting time and breaks won't be fixed like before, but they'll just let those of us who are used to the old system leave of our own accord," she said. "I'm scared that if I sign the new agreement, it will change the contract so that if the store closes, I won't receive any compensation."
She didn't have faith in the ACFTU but hoped something would force a change. "Right now we are absolutely tormented," she said.
Vivian Jiang, senior public relations manager at Walmart China, told Sixth Tone that the new scheduling system had received acknowledgement and support from the majority of employees. "For individual employees who are temporarily unable to understand, we will continue to maintain open communication with them," Jiang said.
The Shenzhen chapter of the ACFTU declined a request for comment from Sixth Tone, saying that the issue was still under investigation.
Walmart has accepted the presence of the ACFTU in its Chinese stores since 2006. Walmart — with 2.1 million employees around the world, the third largest employer in the world behind only the American and Chinese militaries — has 433 retail outlets in 169 Chinese cities, and employs more than 100,000 workers across the country. China represents only 3 percent of the company's global sales.
On its home turf in the U.S., Walmart has come under fire for alleged anti-union practices, such as closing stores and departments after workers voted to unionize.
In China, workers forming independent unions is rare, but labor disputes are increasingly common. According to an NGO based in Hong Kong, labor activism in mainland China is growing, and 2015 saw 2,773 industrial actions across the country, ranging from demonstrations to strikes.
In November 2015, workers at a Walmart in Shenzhen fought to elect their own representatives to replace the ACFTU delegates they saw as toothless and disconnected from rank-and-file interests. Employee and labor activist Zhang Liya tried to run for election. He told Radio Free Asia then that the state-run ACFTU sided with management to suppress his campaign.
Nevertheless, the activists have reasons to be optimistic: Shenzhen is the site of an electronics factory, Ohms, where employees in 2012 elected their own representative with the support of the local ACFTU chapter. And, according to a Global Times report, the ACFTU also supported one of Zhang Jun's previous efforts in labor activism, the Ole Wolff Trade Union, which was China's first independent trade union since the nationalization of the ACFTU.
China's labor arbitration courts have also acknowledged the rights of workers to organize. Wang Shishu — one of the activists — and another employee in 2012 won unfair dismissal cases against Walmart when they were fired after attending labor rights seminars and protests.
Wang had been working at China's first Walmart, Store 1701 in Shenzhen, since it opened in 1996. After being fired in July 2012 and rehired in April 2014, he continued his activism until he was fired again in June 2015. Now 56, he no longer works at the company but is still involved in the campaign for representation.
"I've been fired again and again for standing up for our rights," Wang told Sixth Tone. "We have to protest in hope that they change their unlawful behavior, in hope that they'll come to respect us."
Additional reporting by Wang Lianzhang.
(Header image: A security guard and a customer in front of a Walmart in Kunming, Yunnan province, June 2003. Xu Haifeng/Sixth Tone)