With the gaokao, China's hyper-competitive university entrance exam, less than a month away, parents of students of all ages are feeling the pressure to help their children succeed.
Earlier this week the Xinmin Evening News reported that parents waited in line for up to 40 hours to register their children — some as young as 3 — for classes at a popular Shanghai training school.
Demand far exceeded availability at both the Changning and Hongkou district branches of the Hundred Flowers school. For parents disinclined to wait in line to snag a coveted admission, entrepreneuring scalpers were on hand as literal stand-ins, selling spots in line for up to 5,000 yuan (around $760).
One parent who went to the Hongkou branch but was unable to register her child for classes told Sixth Tone that registration there had been temporarily suspended, but that administrators said they hoped to accommodate all interested students by opening additional branches in new locations. Seemingly unsatisfied, the parent added, "I think the school management is a mess."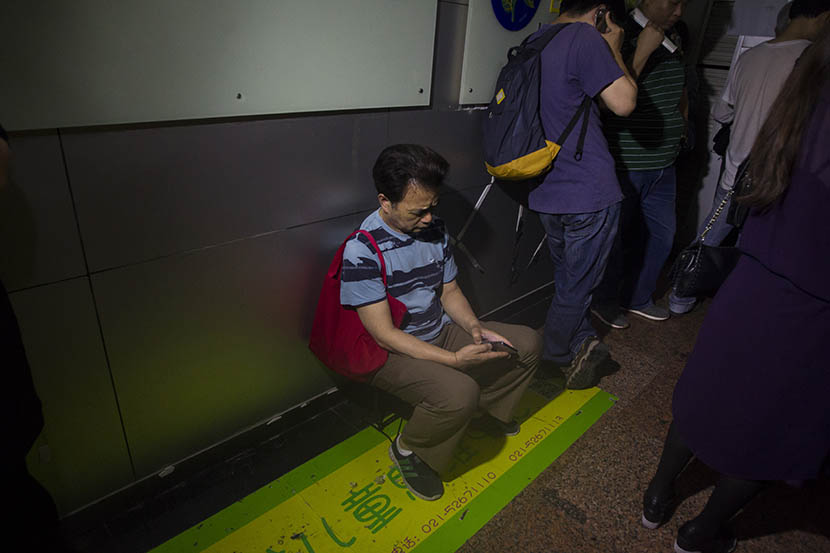 Parents wait outside Changning district branch of the Hundred Flowers school, even after school administrators informed them that registration had closed, Shanghai, May 25, 2016. Wei Yi/Sixth Tone
When asked about Hundred Flowers' role in preparing students for rigorous standardized tests, a teacher at the Hongkou branch, surnamed Wang, responded: "We just provide parents with direction and guidance, and we help young students cope with taking an exam. But the results of written tests and interviews depend on the parents and kids themselves."
The entrance exams of elite primary schools, which some Hundred Flowers students take upon graduation from kindergarten, are the first in a sequence of highly competitive exams that shape the futures of Chinese children.
By the time high schoolers begin preparing for the gaokao, many are depressed and overwhelmed by stress, even to the point of violence or suicide.
On microblogging platform Weibo, users have suggested that the prevalence of "tiger moms" can be traced to every parent's worst fear: "that their children will be ordinary, and fall behind their peers."
Others observe that with all the rote memorization that goes into preparing for standardized tests, "the current education system works like an assembly line, turning students into products."
In the past decade, the Chinese government has enacted reforms — called jianfu, or "alleviating the burden" — meant to temper academic rigor by cutting back homework and hours in the classroom.
But with more free time, students from wealthy families have a distinct advantage over their middle-class peers, as their parents rush to fill freed-up time slots by hiring expensive private tutors.
But some parents take an alternative approach to cramming their kids' minds with math, science, literature, and history. Weibo user "Caoyd" said that on some days her 4-year-old daughter learns music in the "Happy Pony Choir," while on others she practices ballet or taekwondo.
Caoyd said she won't let her child learn Chinese, math, or English outside of the home or school. Instead, she is content for her daughter to pursue an "aesthetic education."
"Besides," she added, "We have done English reading activities as a family since she was three months old. Her independent reading ability is equal to that of an American first-grader."
Additional reporting by Wang Lianzhang.
(Header image: Parents wait outside Changning district branch of the Hundred Flowers school, even after school administrators informed them that registration had closed, Shanghai, May 25, 2016. Wei Yi/Sixth Tone)