This year's flood season is shaping up to be historic. Average rainfall is higher than it has been in 50 years, and already water levels of over a hundred rivers are alarmingly high — but people living next to the Yangtze, China's longest river, hope the Three Gorges Dam can keep their feet dry.
On a recent afternoon, Huang Menghua, 69, sat on a riverside dike in his hometown of Gongan, in central China's Hubei province, calmly observing people fishing in the Yangtze.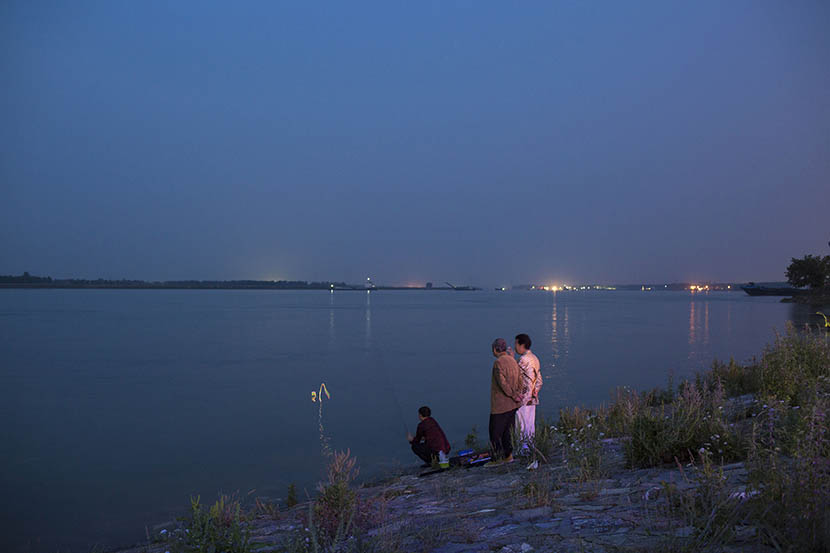 People fish on a riverside dike in Gongan, Hubei province, May 13, 2016. Wu Yue/Sixth Tone
Huang had noticed the water level rising by a few meters in previous weeks, but he wasn't unduly worried. "What should I be worried about when there is the Three Gorges?" he said, referring to the dam some 250 kilometers upstream.
Floods along the Yangtze are common between the months of June and August. This year's El Nino effect is expected to cause unusually heavy rains, and Chinese officials are worried about a repeat of the Yangtze's last large-scale floods, in 1998.
"According to previous weather patterns, relatively big floods will happen following the El Nino effect," Chen Lei, minister of water resources warned in March. "1998 was like that. So we should expect the worst and prepare for floods and droughts."
Huang recalled how in 1998, all men were organized by local authorities to reinforce the banks of the river with sandbags to protect the town.
At that time, the Three Gorges was still under construction.
The dam was built not only to generate electricity, but also to function as a control valve for the Yangtze River. If water levels downstream rise too high, the dam can hold back water in its 600-kilometer-long reservoir — for which, controversially, more than one million people had to be relocated.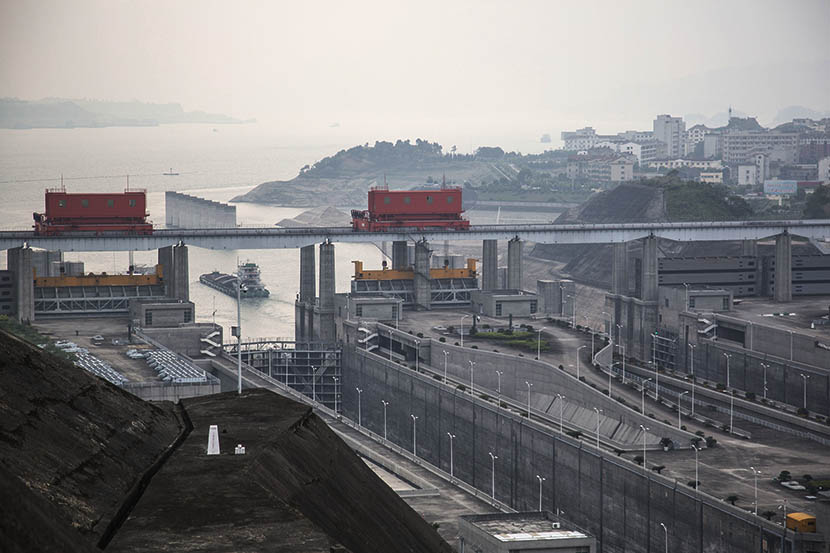 Ships go through the canal locks at the Three Gorges Dam in Yichang, Hubei province, May 12, 2016. Wu Yue/Sixth Tone
Like Huang, many look to the Three Gorges Dam to play a major role in minimizing this year's floods, but questions remain about whether the dam will prove up to the task.
Wang Hai, head of the operations department of the Three Gorges complex, told Sixth Tone the upcoming rains "could pose the first real challenge to the Three Gorges Dam since its completion."
The dam has seen high water levels before, during the flood seasons of 2010 and 2012, but according to Wang, water in the dam's reservoir never reached alarming levels in those years.
This year, the Three Gorges Dam has seen 50 percent more water inflow between January and April compared with the same period in 2015. In April the Three Gorges Dam started to discharge water from its reservoir to allow for more storage in the months to come.
If the dam proves insufficient, there are other measures that can be taken to protect urban areas from flooding. Flood diversion, for example, calls for specially designated places along the river to be intentionally flooded.
There are 42 of these flood diversion areas. Most of them are rural, and Jingzhou, the area Huang's hometown Gongan is part of, is one of them. In practice this means that half the town could be temporarily under water.
According to local authorities, more than 300,000 people had to relocate in 1998 because the area was targeted to be flooded, but in the end the diversion was called off.
In the years since 1998, Gongan, Huang's hometown, has grown. The area is no longer a sleepy rural town but a modern city with high-rise hotels, shopping malls, and factories.
According to the Office of State Flood Control and Drought Relief Headquarters, in the worst-case scenario for this year around 400,000 people will need to evacuate, and the new part of the town will be under water.
"I know the place is a flood diversion area. Everybody knows that," Huang said, before repeating, "But now we have the Three Gorges."
Zhou Jianjun, a professor in the Department of Hydraulic Engineering at Tsinghua University, told Sixth Tone that such optimism is dangerous. "The Three Gorges Dam makes people relax their vigilance," he said. "Everybody places their hopes on the dam, but a dam isn't enough to defeat floods."
After dusk, more and more Gongan residents gather at the dikes next to the Yangtze. Many are so young they didn't experience the 1998 floods. To them, there's nothing to worry about: "We have the Three Gorges, so what's there to fear?"
Additional reporting by Chen Xingwang.
(Header image: A group of tourists visits the Three Gorges Dam in Yichang, Hubei province, May 12, 2016. Wu Yue/Sixth Tone)