Along a stretch of the Yangtze River not far from Yichang City in the central Chinese province of Hubei, the air was once fragrant with ripening citrus fruit.
Today, with all the nauseating fumes from a nearby fertilizer plant, people prefer to stay shut inside their homes, insulated from the outside world by closed windows and doors.
"Our village is so polluted that everybody wants to move," Zou Changxin, a 66-year-old resident told Sixth Tone in an interview. "The rich have left here already, and only poor people like me remain."
In January, on a visit to the metropolitan area of Chongqing, on the Yangtze in western China, President Xi Jinping announced a blueprint for development that in the future will quell industrial projects along the river. The plan also details measures for restoring the river's ecology, including water quality and biodiversity.
Environmentalists have long complained of threats to the river's ecosystem coming from pollution as well as from extensive damming, such as by The Three Gorges Dam, which is located north of Yichang.
Xi's speech was seen as a turning point for China's decades-long policy to promote economic development at all costs. If implemented, the policy would mean no more industrial parks in close proximity to the Yangtze. Steps would also be taken to ensure any growth would be sustainable, the policy document stated, offering some residents and non-governmental organizations hope of a greener future.
But for some Chinese people, including many in Yichang, the change of policy should have happened a long time ago.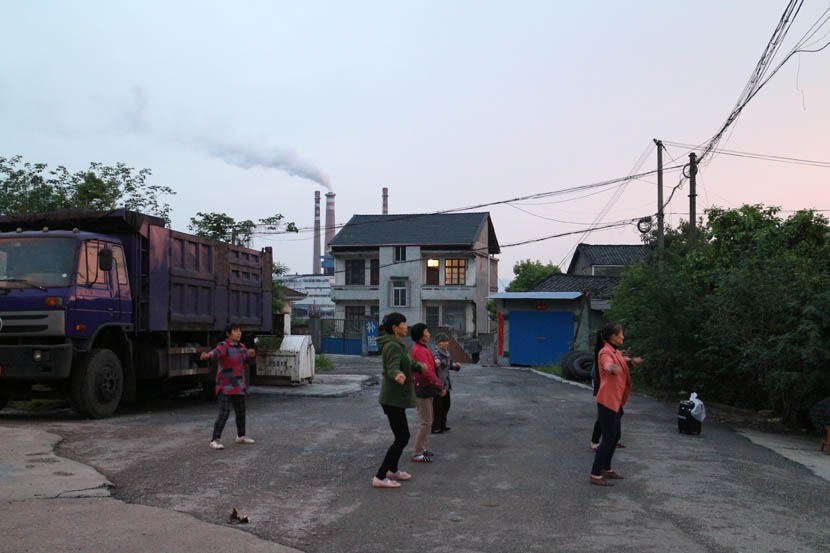 Women dance on a quiet street, with chimneys visible in the background, Yichang, Hubei province, April 17, 2016. Shi Yi/Sixth Tone
Zou lives in Xiaoting, a suburb of Yichang, through which the Yangtze flows on its path from the Tibetan highlands to the sea near Shanghai, a journey of more than 6,000 kilometers. His small, drab two-story house lies just a few hundred meters from the banks of the river. Three decades ago, Zou could look out from his house and enjoy an unimpeded view of the water. Now he finds himself surrounded by factories.
Many residents, including Zou, blame the rise of polluting industries in the area for a host of recently diagnosed illnesses, including cancer. In 2014 he was diagnosed with cancer of the bladder. Since then Zou has undergone surgery twice, leading to the removal of his bladder. Today, Zou has to carry a urine drainage bag around, and says that many of his neighbors have already died from the disease.
This is a situation that occurs with such regularity around China that it's hard to put a figure on the number of so-called cancer villages. Like many other parts of the country, this corner of Yichang has been rapidly gobbled up by economic development. The location's proximity to the Yangtze and the logistical possibilities the relatively flat land offers are seen by local government officials as key advantages for promoting economic development.
Though it is not uncommon for residents to blame heavy industry for spikes in cancer-related deaths, it is difficult to show a definitive link between factories and illnesses. This is mainly due to a lack of hard data, but it's also due to an unwillingness among some government officials to draw too much attention to the downside of rapid economic growth. Government officials typically say that factories in these industrial parks contribute to the local economy by creating jobs and paying taxes.
Gong Shengsheng, a professor in the School of Urban and Environmental Science at Central China Normal University in Wuhan, Hubei province, has plotted 396 "cancer villages," reported by media and NGOs from 1980 to the end of 2015, on a map of China. His study verified that more than 95 percent of these villages were affected by hazardous chemicals. Gong declined to share more specific data with Sixth Tone, citing the data's "sensitivity to authorities."
A rare example of an official document acknowledging the existence of such villages came to light in 2013. The document, issued by the Ministry of Environmental Protection, pointed to pollution as the underlying cause of cancer villages in certain areas. The same document said that an investigation of China's chemical, petroleum, and pharmaceutical companies in 2010 showed that around 15,000 such factories are close to residential areas — a situation the document said posed health and safety risk to humans.
Official data from the Xiaoting Health and Family Planning Commission only includes rates of diabetes, psychosis, and hypertension, as required by the national commission. The data shows no clear differences between local and national data.
Both the Xiaoting District government and the Yichang municipal government said none of the residents had come to them voicing concerns about cancer.
Yu Wanlin, a retired leader in Xiamacao Village, told Sixth Tone that in the past, local residents welcomed the arrival of heavy industry, and people were less concerned about the environment. "It was a sign of development," he said.
In this part of Yichang, residents claim they can trace the origin of their health problems to the arrival of one company in particular: Hubei Yihua Chemical Industry Co. Ltd. Established in 1977, Yihua is the oldest company in the area — it set up in an area that would later become part of the Yichang Economic Development Zone — and is a division of Hubei Yihua Group, a state-run enterprise that owns the largest fertilizer manufacturing plants in China, according to data from the Chemical Industry and Engineering Society of China.
In 2004, Yihua gave assurances that one of their then-soon-to-be-added factories would be environment friendly. "No one questioned the project," Yu recalls. "But the fact is, the anti-pollution measures haven't been as effective as the company said they would be."
Official documents from Yichang's environmental protection bureau show that waste from some of Yihua's factories includes sulfur dioxide, ammonia nitrogen, and other pollutants. Inspection reports Yihua provided to Sixth Tone state that waste discharged from their factories in recent years has met the national standard.
But villagers don't feel comforted by words on paper: It's hard for them to ignore the strong odor that envelopes the area more often than not.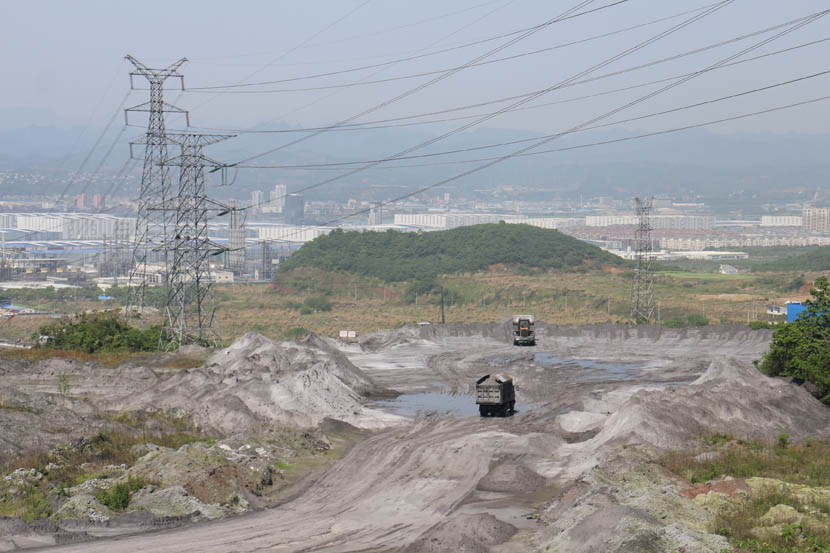 A view of a sulfuric acid dump site in use and owned by Hubei Yihua Chemical Industry Co. Ltd., Yichang, Hubei province, April 18, 2016. Shi Yi/Sixth Tone
Residents still living in the shadow of the factories remember one incident in September 2006, when sulfur dioxide leaked from a plant in which Yihua holds a 50 percent stake.
Sulfur dioxide is a gas that occurs naturally in the environment. It is also generated by burning fossil fuels and is a byproduct of certain industrial processes. According to the U.S. Environmental Protection Agency, exposure to highly concentrated forms of the gas for any length of time can be harmful to one's health, causing respiratory illnesses or exacerbating existing cardiovascular diseases. Exposure can also trigger cancer.
On the day of the leak, a thick black cloud of smoke drifted from the plant toward settlements nearby, sending screaming residents from their homes. According to a report by state news agency Xinhua, 184 people sought treatment at a nearby hospital for severe headaches and other symptoms.
Zou has a gas mask issued by Yihua to him and other residents after the accident. He still keeps it inside its dust-covered packaging, never having used it. "As long as I live here, there's no way to run away from the toxins," he said.
China's laws require chemical factories to keep a certain distance — usually a kilometer — from residential areas. To adhere to this requirement, there have been pushes to relocate residents. But the pace of expansion of the Yichang industrial park has been faster than the speed with which local residents have been relocated.
According to the district government, a total of 1,075 households still live within a kilometer of the factories. Of which, only 394 families have already been relocated. Many who have been moved to new apartments farther from the industrial park say they are happy to keep the pollution at arm's length.
But one 55-year-old man who still lives a few hundred meters away from the Yihua factory and who would only give his surname, Zhao, said: "Usually after the local environmental protection bureau or the company receives our complaints and brings inspectors here, nothing happens. The dirty air doesn't just go away."
Yang Xiaohong, the press officer of the Xiaoting District government, said there are official plans to relocate all residents by 2018.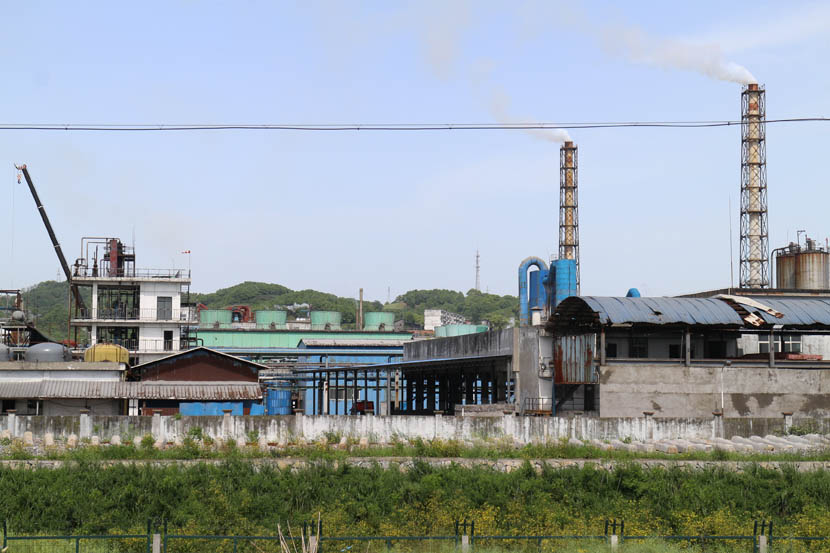 A factory owned by Hubei Yihua Chemical Industry Co. Ltd., next to the Yangtze River at Yichang, Hubei province, April 18, 2016. Shi Yi/Sixth Tone
Yao Jianhua of the Chinese Center for Disease Control and Prevention in Suzhou, in the eastern province of Jiangsu, has studied the effects of long-term exposure to low concentrations of ammonia, another chemical commonly found in plants that produce fertilizers and other chemicals, on workers. Yao's study showed that workers who were in close contact with ammonia experienced respiratory and skin diseases, among other symptoms, at a much higher frequency than the control group.
Pan Xiaochuan, a professor at Peking University's School of Public Health, believes environmental factors in general contribute to more than 50 percent of cancer cases. But he stressed that when it comes to specific cases, it's hard to make a direct link between chemicals and cancer.
"It depends on the specific pollutants, as well as on how people are actually exposed to them," Pan said in an interview with Sixth Tone.
He added that a lack information on pollutants and diseases in China is also an issue because it becomes difficult to know for sure just who or what is responsible for health issues without empirical data.
"That's why polluters and those accused of causing illness can always defend themselves — because there's no evidence," Pan said.
Additional reporting by Fu Danni.
(Header image: Smoke billowing from chimneys at an industrial park in Yichang, Hubei province, April 17, 2016. Shi Yi/Sixth Tone)