Fenda, a new online question-and-answer platform similar to Quora, is offering users more than a just a penny for their thoughts.
Launched on Sunday, Fenda users can profit either by answering or asking questions. Users with knowledge to share can set a price between 1 yuan (around $0.60) and 500 yuan for what they think their expertise is worth. Anyone can ask a question to other registered users on the website who claim to have knowledge or insight of a particular topic.
Answers on Fenda, which means "one-minute answers" in Chinese, are delivered as voice messages no longer than 60 seconds.
Any other users who are curious can "eavesdrop" for 1 yuan and listen to the reply as well. Eavesdropping money is split between the user who asked the question and the user who answered. When an answer is eavesdropped upon, Fenda itself takes a 10 percent cut of the 1 yuan fee.
The platform is the latest product by Guokr.com, a leading Chinese knowledge sharing website that specializes in popular science.
By Wednesday, the most prolific responder was Shi Hang, a well-known playwright who appears as a guest in popular online talk show "U Can U Bibi." In just three days, he has answered more than 350 questions, which have earned him more than 20,000 yuan.
The most popular question posed to him asked what he thought of other guests on the show. Some 4,800 other users chose to eavesdrop on Shi's answer, earning both him and the question's original poster almost 2,200 yuan each.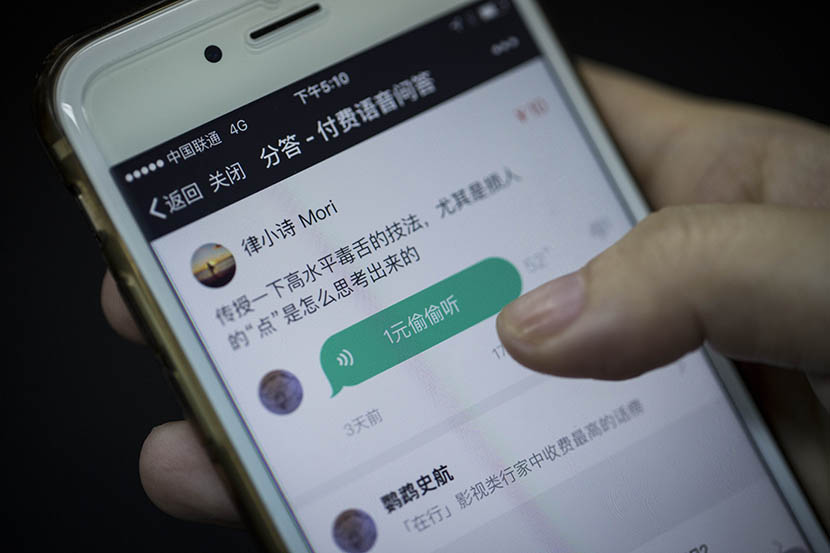 Interface of 'Fenda,' as accessed through messaging app WeChat, May 18, 2016. Yang Shenlai/Sixth Tone
Ji Shisan, founder and CEO of Guokr.com, told Sixth Tone that he is optimistic about the market of paid knowledge sharing. "People are accustomed to free knowledge sharing but it tends to get mixed results," he said. "By putting a price tag on answers, relevant and focused knowledge will be more effectively brought to the right person. It's an upgrade for the consumer."
Platforms like Fenda give users access to information — and celebrities like Shi Hang — that might otherwise have been difficult to get. Experts such as the country's best doctors, for example, are generally only found in the big cities.
So far, one of the highest earners on Fenda is a gynecologist who works at the prestigious Peking Union Medical College Hospital. Answering questions on topics such as period pains, she has been quick to cash in on her popularity and has raised her asking price to 128 yuan per reply.
Online information is not always trustworthy, however, as was highlighted earlier this month when search engine Baidu came under fire after the death of a cancer patient for sponsored search results that advertised unproven medical treatments.
Other knowledge sharing platforms are also experimenting with paid business models.
Competitor Zhihu announced on Saturday that it is developing Zhihu Live, which allows users — on an invitation-only basis for now — to join live online sessions with experts answering questions on specific topics for a fee.
Fenda's owner Guokr.com already has a paid platform on Zaihang, a knowledge sharing website where users pay an average of 400 yuan for a one-to-one Q&A session with experts and industry insiders. Those wishing to impart expertise on Zaihang must submit evidence to prove they are qualified to do so — no such requirement exists on Fenda.
Fenda is still in development, and can currently only be accessed through Zaihang's public account on the messaging app WeChat.
Yang Lu, co-founder and vice president of marketing for Zaihang, believes that Fenda's strengths lie not only in that it provides income for anyone with specialist knowledge, but also in the assurances it gives regarding the quality of answers.
"It filters out some users who don't answer questions seriously," she told Sixth Tone.
With contributions from Li You.
(Header image: VCG)