In Rob Schmitz's Shanghai office, a map of China buckles under the weight of dozens of pins that demarcate the areas the American correspondent has covered in his reporting. It's an attempt to ensure Schmitz's coverage of the country is balanced and comprehensive, he says.
In his upcoming book "Street of Eternal Happiness," however, the China correspondent for American Public Media's business program Marketplace has focused his scope. The book takes its name from the literal translation of the street on which he has lived for four years — Changle Road — and tells the intimate stories and histories of a number of the street's characters.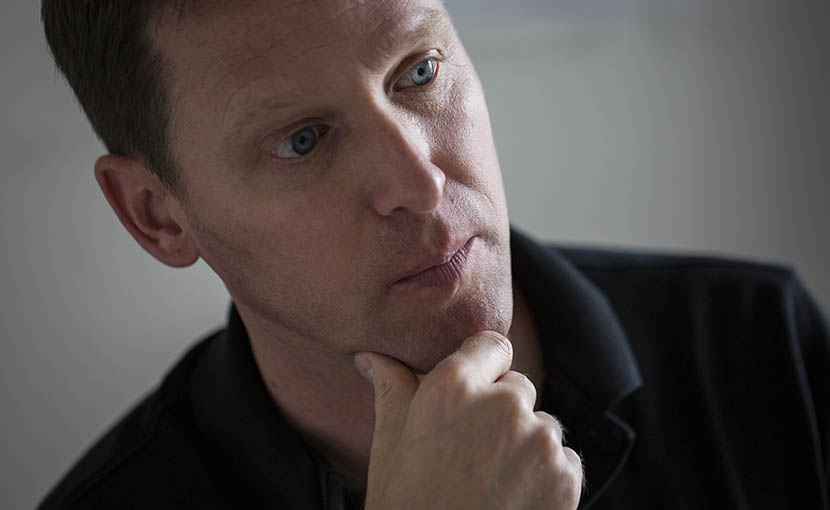 Rob Schmitz at his office in Shanghai, May 11, 2016. Yang Shenlai/Sixth Tone
Schmitz talked to Sixth Tone about his intentions for the book, his impressions of the state of writing in China, and whether or not the dreams of those in the book are remotely related to the "Chinese dream." The interview has been edited for brevity and clarity.
Sixth Tone: Changle Road is located in one of the wealthiest districts in China's richest city. To what extent do the stories in "Street of Eternal Happiness" reflect a broader truth about China?
Rob Schmitz: Shanghai and the district of Xuhui certainly have wealthy residents, but the rapid pace of the city's growth also means that my neighborhood has a very large population of residents who bought — and in many cases, were assigned — their homes during the Mao years when China's economy was in tatters.
As a result, the neighborhood's residents have a wide range of socioeconomic backgrounds. None of the main characters in my book are wealthy, and three of them survive on social welfare payments.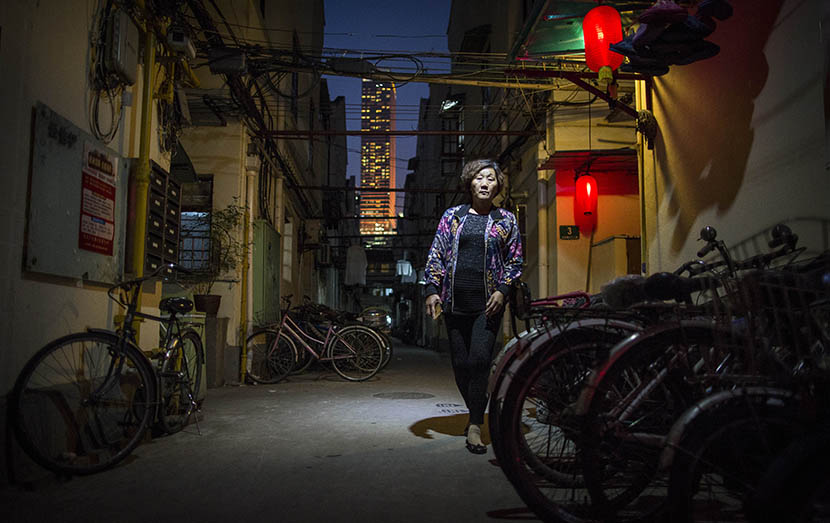 A woman in a lane on Changle Road is seen in front of an office building in Shanghai, May 11, 2016. Yang Shenlai/Sixth Tone
Sixth Tone: Were you shocked by any of the stories you heard? What were the most striking discoveries that you made in the process of writing this book?
Schmitz: There were many things that surprised me about every character over the course of reporting this book. A good example is the story I tell about a box of letters friends lent to me, written between a man imprisoned for being a capitalist in a labor camp on the edge of Tibet and his wife, who took care of their seven children in a lane home along my street.
The letters span 40 years from the 1950s to the 1990s. After reading so many historical accounts of the Mao years, it was fascinating to have in my hands actual specimens of raw history from the era. They told a heartbreaking story through the worst of the Mao years, and, most surprisingly, they led me to a descendant who has ended up in an unpredictable place in his life.
Sixth Tone: How forthcoming were the subjects in the book in opening up to you about such personal and sensitive subjects?
Schmitz: My relationship with these characters transcends one of a journalist and his or her source. I consider them friends and neighbors who I've spent countless hours with over a four-year period. I've accompanied them to their hometowns, on faraway religious pilgrimages, to investment meetings, and to weddings. We had open discussions about what I could and couldn't write about in the book, and in a couple of cases, we decided that I wouldn't use their real names in order to protect their privacy.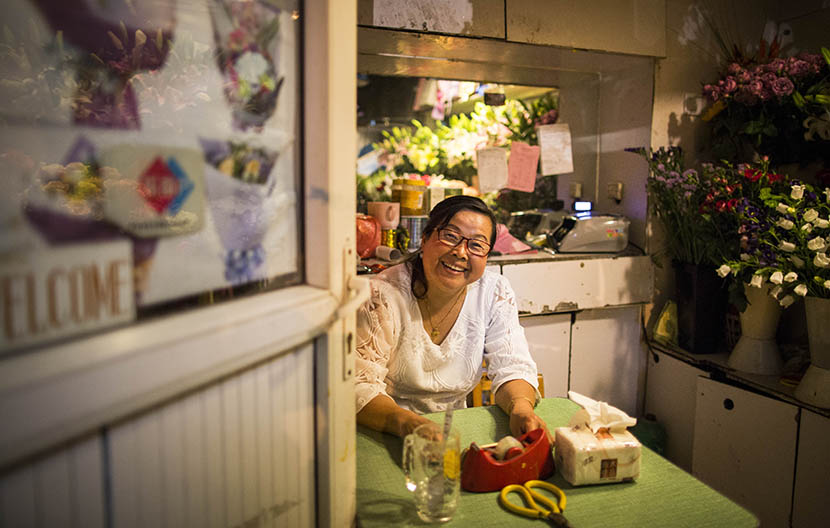 Zhao Shiling poses at her flower shop on Changle Road in Shanghai, May 11, 2016. Zhao is featured as a main character in 'The Street of Eternal Happiness.' Yang Shenlai/Sixth Tone
Sixth Tone: Was there anyone who refused outright to take part in your book?
Schmitz: There was one character who I got to know. He's gay, and I think his sexuality is a very big part of who he is and how he came to be who he is. I thought that his was an interesting story, especially for Shanghai, which tends to be more open about these things.
But when I mentioned the book, his sister stepped in and said, "Absolutely no way." She helped run the shop with him, and felt it would bring shame on the family. I didn't even approach [the idea of a pseudonym], because at that point I could tell that she was upset, that she didn't like the idea — she didn't like me or me talking to him.
It just felt like this was going to feel forced, and I don't think that's good for a book, because for a book you're going to have to keep going back to these folks. These are people that you know, and if it's going to feel weird every time you go there then I don't want to pursue that.
Sixth Tone: You've previously covered the Japanese earthquake, and famously uncovered falsehoods in author Mike Daisey's account of worker conditions in Foxconn factories. How does the micro, "street reporting" style of "Street of Eternal Happiness" compare to covering those high-impact stories?
Schmitz: I see them as one in the same. Even though I chose to focus this book on the individuals who live and work along a single street in Shanghai, the more I knew about the characters, the more their narratives evolved into universal stories that apply to individuals throughout China and beyond.
One character's story leads me back to my home country, and others' stories are infused with a variety of global elements that show a country whose people are very much part of a bigger world.
Sixth Tone: "Street of Eternal Happiness" joins a growing sea of works produced by foreign correspondents based in China. Why do books by foreign writers on China keep selling?
Schmitz: There have been some Chinese non-fiction writers, but writing in China is not a lucrative profession. It's not a profession that you can easily go into, and there are a lot of challenges, within your family for example. You have challenges in the sense that some things might be sensitive. I don't think it's a profession yet that has flourished like it has in the West.
At the same time you have a lot of foreigners that have come to China who have it in mind to write something, maybe those are journalists, language students, even teachers. It is a place that inspires one to write, even if you're not inclined to do so. Things are moving at such a high pace, and change is everywhere you look. Life is everywhere, and still today it's a fascinating, adventurous place where every day is different.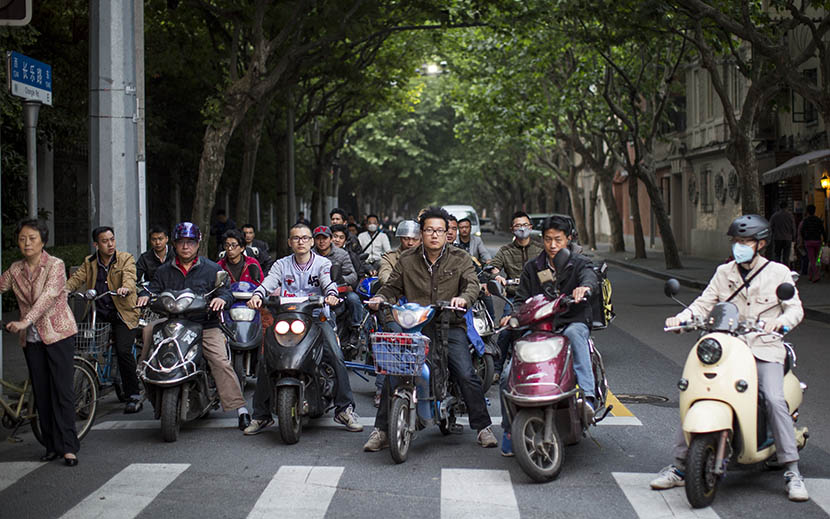 People on e-bikes, motorcycles, and bicycles wait at an intersection at the western end of Changle Road in Shanghai, May 11, 2016. Yang Shenlai/Sixth Tone
Sixth Tone: Where then does your book fit in among the hundreds of others written by foreign correspondents in China? What do you hope readers to gain?
Schmitz: I hope readers will come away having a deeper and more nuanced understanding of who these characters are and why they've made the decisions in life that they've made. I hope that like me, they'll have compassion and empathy for these characters, and if they learn something about Shanghai and Chinese society in the 21st century in the process, then I'd be thrilled.
Sixth Tone: You first arrived in China as a Peace Corps volunteer in Sichuan province, an experience you share with Peter Hessler, whose writing has also made a big splash in China. How does your experience of rural China continue to inform your understanding and coverage of China today?
Schmitz: It was my two years as a Peace Corps volunteer in rural China that inspired me to become a journalist in the first place. I was in the third group of volunteers sent to China — there were only 13 of us, Peter included — and my sitemates and I were assigned to a city, Zigong, that not only had never had volunteers before, but had not had foreign residents since before the Communists took over China in 1949.
This was before the Internet was available in China and phone calls were prohibitively expensive, keeping us isolated from the outside world. Living in Zigong felt like being sent to a faraway planet. Each day brought dozens of new and unpredictable experiences that would bewilder, amuse, and inspire us.
It was hard not to be moved by day-to-day life there, and my yearning to capture these rare and fascinating moments led me to start writing, and later, when I was able to speak Chinese, to begin to talk to my Chinese friends about their lives and their dreams.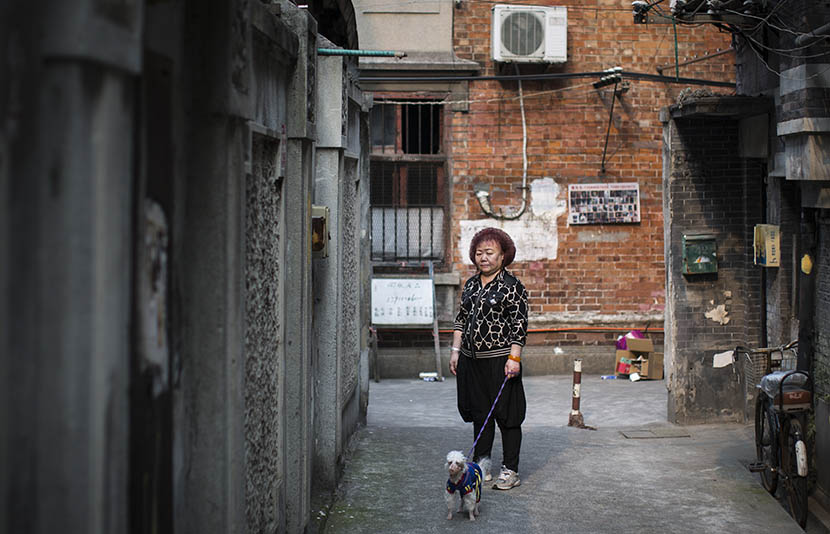 A woman with her dog stands in a lane on Changle Road in Shanghai, May 11, 2016. Yang Shenlai/Sixth Tone
Sixth Tone: The book has its fair share of tragedies — forced demolitions, homelessness, political persecution. Cafe owner CK tells you that he tried to kill himself as a child. Is there room for hope among all the despair?
Schmitz: You should have seen the first draft. I started the whole book with [CK's attempted suicide]. That scene was pretty powerful, and starting a book called "Street of Eternal Happiness" with an attempted suicide would have been pretty interesting.
But the reason that I started with CK was that I found his life inspirational. Here was a guy who grew up in this gritty, industrial place Hengyang [a city in China's central Hunan province, 1,200 kilometers from Shanghai], with his parents both working at state-owned factories. He was miserable, pushed very hard by his father, and his parents had divorced early on. Alone, he tries to kill himself.
He came from that, and got to where he is right now, making a good salary for his age in Shanghai. He's very entrepreneurial, a really smart businessman. And he's now found religion, and found god.
And that in many ways was emblematic of China and the Chinese his age [CK is in his mid-30s]. Think about what they grew up with. They grew up in a very poor country, and suddenly the whole country turned into a huge construction site and money began flooding in. With the frenzied pace of everything, I think there was a lot of pressure to succeed. He could have failed at many points in his life. I think if you've made it to this city, you're following a dream. There are a lot of dreamers in this city.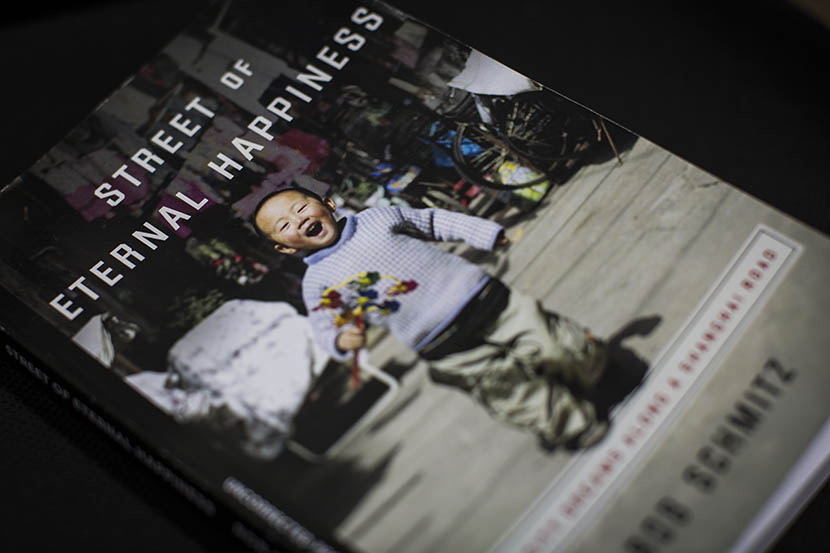 The cover of 'The Street of Eternal Happiness,' Shanghai, May 11, 2016. Yang Shenlai/Sixth Tone
Sixth Tone: Do the dreams of those people speak at all to the rhetoric of the "Chinese dream" that has been pushed by the party?
Schmitz: Not really, because what I see to be the "Chinese dream" — and what it's been defined as — is a political slogan that aims to corral people's dreams into one dream for China. Whereas realistically, I think most people have their own dreams — a dream is the most human quality that you can have.
To take that and say that it has to be the dream of the motherland first, I think that's pretty bold. In many ways I think the whole Chinese dream is a reaction to all of these individual dreams that came out of this time when opportunity was there.
In the late 70s and early 80s you could have one or two dreams, because of the limited economic opportunities you had. But suddenly everyone had way more dreams, careers that they could pursue, places they could go. Now they could even go abroad.
Those dreams just spread out like wildfire, and I think that in some ways the "Chinese dream" is a way to corral that. Not to be conspiratorial, but I think it really is.
(Header image: People walk and chat on Changle Road in Shanghai, May 11, 2016. Yang Shenlai/Sixth Tone)