Wardens in Chinese jails are turning to the ancient Confucius' teachings to rehabilitate inmates.
According to a local news website, Luzhong prison, in the city of Zibo in eastern China's Shandong province, opened a "Confucius School" last weekend. Prisoners can listen to cultural lectures, read Chinese classics, and practice calligraphy. The school will also nurture socialist core values, according to the news report.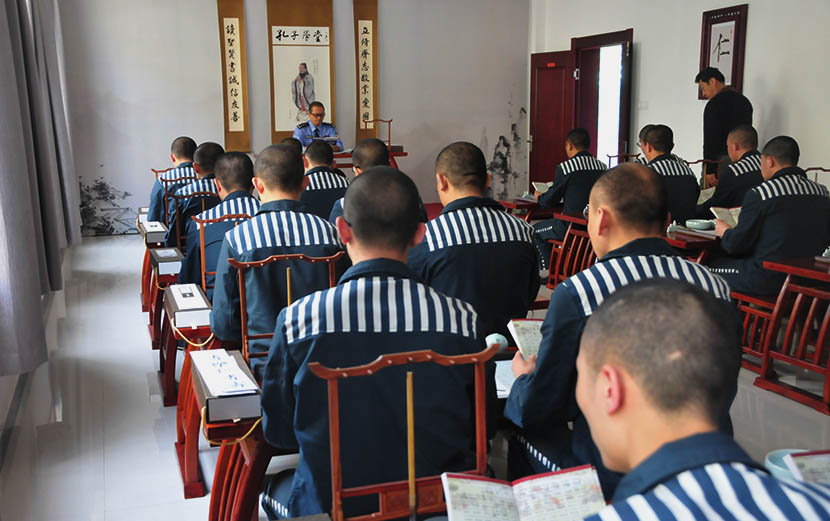 Prisoners study the teachings of Confucius at the Confucius School at Luzhong Prison, Zibo, Shandong province, May 7, 2016. Douyacai/VCG
The Confucius School, a project by the China Confucius Foundation, claims on its website to be dedicated to imparting first-class traditional culture and aims to build a spiritual homeland for the Chinese.
Staff of the foundation who answered calls from Sixth Tone said there are plans to open more schools across China in the next five years but referred questions on whether more schools would be opened in jails to prison authories.
An official at the Prison Administration Bureau of Shandong province declined to comment when reached by Sixth Tone.
The province is the birthplace of Confucius, and also of the influential Confucian scholar Mencius, and many prisons there have been experimenting with Confucian teachings.
Other provinces have also applied Confucius' ancient wisdom to prisoner rehabilitation in recent years. A staff member at a jail in the northern province of Hebei who declined to be named as he was not authorized to speak with journalists, told Sixth Tone that the facility began offering a Confucius course in 2010. That was part of a wider program that also includes legal studies, illiteracy reduction, and workplace skills.
Given the basic levels of education of some prisoners, the course uses books written for children, said the employee of the Hebei prison. These include "Disciple Gauge," a children's book on good conduct compiled during the Qing dynasty (1644-1912).
The teachings contained in that book could help prisoners "to better get along with their families," he said.
(Header image: The opening ceremony of the Confucius School in Luzhong Prison, Zibo, Shandong province, May 7, 2016. Douyacai/VCG)