Chen Zhongshi, best known for his novel "White Deer Plain," died on Friday morning at age 73, according to an obituary released by the Writers Association of his native Shaanxi province.
Chen, born in 1942 in Xian, Shaanxi province, northern China, published his first work in 1973, and has more than 30 works to his name. His most influential work is "White Deer Plain," which he finished in 1993, and which won him the prestigious Mao Dun Literature Prize in 1997.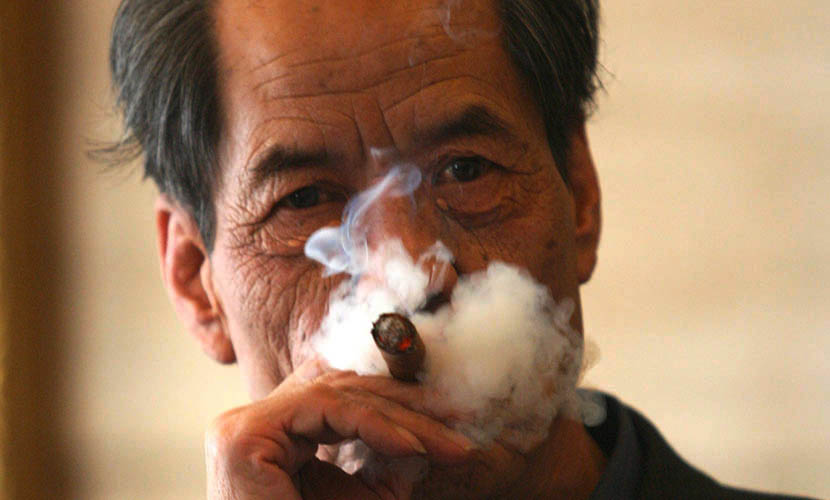 Chen Zhongshi smokes during a China Writers Association conference in Nantong, Jiangsu province, April 9, 2007. Jiang Jianhua/VCG
"White Deer Plain" describes how two families, the Bais and Lus, live through the changes China faced from the 1840s, the late Qing dynasty, to the 1980s, just after China's Cultural Revolution. The story incorporates reflections on Chinese national history and traditional culture. A central theme in the book is the decline of agricultural civilization and Confucian tradition over decades of modernization and revolution in China.
The novel was arguably Chen's greatest work and one of the best-known works of contemporary Chinese literature. Gao Yuanbao, a professor at the department of Chinese language and literary at Fudan University, told Sixth Tone all of Chen's works are somehow connected to "White Deer Plain."
The book was also a source of controversy. The judges of the 1997 Mao Dun Literature Prize asked Chen to modify the novel in two places for it to be eligible for the prize. The jury thought Chen misrepresented the Communist revolution and was too explicit in his descriptions of sex. It wasn't until 15 years later, in 2012, that the unabridged edition came out.
More than 2 million copies of "White Deer Plain" have been published. It has been made into plays and TV series by a number of artists over the past two decades, and in 2011 the movie adaptation won a Silver Bear at the Berlin International Film Festival.
Xiu Xiaolin, a senior editor at the Shanghai Literature and Art Publishing House who befriended Chen Zhongshi more than 30 years ago, told Sixth Tone that Chen said to him before writing "White Deer Plain" that he wanted to create a masterpiece which "he could bring into the coffin as a pillow."
Chen had been undergoing chemotherapy for tongue cancer, which last year began to spread.
Jia Pingwa, another famous Shaanxi author, told Sixth Tone that he visited Chen on Thursday morning. "At that time, he could not speak but was still conscious, and he was very, very thin," Jia said. "Chen was a persistent writer who made great contributions to Chinese literature. I am deeply grieved to learn of his death."
(Header image: A stage photo of the film 'White Deer Plain,' adapted from Chen Zhongshi's novel of the same name. VCG)