A feisty but lovable white rabbit is fast becoming a new symbol of China, capturing the minds of its netizens — and politicians.
For some time, many in China have been keen to establish an animal symbol for the nation that could stand proud against the United States' bald eagle or Russia's brown bear. At first, military enthusiasts turned to the panda — an animal that still springs to the minds of some as embodying the nation, in the same way that the mythical dragon does for others.
The work of one man, however, has catapulted another character into the ring: the rabbit. Lin Chao, 33 and from China's southwestern Yunnan province, worked for years as an unknown animator.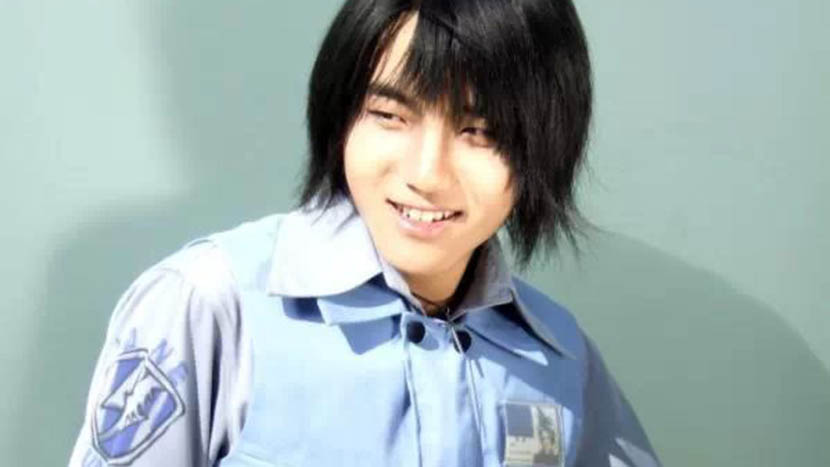 Lin Chao, creator of 'That Rabbit.' Courtesy of Xiamen Rising Wind Animation Technology Co., Ltd.
Yet his depiction of China as an adorable — and at times assertive — rabbit has captured the nationalist fervor of young netizens in recent months, and this has brought Lin a considerable following. His creation, known simply as "That Rabbit," has since undergone the full meme makeover treatment, spawning an animated series, PC and mobile games, even merchandise.
That Rabbit on Tuesday also brought Lin 20 million yuan (around $3 million) in investments from one of China's premier video streaming and subculture sites, Bilibili.
Not only has Lin's cartoon China-rabbit analogy attracted the attention of both net users and investors, but it has also brought the once-unknown cartoonist interest from the Communist Party of China, which in recent times has attempted to influence the minds of the country's young population through increasingly offbeat means.
Lin didn't invent the symbol. References to China as a rabbit began to appear in military Internet forums like the famed Iron Blood platform as early as six years ago. Later, in the 2011 Year of the Rabbit, three Internet posts appeared that referred to China as a rabbit. Two were works of fiction: one a chronicle of China's recent military history and the other a humorous take on China's history since 1840, both featuring a rabbit in the starring role of the Communist Party.
Yet it was the third work, a four-panel comic series, which told the story of the Chinese military's modern history through animals, that drew most attention. The author of that comic, called That Year, That Rabbit, Those Things, was Lin Chao.
In the comic, That Rabbit plays two different roles, depending on the setting. The first is the personification of China, battling it out on the world's political stage with an American eagle, a Russian bear, a Japanese chicken, and others; the second is a depiction of ordinary Chinese citizens who call each other "dear," and task themselves with protecting China and making it a stronger nation.
Since its first serialization in 2011, That Year, That Rabbit, Those Things has enjoyed an ever-growing following online. Lin saw financial potential in the franchise, so he moved to the city of Xiamen in the eastern province of Fujian in 2012 in search of backers for the development of his cartoon. His marriage to his girlfriend — a fan whom he had met online — and the birth of their child brought new responsibilities that a job at a small anime magazine in Yunnan could not support.
By 2014, Lin had secured 2 million yuan in investment from Hong Kong company Greenwoods Investment. While it was just a tenth of the amount he received Tuesday, the money was nevertheless enough to fund the production of the 12-part series That Year, That Rabbit, Those Things, the first season of which was broadcast in the spring of 2015.
With episodes under seven minutes long, the series was prime material for viewers to share on social media. Within weeks of being broadcast, Lin's creation became the most-watched domestic animation on several of China's biggest video streaming websites, including Youku, Tencent, and Sohu.
With the tagline "Every rabbit has its dream of becoming a big power," the series did not disguise the intense patriotism that underlined its message, which has resonated deeply with the series' young audience.
On Bilibili, Lin's most recent benefactor, viewer comments glide across the screen during video playback — a feature the site's loyal users love. Start streaming That Year, That Rabbit, Those Things and you'll be bombarded with messages of impassioned patriotism: "Long live the Rabbit! Long live China!"; "I hope in my lifetime that I see you come to reign over the world!"; "If there is an afterlife, I hope I'll be Chinese again."
With its obsessive use of Internet humor, cute artistic portrayal, and undisguised antipathy for some countries, That Rabbit would appear to be targeting a young, passionate, online audience.
An image of the cartoon characters in 'That Year, That Rabbit, Those Things.' Courtesy of Xiamen Rising Wind Animation Technology Co., Ltd.
Yet the franchise has attracted interest from the epitome of the establishment itself: Chinese authorities. Ever since it first declared itself a fan of the That Rabbit series on its official Weibo account in March 2015, the Central Communist Youth League of China has been posting links to new episodes of the animation religiously.
Lin said that he has been approached several times by the Chinese government, who are keen to incorporate the Rabbit into the party's official ideological propaganda operation. Despite the recognition that state backing would bring him, Lin has refused the offers.
"I am, after all, an artist, so I don't want to get too close to the authorities," he said. "But of course I cannot tell them that. The reason I gave them was that in terms of its propaganda value, That Rabbit might work better if it remains unofficial." Lin told the authorities that he was willing to cooperate to a degree, however, by allowing them to use images of the Rabbit for non-commercial purposes.
Not everyone is as enamored with Lin's creation as the government, though. In the eyes of some of the Rabbit's critics, the character is excessively chauvinistic and gratuitously violent. In opposition to the flocks of Rabbit fans, anti-Rabbit activist groups have sprung up on online platforms like Baibu Tieba — China's largest forum. In a play on words, these opposition groups refer to the fluffy creature as the "Nazi Rabbit" instead of "That Rabbit." In Chinese, the word "that" and the abbreviation for the word "Nazi" share the same pronunciation: na.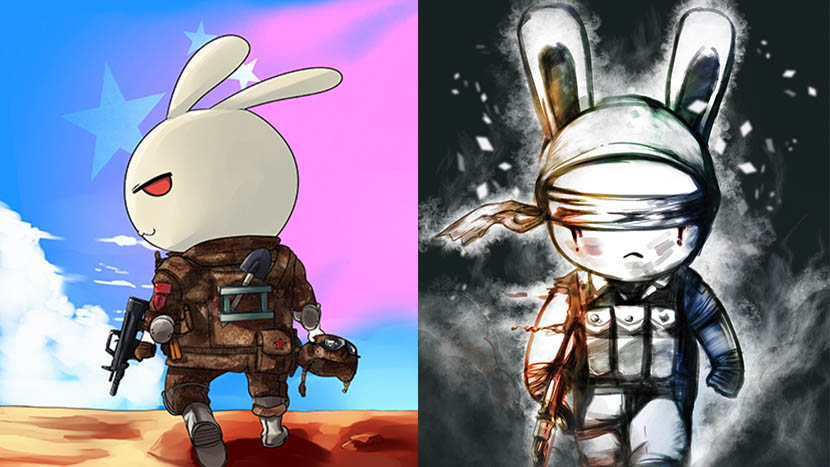 Images of 'That Rabbit.' Courtesy of Xiamen Rising Wind Animation Technology Co., Ltd.
Still, as Tuesday's influx of capital seems to suggest, it looks like Lin won't have to worry about his detractors. Lin told Sixth Tone the multi-million-yuan investment would fund the production of a third season of the animated series, as well as a feature film planned for release in October 2018.
Lin hopes that his company can be forged into a great franchise, like Marvel, and that the Rabbit will become a trademarked superhero just like Captain America.
"Loving my country and making money," Lin said, "I don't see any contradiction between the two."
(Header image: An image of the cartoon characters in 'That Year, That Rabbit, Those Things.' Courtesy of Xiamen Rising Wind Animation Technology Co., Ltd.)