Lei Bin is 28 years old this year. On April 2 he got up early, dressed himself in black, and made his way to the Nanshan graveyard in Hangzhou, capital of China's eastern Zhejiang province. He has 37 tombs to sweep there, but not as a cleaner employed by the graveyard. It is Qingming Festival, also known as Tomb-Sweeping Day in English, and Lei — a professional tomb-sweeper — is offering his services to bereaved families who are unable to visit the graves in person.
Qingming Festival falls in the beginning of April, and is a time for families to pay homage to their dead relatives, with one of the major activities including a visit to the physical tombs. During the visit, families clean the graves, pay their respects, and offer tributes in the form of gifts to their deceased relatives.
Lei Bin talks through his business of sweeping tombs on the behalf of clients.
However, with the rise of China's very own gig economy, an increasing number of people are hiring professional mourners to stand in for them on the holiday. Encouraged by his friends, Lei launched a shop on e-Bay-like e-commerce website Taobao in 2013 to accommodate these kinds of requests. For only 500 yuan (around $77), Lei will pay his respects to your relatives in your place. His services include tomb-sweeping, lighting candles, laying flowers, burning fake money, and bowing to the graves — all of which lasts about 20 minutes. Some of his customers even ask him to give a live video broadcast.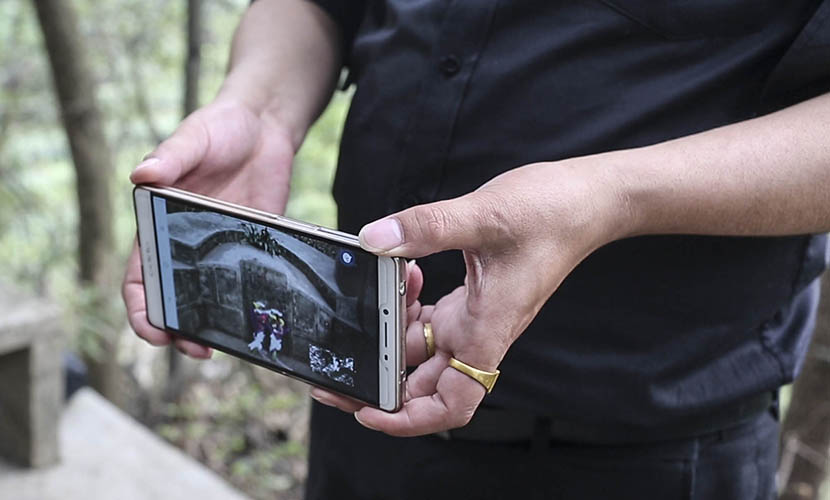 Lei Bin streams a live video feed to his tomb-sweeping clients, Hangzhou, Zhejiang province, April 2, 2016. Chen Ronghui/Sixth Tone
There have been criticisms of these services from those who view hiring a professional mourner to be disrespectful, but Lei understands that not everyone is able to pay their respects on Qingming Festival. He draws the line at prostrating himself in front of the grave or crying, believing these to be activities that must come from the heart, not from a stranger. "Money can't buy everything," he says.
Of course, Lei's tomb-sweeping clients only require his services once a year during the Qingming Festival. Therefore, his Taobao store also accommodates other requests. In addition to being a professional tomb-sweeper, Lei will also apologize to people on your behalf, be your romance consultant, go shopping with you, or act as a bodyguard.
(Header image: Professional tomb-sweeper Lei Bin stands between graves in Nanshan Cemetery, Hangzhou, Zhejiang province, April 2, 2016. Chen Ronghui/Sixth Tone)