Ye Zhaohui is 37 years old, a former deputy mayor, and currently the executive vice president of a private company. In November 2015 he resigned from his government post to take up a career in selling blueberry products on the Internet. It's not a choice many Chinese politicians would have made, and not one that Ye made lightly. "It was the first big decision of my life," he said.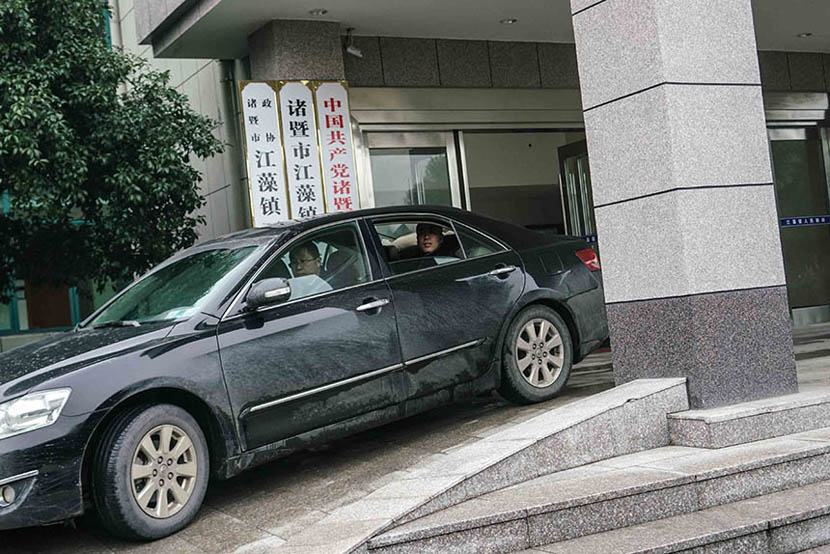 Ye Zhaohui leaves a local government office after meeting with officials to talk about his business in Zhuji, Dec. 23, 2015. Chen Ronghui/Sixth Tone
Although few Chinese public officials in the past would have chosen to abandon their government careers, they are now doing so in rising numbers, with low pay, long hours, and high pressure being the reasons most often cited. Ye worked almost 20 years for the Chinese government in various positions. He left feeling thankful: "If I hadn't enjoyed 20 years of education within the system, I wouldn't have had this opportunity right now."
Five years ago, Ye became the deputy leader of Suichang County in Zhejiang, one of China's most prosperous provinces. His career was on track to a bright future; already he had accomplished a lot for his age. In 2013 Ye was re-posted to be deputy mayor of Zhuji city — a guazhi, or temporary assignment.
As a local official, Ye started an e-commerce program for locally produced pork. He managed to get 3,000 households on board. After its launch, the program sold 500 kilograms of pork in just 10 minutes.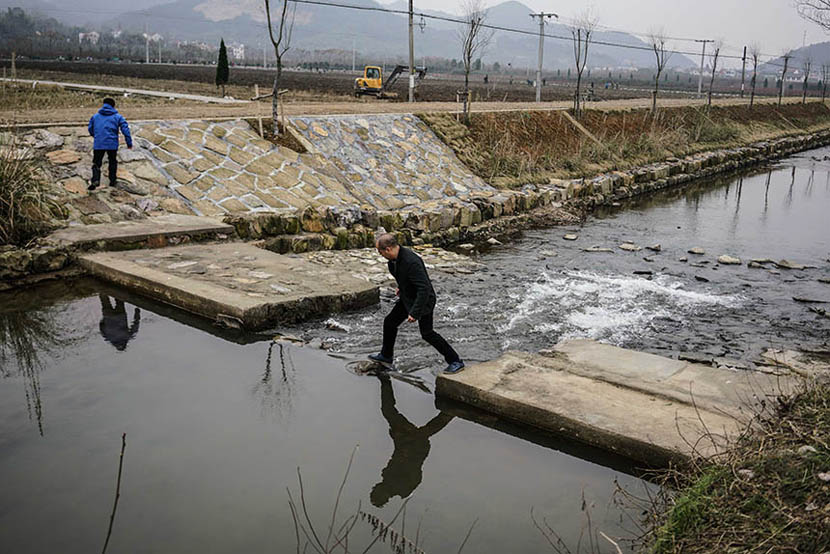 Ye steps across a stream while conducting a field investigation for his company in Zhuji, Dec. 23, 2015. Chen Ronghui/Sixth Tone
While on an inspection tour through the countryside, Ye met Yang Shufang, the chairman of Lanmei Technologies Inc., a company selling blueberry products online. Yang asked Ye if he would be interested in working for his company. Ye's first reaction was "That's impossible," but eventually he agreed. Ye knew that he would have to battle the stereotypes people have about public officials. He imagined people questioning his work ethic as an ex-official, thinking he'd probably just delegate all of his responsibilities, sit back, and enjoy the high salary.
It took awhile for Ye to adjust to his new role. "Mayor Ye" became "Manager Ye." "If someone behind me called for me, they would have to call me twice before I realized 'Oh, they are looking for me,'" Ye said. As a government official, he used to talk to businessmen who came to him for help. Now, he is the one visiting government offices seeking support.
(Header image: Ye Zhaohui tasting some blueberry leaves in Zhuji, Dec. 21, 2015. Chen Ronghui/Sixth Tone)