An 8-month-old infant was bitten by animals while left unattended at the family's home in southern China, resulting in a bone-deep wound covering a large part of the child's lower leg.
The gruesome discovery was made in the late evening of March 18. The child, who only weighed 4.5 kilograms due to severe malnutrition, was sent to the Maoming City People's Hospital, in Guangdong province. The infant's 3-year-old sister was also bitten, though not badly wounded, Hongxing News, an affiliate of Chengdu Business Daily, reported Monday.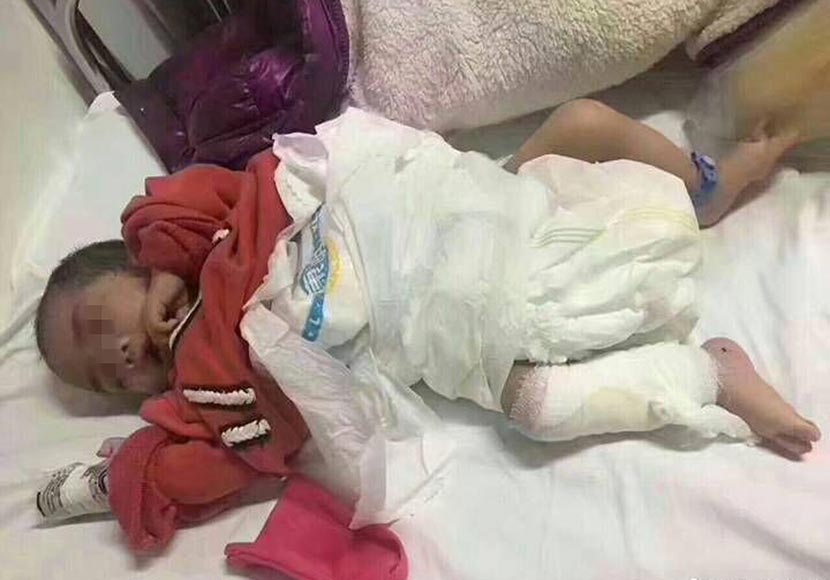 An undated photo shows the 8-month-old boy with a bandaged wound on his right leg at Maoming City People's Hospital, Guangdong province. VCG
The children's 62-year-old grandmother, a woman surnamed Cai, said she suspects rats were responsible for the injuries. She collects garbage for a living, and had left the house for the day with a third sibling — a 4-year-old boy — in tow. The children's parents have been missing since November 2016, and the mother reportedly has a mental illness.
The children were often left unguarded at home among piles of garbage. The 3-year-old toddler was frequently tied to the bed, deforming her limbs and rendering her temporarily unable to walk.
An anonymous neighbor cited in the report said the family was so poor that Cai initially did not plan to send the children to the hospital. The neighbor eventually lent the family money to pay for a hospital visit.
Wu Xiaoli, the doctor who treated the children, told Hongxing News that he reckoned the incident happened at least 11 hours before the children came in for treatment. "If this was done by rats, it must have been a lot of them," Wu said, adding that it was the first time he had ever encountered such a case.
Ou Xucong of the nongovernmental organization Maoming Youth Volunteers Association told Sixth Tone that the infant's condition has stabilized, and that volunteers are taking care of the children now, as well as trying to find their missing parents. Ou's NGO looks after the area's poor families.
"The authorities have paid close attention to Cai's family and are trying to solve the problem," Ou said, adding that the village committee of Canqiao, where the family lives, said they would help Cai and the children obtain identification documents in order to be eligible for a low-income allowance.
The children are being cared for by just one grandparent — a problem shared by many of China's millions of left-behind children, most of whom have parents who work and live in distant cities and only rarely return home.
In February, a 3-year-old left-behind child in the central province of Henan was bitten in the neck by a Tibetan mastiff and had to undergo surgery. Last year, a 6-year-old in Chongqing, southwestern China, was also attacked by a dog and had to receive a skin transplant. In both cases, the families could not afford medical fees and had to turn to charities for help.
In 2015, four left-behind siblings in Guizhou, one of China's poorest provinces, in southwestern China, died after drinking pesticide. They had been left with their grandparents, who were too old to properly care for them.
Editor: Kevin Schoenmakers.
(Header image: An undated photo shows a volunteer feeding the 3-year-old girl in a ward at Maoming City People's Hospital in Guangdong province. VCG)