China has become one of the world's biggest players in artificial intelligence (AI), but a lack of talented researchers and a dearth of advanced labs hinder the country's competitiveness, according to several of the field's leading experts.
In some respects, China has already overtaken the U.S. as the industry's front-runner. When it comes to deep-learning research, for example, a report published by the American government in November last year indicated that China outpublished the U.S. in 2015 in terms of academic articles.
However, when asked to compare both AI giants side by side, Yann LeCun, director of Facebook AI Research (FAIR) and the founding director of the New York University (NYU) Center for Data Science, told Sixth Tone that advanced research labs are a major distinction between the countries.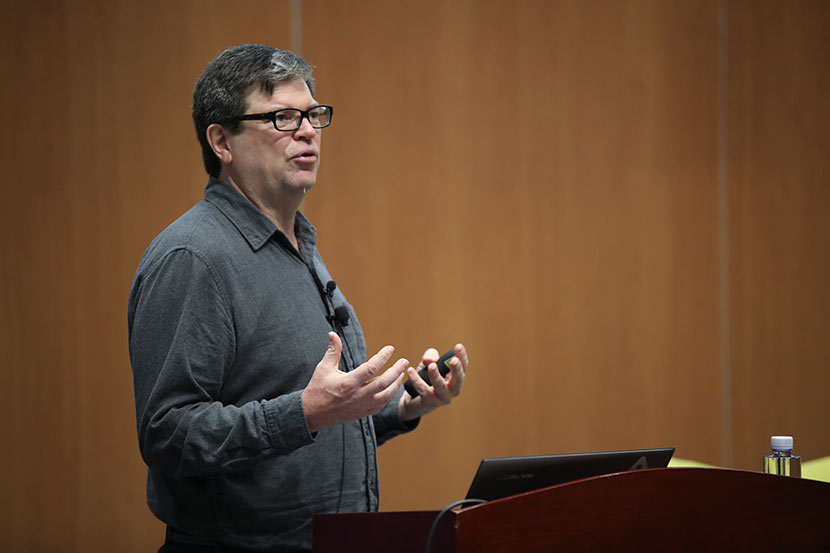 Yann LeCun, director of AI research at Facebook, gives a talk at New York University Shanghai, March 24, 2017. Courtesy of NYU Shanghai
"Corporations in the U.S. are able to create advanced research labs — like FAIR, like [Google's] DeepMind — where people do academic research that's really at the forefront," Yann said after taking part in a panel discussion, "Predictive Learning and the Future of AI," at NYU's Shanghai campus on Friday. "I don't see that at any other company."
It's not for lack of effort by Chinese companies, though. The country's first national AI lab, for example, was established earlier this month, led by Baidu, China's answer to Google and one of the world's leading AI companies, and several top academic institutes like the prestigious Tsinghua University in Beijing. Baidu in particular has bet big on AI, having invested a total of $2.9 billion in AI research over the past two and a half years.
The company's lofty aspirations were dealt a blow earlier this week, however, by the resignation announcement of Andrew Ng, its chief AI scientist. Meanwhile, Baidu's main competitor, Tencent, has just appointed Zhang Tong, the former leader of Baidu's Big Data Lab, as the director of its own AI lab.
Artificial intelligence is seen as a major growth industry and has been hailed in China as the answer to everything from alleviating Beijing's eternal traffic jams to injecting more transparency to the country's judicial system.

Another participant in Friday's panel pointed to another reason why China can't seem to keep up with the U.S. "There is a severe lack of talented people in China," Zhang Zheng, a professor of computer science at NYU Shanghai, told Sixth Tone. Zhang believes that this is the biggest challenge for China's future AI developments.
"Things have been improving in recent years," Zhang said, "but currently, we have transferred the task of cultivating top talent abroad. We need a good system to attract talented people back to [China], and we need to constantly improve our own research level."
Though more researchers with foreign education backgrounds are coming back to China, few are dedicating themselves to academic research. "There is too much hot money," Zhang said, "and most talents choose to work for tech companies and startups rather than academic institutions."
Editor: Kevin Schoenmakers.
(Header image: A no entry sign hangs on an open gate in front of the Facebook logo at the Facebook Innovation Hub in Berlin, Feb. 24, 2016. Sean Gallup/Getty Images/VCG)