The scenes outside the pediatrics intensive care unit of Puyang City People's Hospital were harrowing on Wednesday evening. One man was pleading with his wife: "We need to eat something for the sake of our child. Don't make me beg you anymore — please."
Their son, a primary school student, was in a coma after being trampled in the stampede that had killed one student at Number 3 Experimental Primary School at roughly 8:30 that morning, Sixth Tone's sister publication The Paper reported.
The children had just finished their morning reading and were on a 10-minute break before the start of their monthly Chinese test. The school, in central China's Henan province, reportedly had more than 1,700 young students spread out over just 23 classes. When the children converged on the school's five bathrooms, one child slipped on the stairs, and chaos ensued. Twenty children were injured, five of them seriously.
Much of the reaction following the incident has focused on the school's cramped conditions. A commentary in The Beijing News said that the "seemingly accidental event" was actually inevitable. "They neglected some existing issues, especially hidden problems like the lack of toilets," it said. "The lack of awareness is what caused the accident."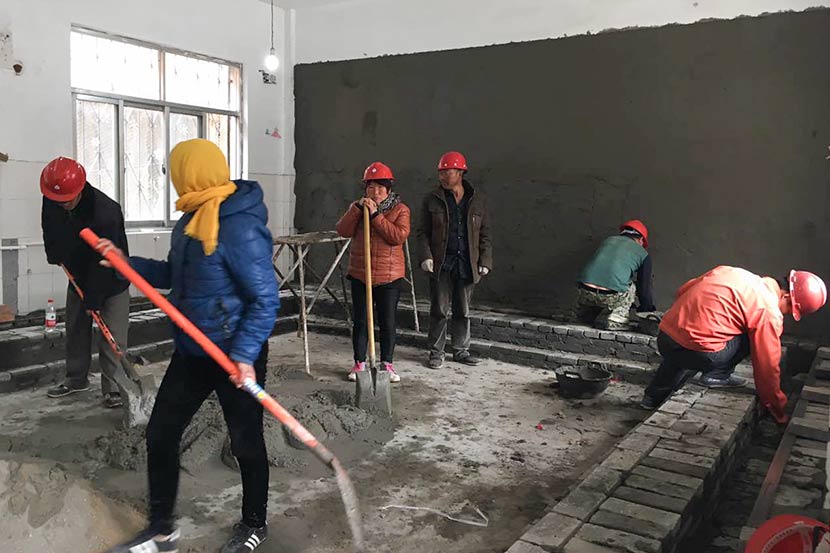 Workers construct a bathroom at No. 3 Experimental Primary School in Puyang, Henan province, March 23, 2017. Zhou Na/Sixth Tone
Henan's population density is among the highest across all Chinese provinces, and Puyang's county seat, where the school is located, has about 150,000 residents. With about 74 students per classroom, the school easily exceeds the provincial government-mandated capacity of 45 students per classroom.
"In Shanghai, 45 students is a large number for one class," a principal from a Shanghai public school told Sixth Tone. "But for rural areas, it's normal to have 60 to 70 students in one classroom." The principal, who refused to be named for fear of professional repercussions, said it's difficult to control class sizes in some areas due to the overwhelming number of children.
One anonymous teacher from Puyang told The Beijing News that due to accelerating urbanization, schools in the county seat are overfilled, while many schools in the surrounding villages have a hard time filling their spots.
Net users were not surprised by the high number of students at the school, and many shared stories of their own. "My classes from middle school on had more than 80 people," wrote one user on microblog platform Weibo. "High-level officials never found any issues whenever they carried out inspections."
"Come here and have a look," wrote another user, referring to a primary school in Henan's Zhenping County. "Each grade from one to six has more than 12 classes, and each class has at least 100 children."
The Puyang County government said Wednesday that it would reform the school and "improve the conditions of its teaching facilities." The announcement added that a countywide security inspection would be carried out "to eliminate potential safety dangers and avoid other safety incidents."
Party newspaper Guangming Daily published two commentaries on its website regarding the stampede. Both criticized schools in the country for their lax regard of safety rules, citing other incidents including overloaded school buses, and said schools shouldn't just care about safety rules during inspections.
A publicity official of the Puyang County Party committee told The Paper that the school had suspended classes for Thursday and Friday. Construction work on the bathrooms will be concluded before Monday, he said without elaborating.
Editor: Kevin Schoenmakers.
(Header image: A crane is used for construction work on the bathrooms at No. 3 Experimental Primary School in Puyang, Henan province, March 23, 2017. Zhou Na/Sixth Tone)