At a café in Beixinqiao, an emergent hipster enclave in Beijing, Krish Raghav gushes about his love for the Chinese capital — until the conversation turns to what many know as "curry."
Soon after the 29-year-old moved to China for work in 2015, he started hosting weekend lunches where he would cook South Indian specialties like idli, sambar, and dosa. But many of his Chinese and foreign friends reduced all of his motherland's diverse, multiethnic cuisine to one word, which Raghav considers a "universal derogative."
"There's so much more to Indian food," Raghav tells Sixth Tone. "But there's no vocabulary when talking about Indian food: It's garlicky, gingery, peppery. We don't know what to call it, so we just call it curry." His frustrations inspired him to draw a comic strip which has earned his work global attention.
Raghav's self-portrait in the eight-panel comic screams, "There is no such thing as curry."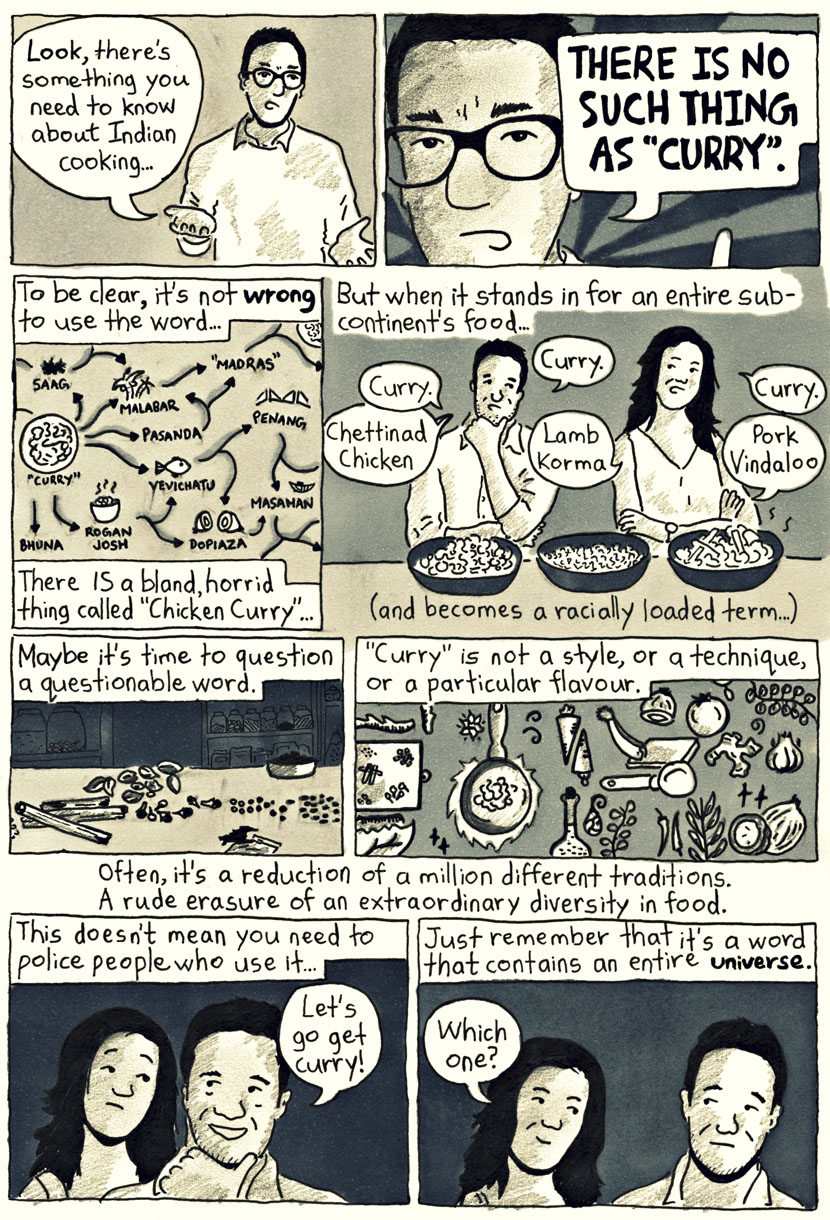 Comic by Krish Raghav. Courtesy of the artist
"Just remember that it's a word that contains an entire universe," the comic concludes.
His other works delve deeper into identity and skin color. Raghav, who is from Chennai in southern India, says he stands out in China, where fairer skin is prized and privileged. His darker skin tone and Indian nationality often delimit his identity in China. "It's frustrating that I'm not allowed to forget that," he says, adding that the image of India in China is "marked by stereotypes and recurring sets of images, most of them negative."
However, those frustrations are fleeting for Raghav, a former journalist and policy analyst who currently works as a music promoter in Beijing, penning comics on the side.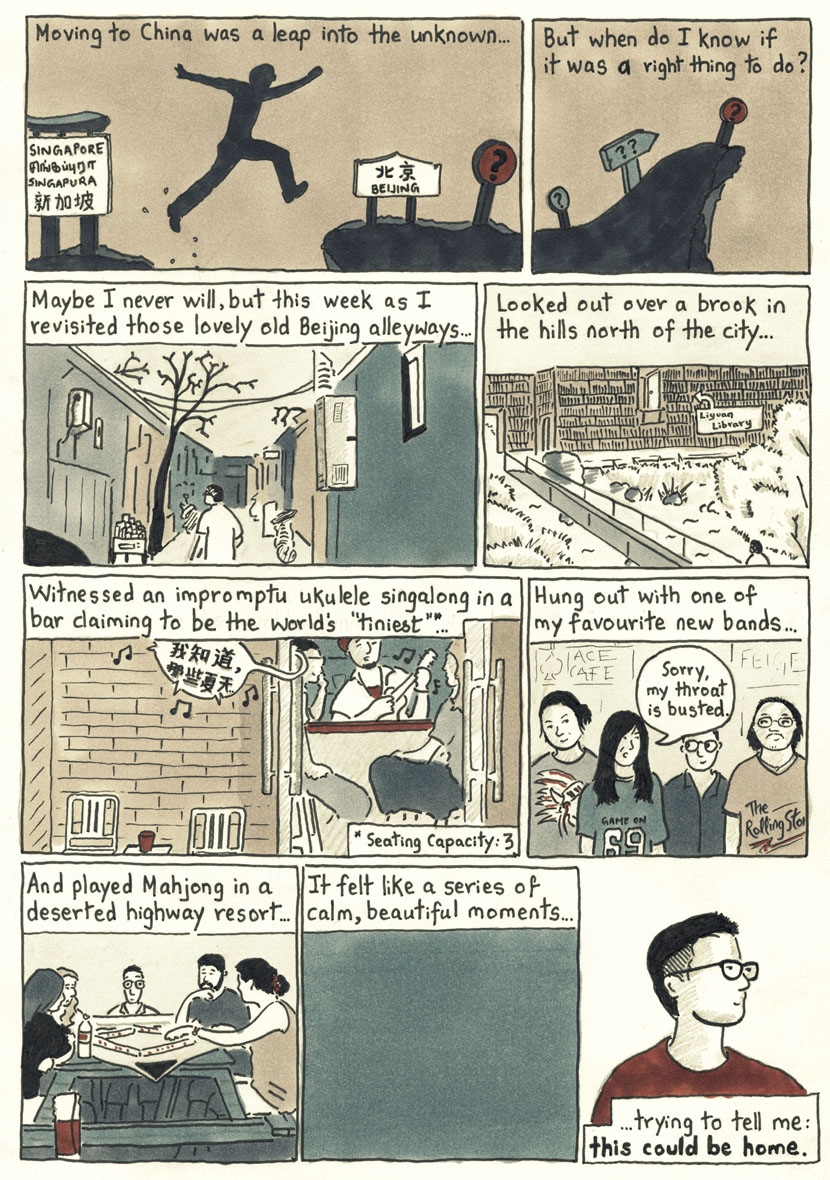 Comic by Krish Raghav. Courtesy of the artist
Raghav is focused on his quest to uncover the city's subcultures and dig deeper into its underground characters. He chronicles the magnificence and mayhem of the city and its music scene on his comic blog, Beijing Brown.
When Raghav first started doodling seven years ago while working for a publishing house in New Delhi, drawing comics was a form of escapism. "I didn't want to reflect my life [in them] in any way," he says. But now, he describes his blog as a slice of his life — and his life in China's capital provides plenty of fodder for his creativity.
"Beijing is kind of special, it's incredible," says Raghav, staring through thick, black-rimmed glasses. "You have to shut out some things here. You have to operate in a different spectrum when it comes to Beijing, because if you take things on a surface level, it can be a deeply frustrating city."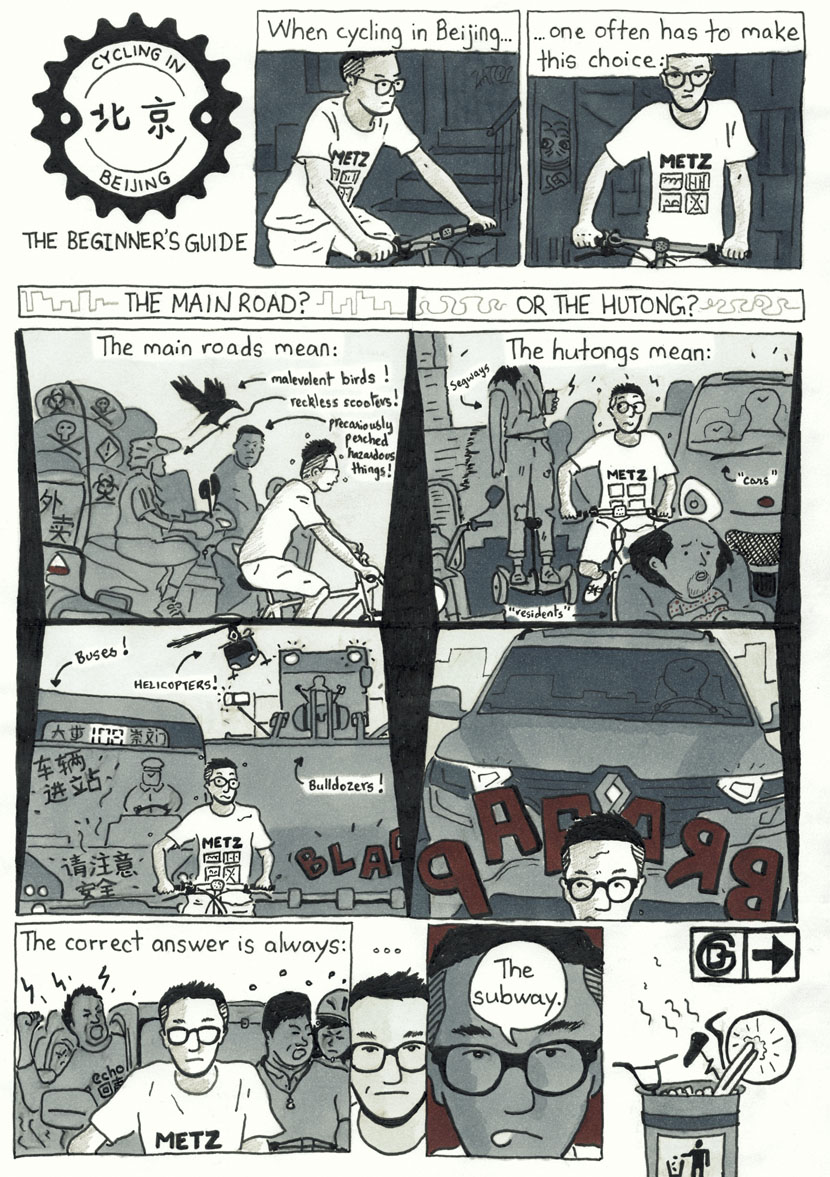 'Cycling in Beijing: The Beginner's Guide.' Courtesy of Krish Raghav
Many of Raghav's comics depict experiences that any new Beijinger can relate to: the first Beijing meal, the chaotic bicycle rides, the mahjong games. But Raghav's curiosity also takes him beneath the city's surface, to underground venues and neglected niches. Nightlife sparks his imagination and inquisitiveness. He was inspired to draw one of his favorite music comics— one about a club in Mexico City named after Indian communist leader M.N. Roy — during a night out at a club in Beijing. He says there's something alluring about Beijing's nightlife scene, something "fiercely iconoclastic and free from pretension," as he writes in one of his strips.
"Nightclubs are radical spaces," he says at the alternative electronic nightclub Dada. "You see people being themselves. And that's what he [Roy] believed in: the idea of borderless utopia [and] being free to reinvent yourself. That's what nightclubs do."
Though in the dark hours, the clubs and bars hidden away in Beijing's labyrinthine laneways ignite Raghav's creativity, the comics he draws for his day job find a more direct stimulus in local musicians. He tries to "distill the essence of their music" in graphic form to attract punters to the annual Concrete & Grass music festival in Shanghai, which his company organizes. For last year's festival, he illustrated Chui Wan, a psychedelic rock quartet from Beijing.
Comic by Krish Raghav. Courtesy of the artist
Illustrating something as abstract as music is a creative challenge for Raghav. How he represents his characters, and the city, is another quandary. He feels there is always a risk of projecting stereotypes in the people he portrays, including himself. At the same time, it's not his intention to push a message of inclusivity or diversity.
Rather, Raghav says his comics reflect what he wants to see in the world. That looks like a world where race is nondefining, where tolerance and multiculturalism are ingrained, where there is openness and curiosity about subcultures, and where homophobia does not exist.
"I work with those subjects, and I just depict these things as normal," he says. In his sketches, his beloved Beijing is home to punk-rock kids and same-sex couples who represent the city alongside many others. The process is deliberate, but not polemic.
"It's a conscious effort," he says. "It's not realistic, but I would prefer it to so-called realism."

Editor: Qian Jinghua
(Header image: Part of a comic strip by Krish Raghav. Courtesy of the artist)