Parents in southern China who want their children to attend a private foreign language school have been asked to provide the admissions department with a degree certificate.
According to a widely shared picture posted on messaging platform WeChat, the Canadian Foreign Language School in Guangdong province — which enrolls students in grades one through nine — announced last week that it will only accept students whose parents have a bachelor's degree qualification or above.
The school displayed the announcement on an electronic message board near the school gate last Friday. However, when a local TV crew from Guangdong Radio and Television visited the school on Saturday, the reporters found that the board had been turned off.
However, the image of the electronic message requiring parents to present their university graduation certificates when registering their children had already gone viral.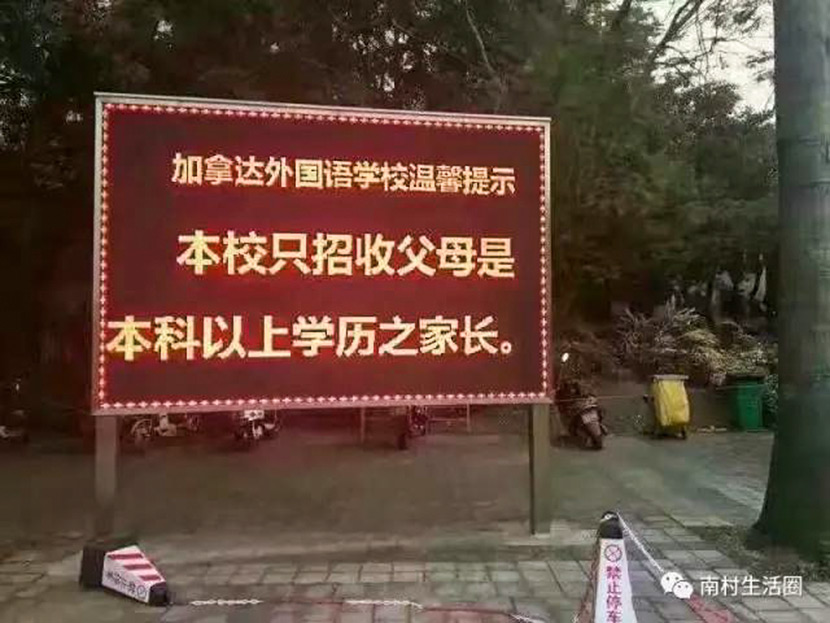 The Canadian Foreign Language School in Guangdong province announced that it will only accept students whose parents have obtained a bachelor's degree or higher. From WeChat
The school's unusually stringent enrollment policy was also shared by the school's public WeChat account on Friday, according to the same local media reports. But by Monday, the post had been deleted.
An employee in the Canadian Foreign Language School's admissions office told Sixth Tone that school administrators had ordered staff to remove all notices about the requirement. However, the employee refused to comment further on the issue.
The foreign language school is one of three secondary schools that form the Canadian International Education Organization, a private education group in provincial capital Guangzhou that provides Chinese- and Canadian-based curricula. It's one of the most expensive and elite private schools in the city, with tuition fees as high as 19,200 yuan ($2,784) per semester.
The policy has prompted an outcry among parents, some of whom view the school's actions as discriminatory against the less educated. In a post on microblogging site Weibo, one net user asserted that the school is "bullshitting" with this kind of statement. "Does that mean the children of illiterate parents cannot go to school?" she asked.
However, other netizens respect the school's decision: "Even if they accept students based on their horoscope, you are not in a position to poke your nose into their private business," said one Weibo user.
Still others reject the policy from a business perspective. "A private school is still a school; its duty is to provide education," said another Weibo user. "Education is about equality, including equality in opportunities. What this school is doing cannot be justified."
This is not the first time schools in China have included family background in their admissions policies. In March 2016, hundreds of parents in Kunshan, in eastern China's Jiangsu province, publicly protested a local government policy introducing a points system to help allocate places for students in public schools.
The system considered factors such as parents' educational backgrounds and property ownership to rate a student — a policy that resulted in lower scores for children whose parents were less educated or were recent arrivals to the city.
Despite the outcry, admissions teams at Kunshan schools continue to issue scores according to parents' educational backgrounds. A parent's master's degree earns a child 20 points, while a bachelor's degree gives the student just 8 points.
Similar policies have also been implemented in municipal areas within Guangdong — such as Dongguan and Zhuhai — where school places are limited, and the migrant population is large.
Editor: Sarah O'Meara.
(Header image: Parents walk home with their daughter after school in Guangzhou, Guangdong province, Jan. 14, 2013. Wang Jie/VCG)