One of China's biggest wave pools was built not for children at an amusement park, but for marine engineers at the Ocean University of China (OUC) in Qingdao, a city in eastern China's Shandong province. The pool is a staggering 60 meters long and 36 meters wide, and it can not only create waves, but also simulate currents, wind, and seabed conditions.
In this massive pool, the university's school of engineering tests buoys, turbines, and other devices that can harness the mighty power of the ocean and turn it into electricity. Feeding as little as 0.1 percent of the energy in ocean waves into the grid could satisfy the global energy demand five times over, according to estimates.
For decades, engineers have been trying to find ways to unlock the energy of the sea. With China trying to decrease its dependence on polluting coal factories and investing heavily in renewable energy sources, harnessing the power of the ocean could be the next big breakthrough.
With access to the Yellow Sea and the South and East China Seas, and a total of almost 18,000 kilometers of coastline, China's marine energy potential is estimated at 650 million kilowatt-hours of green, renewable energy.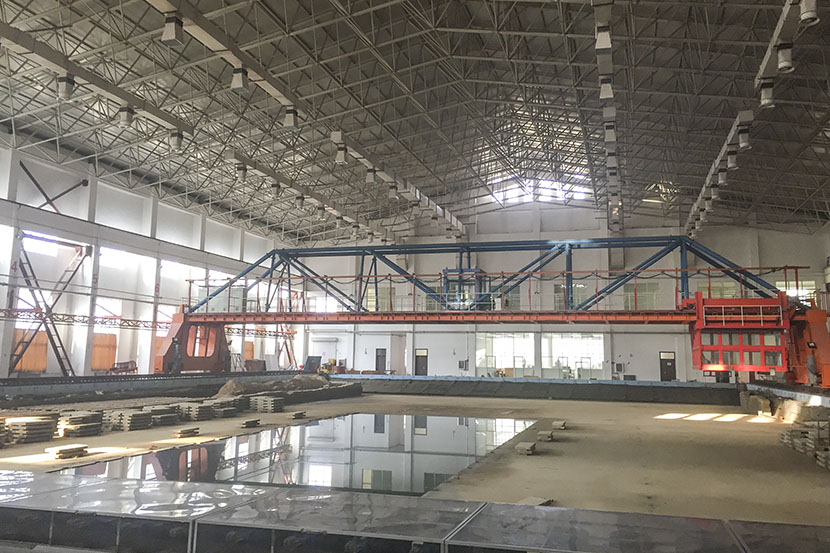 A wave pool to be used for tidal energy research is under reconstruction at the Ocean University of China in Qingdao, Shandong province, Feb. 15, 2017. Denise Hruby/Sixth Tone
Despite its impressive size, the pool at the OUC won't be enough to unlock this full potential. "We need a test site out in the ocean," Shi Hongda, dean of the OUC's college of engineering, told Sixth Tone.
One of the most promising options is tidal currents, which can spin massive turbines planted in the seabed. But for now, this possibility comes with major flaws: The turbines are expensive to produce and even more expensive to install in the ocean, where they have to be moored and maintained. Eventually, they will also have to withstand typhoons. Installing just one can cost hundreds of thousands of dollars, one expert told Sixth Tone.
Countries in the European Union and the U.S. have invested close to $1 billion in marine energy between 2010 and 2014. China has also invested hundreds of millions of dollars in developing marine energy technologies.
Once out in the rough sea, the devices the OUC has worked on so far produce little more than 100 kilowatt-hours annually — much less than a single wind turbine, which has a capacity of around 6 million kilowatt-hours per year, depending on size and location.
But there's still potential for marine projects that would generate more power than an entire nuclear reactor. "Having a test site like this is the next step toward commercialization," Shi said.
In the Yellow Sea off the coast of Qingdao, and at other potential sites, Shi and his team hope to put their devices through stress tests, with the goal of proving that they can reliably pump electricity into the grid. Investors, the public, and the government would then be reassured that backing marine energy is indeed worthwhile, Shi said. "It's crucial to linking technological development with commercial use," he said of the test site.
So far, the local government has supported the university's efforts, but much still remains to be done. "It's a long way to go [until commercialization]," Shi said. Last week, he met with representatives from the European Marine Energy Centre (EMEC) in Scotland, who travelled to Qingdao as part of the U.K.'s Marine Energy Mission to China.
EMEC, currently the only offshore site in the world that's connected to the grid, is a source of inspiration for Shi, who is pushing for his own center under the working title of "CMEC," or the "China Marine Energy Center."
In the U.K., which has direct access to 50 percent of Europe's tidal energy and 35 percent of its wave energy resources, the coastline and ocean could meet as much as 20 percent of the country's energy demand, said Oliver Wragg, the EMEC's commercial director.
"You need an independent facility with 'hard' infrastructure, such as cables that connect it to the grid, but also 'soft' infrastructure like monitoring, data collection, and environmental impact assessments," Wragg said during a meeting in Qingdao with leading marine energy developers from Europe and China including OpenHydro, Aquaterra Energy, and Scotrenewables.
The EMEC testing site in the Orkney Islands has tested 27 marine energy converters from all over the world. "Such a testing facility is a cornerstone for this [technology's] development," Wragg said.
And while marine energy isn't mainstream yet, it's certainly on the right track, Wragg said. Recently, the University of Exeter in the U.K. managed to install a tidal turbine in just 30 minutes, at a cost of less than 10,000 pounds ($12,400).
After receiving feedback from the EMEC, Shi and his team are now tackling the major hurdles to making marine energy mainstream, including the development of efficiency standards for energy output.
"By 2050, the ocean will be one of the main suppliers of renewable energy [to the U.K.]," Wragg said. "And I really think China could achieve this as well."
(Header image: Waves from the Yellow Sea break along the beach in Qingdao, Shandong province, Oct. 31, 2016. VCG)