The first investment project of actor and pop star Lu Han, hookup app We, has turned out to be something of an awkward match.
The app, whose Chinese name translates to "Pretend to Be a Couple," was always intended to revolve around carnal pleasures, but users have apparently turned the platform into an exchange for borderline pornographic material.
On Monday, Beijing venture capital firm Crystal Stream announced a cooperation with 26-year-old Lu to form Qinghan Fund. The new investment fund will focus on backing projects and companies that suit the lifestyle and consumption patterns of the post-90s generation, the statement said.
Government records show Qinghan was founded in June of 2016; they don't mention Lu, but the fund's name — apparently a combination of "qing," meaning "crystal," and the "Han" from Lu's name — would suggest that the pop star was involved from the beginning. One of the other investors in the fund is known to be a close friend of Lu.
The fund's first investment foray is app developer Shenzhen Duidui Technology Co. Ltd., the company behind We.
The app's opening screen greets users with the message they are about to join "the love community with the largest number of good-looking men and women," where "hailing a lover is just like hailing a ride." On Apple's App Store, the app is rated as "17+" for "frequent/intense adult and sexually suggestive content" and "infrequent/mild sexual content and nudity."
But according to a news report by Sixth Tone's sister publication The Paper on Monday, the photos users shared in the app's "Community" section were more than just mildly suggestive: pictures of women in sexy poses wearing revealing clothes, accompanied by requests for one-night stands. By Tuesday, the inappropriate content had been removed.
When Sixth Tone attempted to reach Duidui, an employee who refused to give her name called the media coverage "rumors" and would not comment further.
In a response to the accusation, company CEO Yu Xiaoguang — also known by her English name, Nancy Yu — said in a statement Tuesday that We is a young people-focused platform that strives to be the Chinese Snapchat. She added that she rejected the app being labeled an "erotic social network." Crystal Stream Capital told The Paper that "in the internet era, any website could contain pictures like this."
Part of the reason the content on We is seen as problematic is because many of its users appear to be underage, the Paper reported. Though Qinghan Fund's stake in the company behind the app is small at just 3.3 percent, its connection with a figure as public as Lu has given the controversy a higher profile. Lu is sometimes referred to as the "Chinese Justin Bieber" because of his boyish looks and millions of mostly young fans.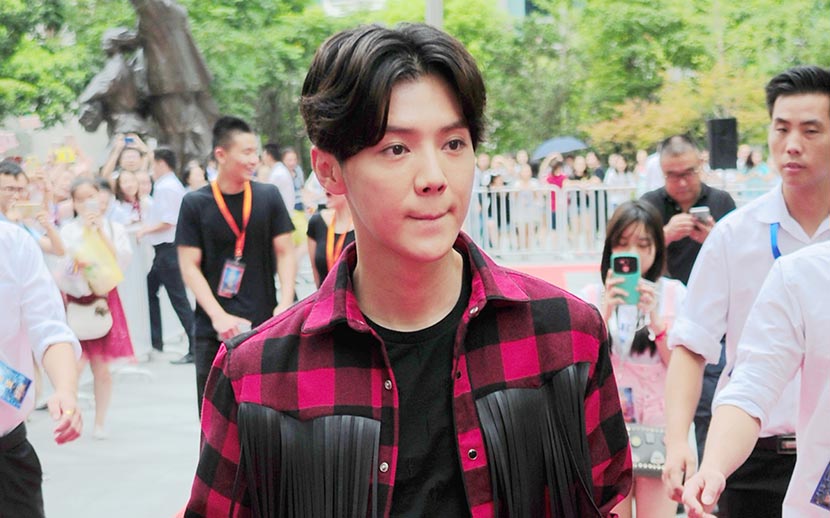 Lu Han at a commercial event in Shanghai, Aug. 26, 2016. VCG
He came to fame during a stint with South Korean boy band EXO, and after he split from the band refocused his career on China's show business, working as an actor, singer, and TV host. In the past year, he appeared in the Sino-American blockbuster "The Great Wall" and on China's most-watched TV spectacle, state broadcaster CCTV's New Year's Gala. Lu has over 28 million followers on microblog platform Weibo, and he holds Guinness World Records for the most comments on a Weibo post and the largest gathering of people wearing antlers.
Lu is among a growing number of celebrities who have turned to investing their money in startups. In May 2015, well-known actress Angelababy established her own venture capital fund, AB Capital. and her spouse, equally famous actor Huang Xiaoming, is one of the three founding members of Star VC, launched in July of 2014.
Increasingly, Chinese celebrities are finding investing in startups to be a potentially perfect match — their star power means the companies receive attention, thereby increasing their value. "One great benefit for Qinghan that comes along with the support of a star is that we will get more public attention and surveillance," Crystal Stream told The Paper. Since the controversy surrounding We began, the app's daily downloads have risen by 70 percent.
(Header image: A girl posts a suggestive photo on the We dating app, Shanghai, Feb. 8, 2017. Yang Shenlai/Sixth Tone)