Last year, You Xi braved the throngs of Chinese New Year travelers alone, lugging more than 25 kilograms of baggage stuffed with local delicacies like smoked sausage and spicy chicken. She flew more than 1,100 kilometers from her home in the southwestern city of Chongqing to where her husband was stationed near snowy Zhengzhou, in the central province of Henan. It was the first time the couple had celebrated Spring Festival together since they registered their marriage in 2013.
Because her husband is a member of the People's Armed Police Force, 32-year-old You has only seen him for around 40 days each year since they married. Her experience is typical for many civilian women whose spouses are among China's 2.3 million military personnel. (Few civilian men are in similar positions, as women make up a small fraction of China's armed forces, and the few there are generally occupy noncombat roles and marry fellow servicemen. Same-sex marriage, meanwhile, is not legal in China.)
In addition to the challenges common to all long-distance relationships, jun sao — "army wives" — must contend with a set of pressures unique to being married to members of the world's largest military.
In Chinese public perception, army wives are strong and self-sacrificing. Jun sao are seen as model patriots who put the nation's interests ahead of their private desires, as they sustain their lives and families on their own while their husbands are stationed at distant, high-security bases. The confidentiality of military assignments means that the couple's communication is limited, and sometimes unpredictable. A 1931 regulation designed to protect military marriages restricts a jun sao's right to divorce without her husband's consent unless she can show evidence of his misconduct, though ordinary marriage law in China has allowed for no-fault divorce — without proving any wrongdoing — since 1950.
"Jun sao are human, too," You tells Sixth Tone. "I don't like it when people say that we're great — greatness means we have to sacrifice too much. Why should we?"
The couple's daughter, born in June 2014, saw her father for the first time when she was over a year old. You has effectively been a single mother. "He missed almost all of our daughter's important moments," You says. "The first time she said 'Daddy,' she was looking at our wedding picture."
Army wives say they can only survive if they are independent, trust their husbands completely, and can make the memories of their short moments together last through the long months apart. Even then, it's difficult for children to show such forbearance.
"We owe our son too much," 33-year-old army spouse Wang Jing says, her voice shaking. Wang works in the northwestern province of Gansu, while her husband's military base is in neighboring Qinghai province. Though she is able to visit somewhat frequently because of the proximity, she feels let down that their little boy has so little time with his father.
Their son started kindergarten nearly a year ago, but his father has only been able to pick him up twice. The boy is especially disappointed when he is sick and his dad isn't there. "I used to tell him these things about protecting people and defending the country, but he can't understand that," Wang explains. "I never said those words again. I just told him that some of the young uncles who work with his dad can't go home at all, but at least your dad can come back to see you sometimes."
The strain of distance isn't the only challenge facing army spouses. "Normal long-distance lovers can communicate with each other much more casually," Wang says. But strict military discipline can impede even a simple phone call, frustrate family plans, and hinder intimacy and spontaneity.
"Sometimes he can't answer the phone when I need him," You says. "Once he even disappeared for more than 10 days, and then he called back but couldn't tell me what he was doing or why he disappeared because of the so-called confidentiality agreement."

In You's daughter's eyes, her father is always dressed in an army uniform and appears only on the phone screen. When he came home wearing casual clothes, she didn't recognize him. "At that time, I told her he was her uncle. She even called him uncle," You says. "I was just joking with her, but I was also expressing my own grievances."
Yet You has no complaints about her husband when he is at home. She remembers fondly how he would go out to buy her favorite breakfast foods before she'd even woken up, play with their daughter, and do the laundry. "He calls me 'Big Baby' and calls our daughter 'Little Baby,'" You says. When they visited his hometown on a frozen winter night in 2014, her husband poured a tub of warm water and washed her feet with his hands. Though they have only spent a few months together in more than three years of marriage, You savors the sweetness of those rare moments when she feels lonely or hurt.
Not everyone believes the life of an army wife is defined by long-suffering, however. Jingjing, 31, relishes the independence demanded of army spouses. She lives in Xi'an, in the northwestern province of Shaanxi and attended university before marrying her husband, who serves in the air force in the eastern province of Shandong. Surrounded by friends and supported by her parents and in-laws, who moved from Henan and Gansu provinces, respectively, to help her take care of their grandson, she feels like she has an enviable life despite her husband's absence.
"Don't pity army wives. Women should be more independent," says Jingjing, whose full name is withheld in accordance with her husband's confidentiality agreement. She points out that military spouses who live off base enjoy 30 days of annual family leave to spend with their spouses, in addition to national public holidays. "When I miss [my husband], I can just go to the military base to see him," she adds. She feels more sympathy for her husband, who has less freedom and sleeps only a couple of hours on busy days.
Military spouses do enjoy benefits including family leave to visit their partner, the option to live on base with their partner, and assistance with housing and their children's education. But they also face various restrictions depending on their partner's rank. Soldiers are forbidden from marrying locals from the area in which their base is located, and all military spouses have to pass political vetting before their marriages are approved.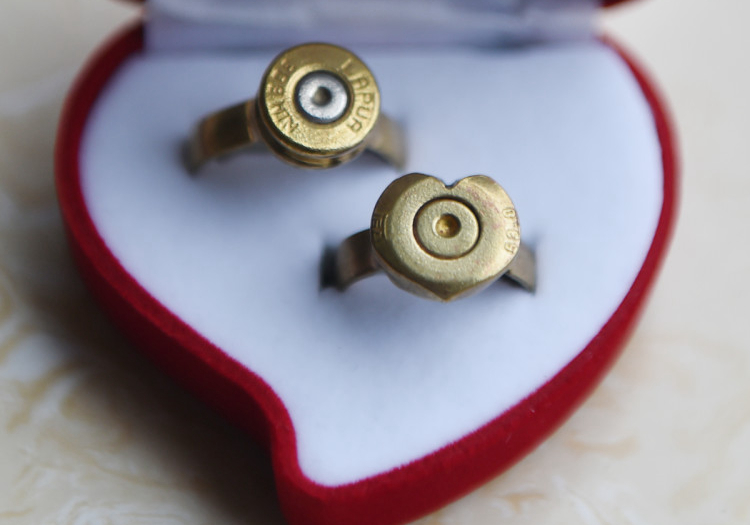 Two wedding rings crafted from bullets sit in a display box, Tonghua, Jilin province, Aug. 30, 2016. VCG
If the relationship turns sour, the law prohibits army wives from seeking divorce without their partner's consent unless they can prove infidelity, domestic violence, or some other form of misconduct. A former soldier who spoke to Sixth Tone on condition of anonymity explains that the law dates from wartime, when it was intended to protect military marriages so servicemen could focus their minds on battle. He believes that nowadays, however, both parties should have equal rights, because if a member of the military cheats, it is difficult for a civilian spouse to gather evidence, as they are not permitted on army bases without their partner's permission.
Han Xiao, a lawyer at Beijing-based Kangda Law Firm, tells Sixth Tone that the law has improved the army's effectiveness in battle and positively impacted political stability, but nonetheless sits awkwardly against contemporary social values. "With social progress and development, freedom of marriage in regular life clashes with the special provisions for […] military marriages," he tells Sixth Tone.
Han believes the interests of soldiers and their spouses should both enjoy appropriate protection, but he feels military marriages still need special provisions. While army wives may feel that they have to make too many personal sacrifices, in the eyes of the law, they are no longer private citizens once they marry a member of the military. The stability of their marriage becomes a matter of national security.
You's husband has now reached a rank where she could give up her job and move into family accommodation close to the base in Henan, but You worries about the quality of education there. She also wants to stay close to her parents, who will rely on her more as they get older.
You, Wang, and other army wives shared their stories about how they were celebrating Chinese New Year in their online chat group. Though her husband was not able to come home for Spring Festival, You is looking forward to his return for Valentine's Day.
"I always celebrated Valentine's Day with my single female friends even though I'm not single, and I'd see other women with their partners and roses," You says. She can't wait to go to the movies with her husband for their very first Valentine's Day together. "This year, I didn't go to the cinema once while he's been away," she says.
(Header image: After waiting for three hours, an 'army wife' waves to greet her husband, who is a soldier in Heihe, Heilongjiang province, Oct. 3, 2014. Wei Jianshun/VCG)