From his home in Kenya, Thomas Ekiru traveled to eastern China's Jiangxi province in mid-November with the goal of winning a marathon. And in two hours, 16 minutes, 15 seconds — a good if not world-class time — he did just that. His business concluded and the Nanchang International Marathon won, Ekiru boarded his flight home.
Tao Camp, the Chinese agency that represents Ekiru, paid for that flight. The agreement was simple: Tao Camp would register Ekiru for the Nov. 20 race, and Ekiru would train; Tao Camp would coordinate his visa, flights, and hotel, and Ekiru would win the race. In return for their services, Tao Camp would take a cut of any prize money won.
Together the two parties pursued profit, not glory. So Ekiru's medal is little consolation to him now, given that it has been two months since he ran and he's still waiting for his share of the $10,000 cash prize for first place, money the agency promised to give him within 10 days of crossing the finish line.
Such arrangements are becoming more and more prevalent in a country whose marathon calendar is growing increasingly crowded as interest in running gathers momentum. In the three eastern provinces of Jiangxi, Zhejiang, and Jiangsu alone, four marathons were held on the same day as Ekiru's race. Of the eight gold medals won by men and women in those races, seven were won by African runners like Ekiru who had traveled to China to compete. Prize money for first place finishes can reach as high as $40,000 in both men and women's divisions of the Beijing Marathon.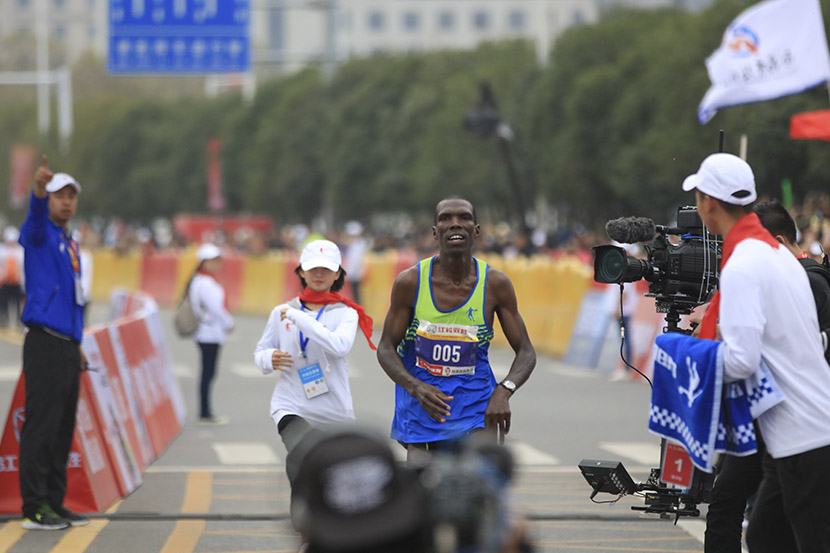 Thomas Ekriu won first place in the inaugural Nanchang International Marathon, Nanchang, Jiangxi province, Nov. 20, 2016. Li Long/VCG
Tao Camp, the Chinese agency that represented the 33-year-old in Jiangxi, is one of the emerging companies marrying the talent of runners like Ekiru, who are willing to fly halfway around the world to compete, with the growing potential of a domestic running market buoyed by rising amateur interest in jogging and general fitness.
Ekiru is just one of many professional marathon chasers who come from Eldoret, a city of just over 300,000 people in western Kenya that is known to running communities around the world as the "home of champions." With a running industry that rivals local farming and small-scale manufacturing, the city has produced a disproportionate number of long-distance legends, including Dennis Kimetto, who, with a time of 2:02:57, holds the current world record for the 42-kilometer event. The man from whom Kimetto took that title is also an Eldoret native.
Compared to typical childhood fantasies, winning an international marathon is a more practical ambition for the boys and girls in Eldoret because of the money it can bring. Growing up, Ekiru jogged the paved roads of Eldoret and conquered the dirt paths that cut through long grass and up into the hills around the city, reaching up to 2,700 meters above sea level. (Altitude is one of the factors that experts point to in trying to explain Eldoret's legendary athletic prowess).
Eager to cash in on Eldoret's running supremacy — a renewable resource steadily supplied by generations of lifelong athletes — Tao Camp has set up training facilities in and around Iten, a town just 35 kilometers away. There, the company, which was founded by Tao Shaoming, a former coach of China's national running team, attracts prospective runners with its temporary, movable training centers — a strategy that Tao believes favors the dispersed nature of the region's rural population.
"In a village of about 80 to 100 households, 20 to 30 people will want to run," said Tao of the region. Tao himself is based in China and operates the training facilities vicariously through local agents and managers. Once his staff has identified an area with sufficient interest, Tao Camp, true to its name, will build a training camp for recruiting local runners, along with its own local coach.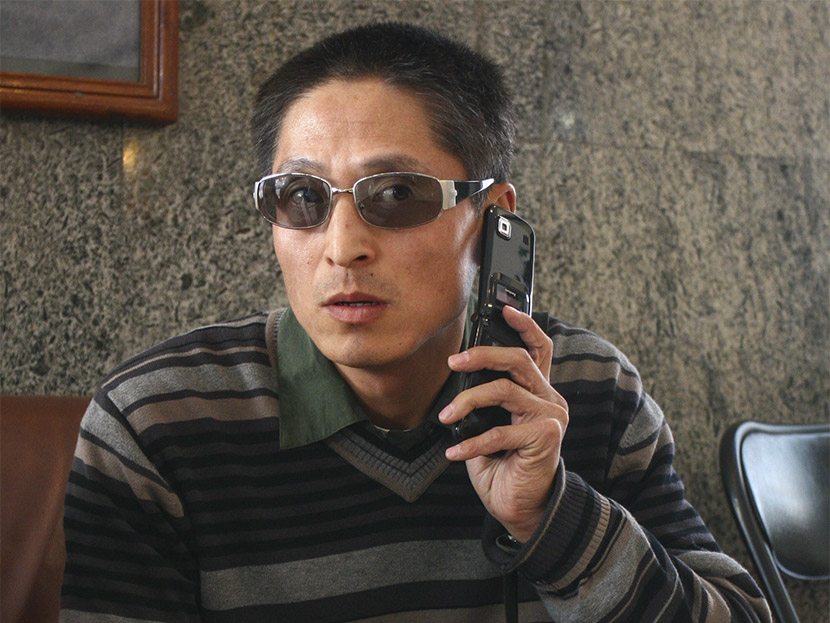 Tao Shaoming, a former distance-running coach for the Chinese national team, talks on the phone after the 2007 Beijing International Marathon, Beijing, Oct. 21, 2007. ChinaFotoPress/VCG
In East Africa, this is hardly a new business model, but the industry has until now generally been swamped by European and North American agents. China's running craze is changing that.
In 2015, there were 134 marathons held in China, according to figures from the Chinese Athletic Association. The following year, that number rose to 328. For amateur runners, smartphone apps, performance-monitoring bracelets, and online leaderboards — which runners use to share times, recommend equipment, and schedule meet-ups — underpin an exercise community that is as social as it is athletic.
While fitness brand giants like Nike have yet to leave a profound footprint on such communities, local names have eagerly jumped in to fill the ripe interstice. In 2016, the startup Codoon organized hundreds of "online marathons," where racers ran on their own and compared their times with remote competition on message boards. The company's CEO told Sixth Tone in a previous interview that he intends to double the number of "races" held in 2017.
Yet it seems unlikely, at least in the immediate future, that this skyrocketing interest in amateur running will translate to a competitive edge for Chinese runners at the professional level. Tao may be making money from the proliferation of events that China's growing running industry has heralded, but a quick look at his company's portfolio shows he has little interest in fostering domestic talent: Of the approximately 130 runners represented by Tao Camp, only three are Chinese.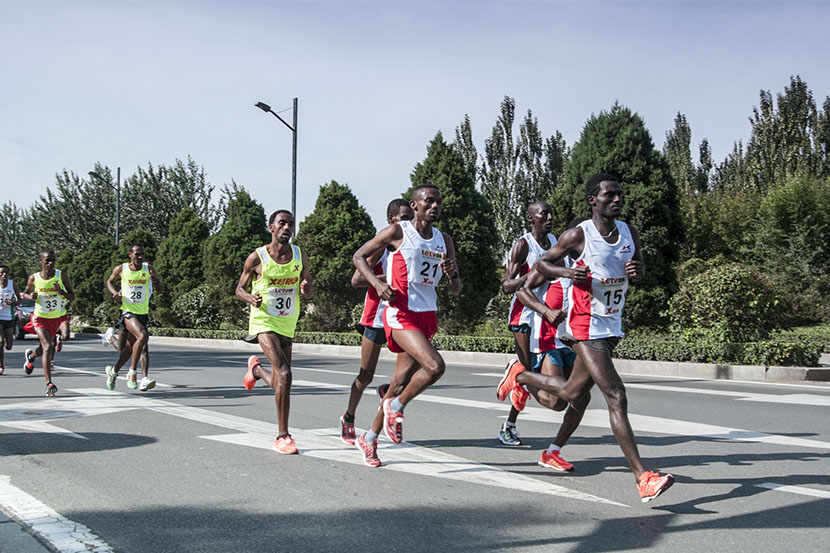 Runners from Africa take the lead in the 2015 Taiyuan International Marathon, Taiyuan, Shanxi province, Sept. 13, 2015. Qi Zhigang/IC
As it turns out, foreign runners are good for more than winning medals. Mehdi Marimi is a Shanghai-based agent who collaborates with marathon organizing bodies to recruit foreign amateur runners at the behest of sponsors, who believe that international runners bring a higher profile to events.
"Besides sport, it's a kind of business as well," said Marimi, who estimates that somewhere between 10 and 20 companies in China recruit international runners for marathons. Some focus on amateurs, while others, like Tao Camp, focus on professionals. "You have to know the right people," Marimi said. "You have to have experience in this kind of field."
So far, the arrangement seems to be win-win, said sports columnist Wang Xiaogang. "One party is willing to pay for the African runners; another party rejoices in competing for the prize," he told Sixth Tone's sister publication, The Paper. A third party in this "reasonable and understandable" relationship is China's burgeoning marathon circuit, he said, offers new territory for runners and agents to intersect in the pursuit of profit.
But the suggested balance between the first and second parties is not evident for Ekiru, who, faced with an unpaid check and an unresponsive agency, finds the scales tipped against him. He cannot afford a flight or visa to China, does not speak Chinese, and doesn't see any way to enforce a Chinese contract from abroad without a lawyer. The camp where he signed up has moved, and he said his emails to Tao Camp go unanswered for weeks. When he does manage to get hold of Tao Camp's Kenyan staffers, he is told to keep waiting.
Tao told Sixth Tone that payment is pending because the company is still awaiting the results of routine tests for stimulants — a process he said takes around three months. That explanation is unfamiliar to Ekiru, however, and contradicts the timetable he remembers agreeing upon.
"They told us that after the tenth day, everybody gets their money," Ekiru said. "I didn't get any money. I don't know what to do."
Additional reporting by Yin Yijun.
(Header image: Runners begin the 2016 Nanjing International Marathon, Nanjing, Jiangsu province, Oct. 16, 2016. An Xin/VCG)