An intermediate people's court on Tuesday heard the retrial of Ding Hanzhong, who was previously given the death sentence for a double homicide.
Ding, 55, is a farmer from Dingjiashan, a village near the city of Weifang in Shandong province, eastern China. In early 2013, the house that he lived in was included in a local urbanization project and earmarked to be razed. However, the family was not satisfied with the government's proposed compensation plan.
Ding Hanzhong sits in a jail cell. @gongxiangdonglushi from Weibo
"We were promised compensation of 36,000 yuan ($5,200), but we would have had to pay 48,000 yuan to get another property to live in after moving out. We couldn't accept that," Ding Hanzhong's son, Ding Chao, told Sixth Tone by telephone during a break in the retrial hearing on Tuesday.
On Sept. 25, 2013, a group of demolition workers broke into Ding's house, intent on destroying it. Ding grabbed a sickle and ended up killing two of the workers. In July 2014, the Weifang Intermediate People's Court — the same court that heard Ding's retrial — found him guilty of homicide and ordered capital punishment.
Ding appealed, and in April 2016 the Shandong High People's Court annulled the first verdict, citing ambiguous facts and a lack of evidence, and requested a retrial.
"The verdict from the first trial was partly based on testimony from demolition office staff, who had had direct relationships with the dead," Zhang Weiyu, Ding's lawyer for the retrial, told Sixth Tone. "There were inconsistencies in their testimonies indicating that what they said was not completely reliable."
While Ding pleaded guilty to the crime of unjustifiable self-defense in the first trial, he and his family are convinced this time around that their actions should be seen as justifiable self-defense. The elder Ding has repeatedly told police and the courts that he and his son were beaten by the intruders, that he was hit in the head with a shovel, and that only afterward did he reach for an object nearby to fight back with.
"I know it will be very difficult for Ding to receive a 'not guilty' verdict," the lawyer Zhang told Sixth Tone. "But based on all the legal evidence that we have now, what he did was a justifiable defense."
A disputed point in the case has been who owns the house that Ding was living in at the time of the incident. Ding's mother and brother, Ding Hanfeng, insist that they own the house, pointing to the terms of a will they say belongs to Ding's now-deceased father.
A recent handwriting authentication of the will, however, suggests that the will was written by Ding Hanfeng. "When a will's writer and only witness is the inheritor, the will is invalid," Yan Xin, another of Ding Hanzhong's defense lawyers, told Sixth Tone.
Whether Ding Hanzhong owns the house could impact the sentence, Zhang explained. "If the property is legally owned by Ding [Hanzhong], then his resistance against the demolition workers becomes permissible," he said.
"It's a rivalry between good and evil — my father is innocent," Ding's daughter, Ding Yu'e, told Sixth Tone the day before the retrial. When asked what the best possible outcome would be, she said she hadn't thought about it. "But he's definitely not guilty," she added.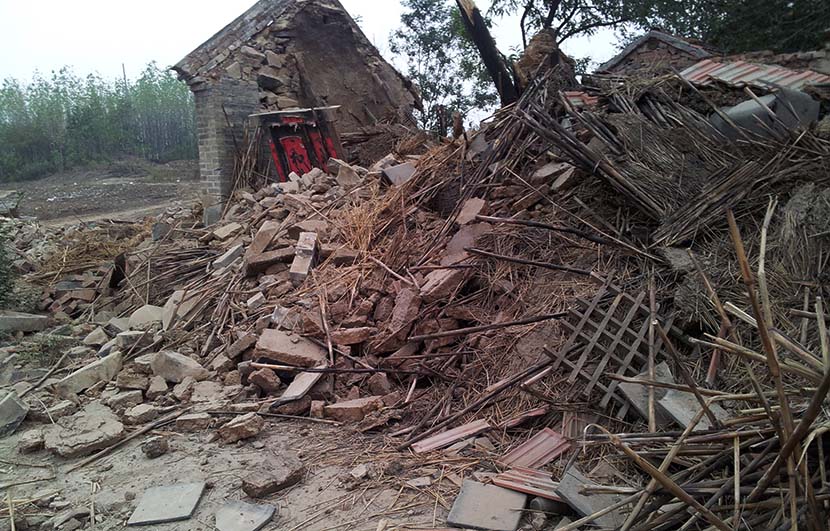 Rubble left over after the demolition of the house in Dingjiashan Village, Changle County, Shandong province, 2013. @gongxiangdonglushi from Weibo
In a similar case, Zhang Jian, a native of Benxi in the northeastern province of Liaoning, was given a three-year sentence and five years' probation in April 2009 for killing a security guard during a conflict over demolition. And in May 2015, Suzhou resident Fan Mugen was sentenced to eight years in jail under the charge of intentional injury after she stabbed two demolition officers to death in a December 2013 altercation. Neither was found guilty of homicide.
The Suzhou incident actually happened three months after Ding killed the two demolition workers. "That's why it shocked me to hear the death sentence," Zuo Aimin, Ding's defense lawyer during the first trial, told Sixth Tone. "Based on the previous cases I studied, I thought the sentence would be less than seven years," Zuo said.
Tuesday's hearing concluded without a verdict. The court did not say when it expects to reach a decision.
Ding Chao said his family's house in Dingjiashan is the last one remaining in the village. "The other families — who originally refused to move, too — all agreed to relocate after being threatened or offered better compensation packages," he said.
(Header image: An excavator razes a house in Dingjiashan Village, Changle County, Shandong province, Sept. 25, 2013. @gongxiangdonglushi from Weibo)