The amount of obsolete or broken cellphones, computers, TVs, and other forms of e-waste generated in mainland China has more than doubled between 2010 and 2015, according to a report published Sunday by the United Nations University.
In 2010, the report estimates China threw away roughly 3 million metric tons of e-waste. Five years later, that figure had risen to about 6.7 million metric tons. If piled together, 2015's discarded electronics would weigh more than the Great Pyramid of Giza, according to the report.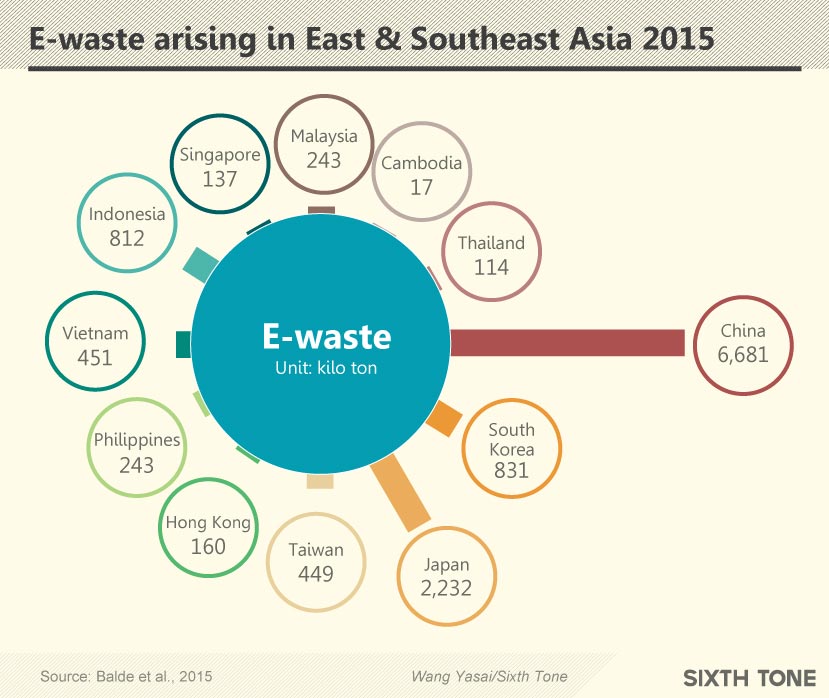 Thanks to increases in population, income, and demand for new electronics, the report concluded that e-waste had increased by 63 percent on average in 12 countries and territories in East and Southeast Asia, to 12.3 million metric tons over the same period.
E-waste can be harmful to the environment if it is recycled or disposed of in unsafe ways, as happens in many places around the world. The report's authors urge all countries to clamp down "on improper recycling and disposal to conserve resources, and to avoid serious health and environment threats."
China is the world's biggest market for many electronics, including personal computers and smartphones. Data from the National Bureau of Statistics show that ownership of electronics has increased rapidly: Rural Chinese, for example, owned 0.04 mobile phones per household in 2000, but owned nearly 2 per household in 2012, the latest year for which statistics are available.
Local governments in China have set up formal recycling systems for electronics in an attempt to make their disposal more environmentally friendly, but loopholes remain. According to the United Nations report, informal collectors are still more common than officially designated recycling centers, and usually offer a higher price to boot.
Moreover, the report says China remains one of the world's largest importers of e-waste, despite a ban on the practice in 2000. E-waste imported to be recycled in China is often hidden in shipments of scrap metal received from high-income countries such as Japan and South Korea.
Despite government efforts to regulate the industry, a lot of e-waste is still recycled using unsafe and environmentally unsound practices. Guiyu, a town in southern China's Guangdong province, was once notorious for its many small-scale e-waste recycling companies that employed a small army of migrant workers. The town suffered from severely polluted air, soil, and water, according to a 2003 joint report from Sun Yat-sen University and Greenpeace East Asia (GPEA).
The local government relocated all the informal recycling businesses into an industrial park in 2015. GPEA campaigner Liu Hua visited the site in early 2016 and found that the recycling shops still burned electric wiring to shed the rubber insulation, resulting in toxic fumes. "All the recyclers did was change location," he told Sixth Tone. In December 2015, the Chinese newspaper Economic Information Daily also reported on the same problem.
"Relocation doesn't resolve the pollution," a senior provincial Party official was quoted as saying in the article. "Only reducing, reusing, and recycling can achieve a true circular economy."
(Header image: Workers illegally distribute old computers and printers to others for future recycling outside the government designated recycling centre, Guiyu Township, Guangdong, June 8, 2015. Tyrone Siu/Reuters/VCG)