In March, Wu Ying decided that the best bet for curing her liver disease was to take part in a clinical trial for an as yet unapproved drug.
Fifty-seven-year-old retired accountant Wu has hepatitis C, a chronic viral liver disease. Around the time her condition began to worsen, Wu learned about a drug trial being sponsored by global pharmaceutical giant Merck & Co. that would effectively mean free access to often-costly medication.
"My doctor warned me that the trial could pose risks," Wu told Sixth Tone. "But it was such a good opportunity to cure the disease that I needed to take it."
The clinical drug trial system, whereby pharmaceutical companies test the effectiveness of medicine on volunteers ahead of commercial launch, is widely considered as an essential step in the research and development of drugs. In China, however, the practice is relatively new. Mandatory clinical trials were first included in China's Drug Administration Law, which took effect in 1985. Trials are typically divided into four phases, with the two initial stages aimed at testing drug safety and efficacy in smaller groups. But from the third phase on, test-group size increases in the run-up to mass marketing of the medication.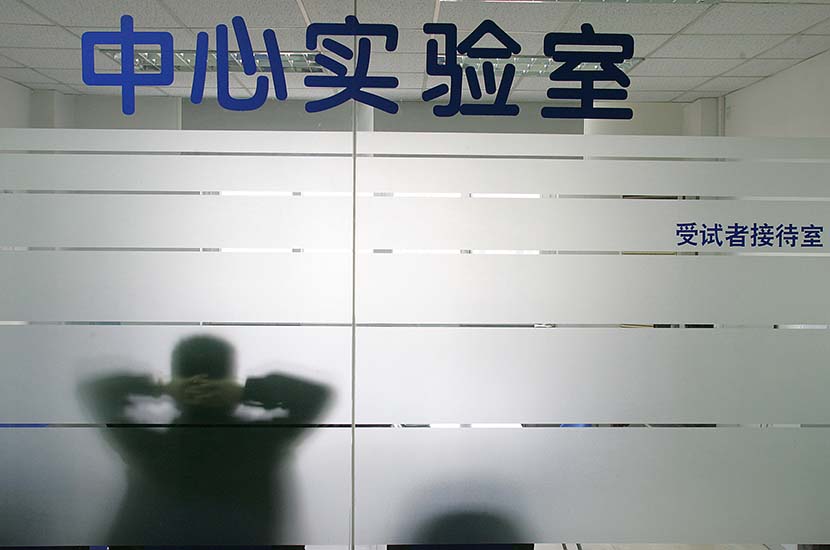 A man sits in a testing room for subjects, waiting for the results of CD4 cell testing, at a hospital in Shanghai, Dec. 6, 2006. Xu Haifeng/Sixth Tone
More than 30 years since human drug trials were made mandatory in China, industry experts estimate that around 300,000 healthy people and medical patients participate in the clinical programs annually. Still, the purpose of such trials is often not clearly understood by participants — including people like Wu, who focus on the potential benefits of treatment and can fail to fully grasp that the trials are experimental in nature.
After Wu learned from a doctor that Shanghai Jsure Health, a professional patient recruiter, was looking for qualified participants, she joined the hepatitis C drug trial. Luckily for her, the drug Wu took from April to July had already been approved for marketing in the United States by the U.S. Food and Drug Administration in January, leaving her less likely to suffer adverse reactions. After nearly three months of taking tablets each day under medical supervision, the hepatitis C virus disappeared from her body, Wu said.
But for other patients, especially those battling diseases like cancer, clinical trials often fail to provide the curative benefits they hope for.
"Some cancer patients don't care about risks, such as adverse effects, brought by clinical trials at all," said Liang Hong, who heads the Beijing office of U.S.-based GlobalMD, a nonprofit international doctors' network. "They can't understand the difference between clinical trials and treatment, and regard the trials simply as a means of treatment," she added.
For the relatives of Pan Meixiu, a 62-year-old resident of Chengdu, the capital of southwestern China's Sichuan province, it took more than a year to fully understand that drug trials are not synonymous with medical treatment.
Pan was diagnosed with intestinal cancer in 2014. In July 2015, after all the available cancer therapies showed limited positive effects on the woman, Pan's doctor proposed to her family that they enroll her in a free clinical trial for a new drug.
"We had to make every possible effort to save her," said Pan's son, Lu Yucheng. "We didn't consider it to be risky at all because her condition couldn't be worse."
Pan's condition improved for a short period after she began taking the new drug. "Her appetite grew bigger at the very beginning, and she was in better spirits," Lu recalled. "But that didn't last for more than two weeks."
Lu and his family continued to search for other clinical trials of intestinal cancer drugs on their own, closely following news of trial openings on Chinese social media. Earlier this year, Lu decided to have his mother enrolled in a second trial for a cancer drug. But to the family's disappointment, Pan didn't improve at all.
A few days after the trial ended, Lu asked a friend who ran a chemical-testing laboratory to test the tablets his mother had taken. The tablets turned out to be made of starch. The discovery prompted Lu to give up hope on clinical trials.
Reflecting on the failure to find treatment for his mother through drug trials, Lu admitted that his family had been unaware of the fact that half of the patients enrolled in the trials were provided with placebos, which did not have any medical effects at all. "We didn't go through the informed consent form provided by the doctors," he said. "We just assumed that we would be offered the real drugs."
Benjamin Shobert, managing director of Rubicon Strategy Group, a health care business consultancy firm focused on China and Southeast Asia, said trial participants should be fully aware that they could receive a placebo rather than the medication being tested. "Setting realistic expectations is critical, in particular given the relative newness of clinical trials in China," Shobert said.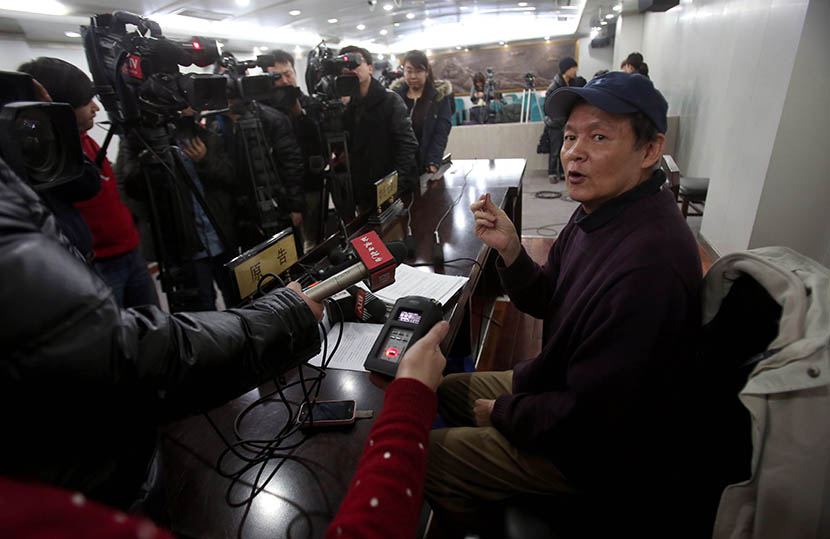 A man receives interview questions following the court's decision that Bayer must pay compensation after his mother, who took part in one of Bayer's clinical trials, suffered from a shock, Beijing, Feb. 21, 2013. Ouyang Xiaofei/VCG
In many cases, patients' desperation for a cure even outweighs deep-rooted biases against human trials, Lin Feng, founder and CEO of Shanghai Jsure Health, told Sixth Tone. "Most of the Chinese patients' first impression about clinical trials is that they will be treated like the little white mice used in laboratories," he said.
In particular, the expectations of trial participants with severe conditions — such as advanced-stage cancer — need to be managed, said Lin. Cancer patients comprise about 40 percent of all the patients Lin's company recruits.
Yet for those with terminal illnesses who have run out of time and resources, drug trials might simply provide the promise of better medical care at the end of a long battle.
In August, a 34-year-old woman surnamed Yan saw a lifeline in the opportunity for her mother to join a clinical trial recruiting around 70 advanced-stage lung cancer patients. Yan, a resident of the southern Chinese city of Shenzhen, declined to give her first name due to privacy concerns.
In cooperation with Shanghai Chest Hospital, Czech drug maker Sotio was in the second phase of a clinical trial for a new lung cancer treatment. A doctor at the hospital told Yan that her mother could be a good candidate. "I'm only hoping for better care for my mother at the hospital, rather than seeking a cure," Yan said, adding that the cancer cells in her mother's lungs had already spread to her brain and bones.
Yan told her mother that the trial was just an additional treatment, without mentioning the experimental nature of the program. "After that," Yan said, "my mother agreed and signed her name on the informed consent form."
(Header image: WavebreakMedia_RF/VCG)