New solutions to old transportation problems catch on quickly in China, as consumers seek out ways to avoid crowded public transport or the hassles of car ownership.
Ride-hailing apps such as Uber and Didi Chuxing enjoy a broad consumer base, but the latest innovation in transport is shared bicycles from Mobike and its competitors. They can be unlocked with a smartphone and cost pennies to ride — a business model that has caught on with students, commuters, and tourists alike.
In the space of just a few months, Shanghai sidewalks have become an even tighter crush as more than 100,000 bright orange, yellow, blue, and even green two-wheelers jockey for space. And just as ride-hailing apps quickly caught the attention of bureaucrats keen to protect licensed taxi drivers and, ostensibly, safeguard consumer interests, regulators have begun to pay attention to Mobike and its peers in the industry.
According to a report earlier this month by Sixth Tone's sister publication, The Paper, authorities in Shanghai are vetting new rules that may put the brakes on bike-sharing expansion. Details have yet to be ironed out, but the new rules are expected to address bad biking behavior, including inappropriate parking; improve the safety of cyclists, such as by limiting the age and the qualifications of users; ensure closer vetting of bike-sharing companies; and impose tougher consumer-protection provisions on operators, such as mandatory insurance and accident compensation. In Shenzhen, a large city in southern China's Guangdong province, officials have already taken action to control bike-sharing behavior.  
Against this changing landscape, Sixth Tone spoke with Mobike's general manager for Shanghai, Michael Yao, about safety, competition, and what 2017 might look like for the company. The interview has been edited for clarity and brevity.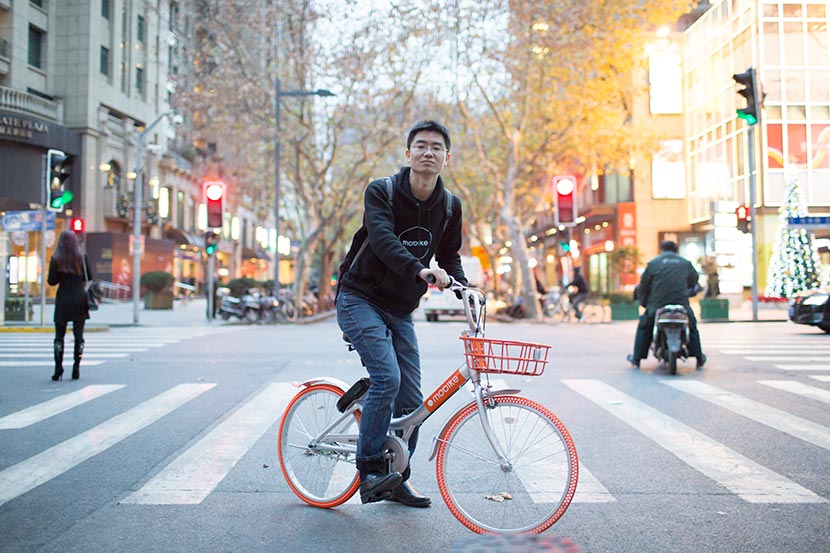 Michael Yao, Mobike general manager for Shanghai, poses for a photo on a Mobike shared bicycle, Shanghai, Dec. 14, 2016. Zhou Pinglang/Sixth Tone
Sixth Tone: You've had a successful launch in 2016. What are the challenges or goals Mobike has set for itself in 2017?
Michael Yao: First, we want to further upgrade our product. Safety is the first priority, followed by user experience — so making sure the bikes provide a good ride: safe and comfortable. Some users complained that our bikes are very heavy, but looking from another perspective, those bikes are solid and durable, suitable for city-sharing purposes. We are experimenting with a middle way: We launched Mobike Lite in Shanghai, equipped with new technology, and the weight is similar to typical private bikes. 
We just announced passing the 100,000th bike [milestone] in Shanghai earlier this month. As for the end of 2017, to be honest, we don't have a specific goal in mind.  
We are currently operating in nine cities: Shanghai, Beijing, Guangzhou, Shenzhen, Chengdu, Ningbo, Xiamen, Foshan and Wuhan. If you have the right team who know that city inside out, you can develop that city quickly. 
Sixth Tone: What are some of the pitfalls of this new industry? For example, what happens if someone has an accident while using Mobike?
Michael Yao: We worked with an insurance company to insure accidents caused by any bike problems. If it were caused by a car accident, then this is covered by the insurance of the car owner. 
We have also done a lot of user education on safe riding. For example, when you open the app, there is a splash screen reminding you about safety rules, and we also do a lot of joint campaigns with partners, the community, and volunteer users to get everyone to pay attention to the road traffic regulations. However, despite that, there are still some people who don't pay attention to safety issues when riding bikes. So it's going to be a continuous effort.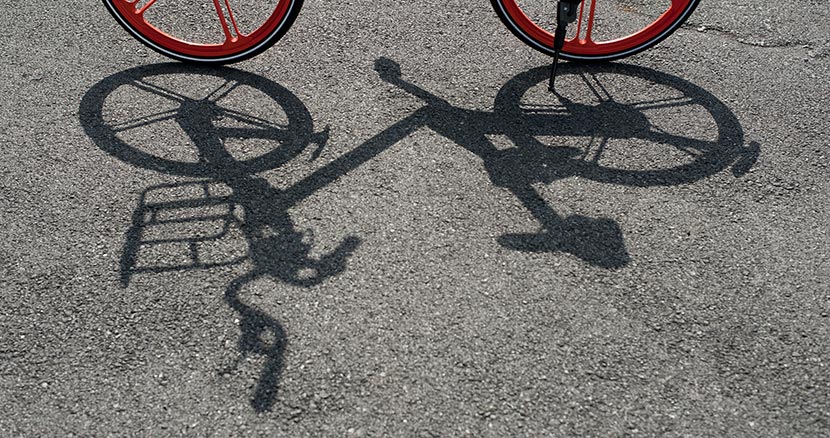 The shadow of a Mobike shared bicycle is seen on the ground, Shanghai, Aug. 13, 2016. Long Liu/VCG
Sixth Tone: Some of your competitors are offering much lower rates. Are you worried about a price war?
Michael Yao: I don't think so, because 1 yuan [$0.14] is very cheap. If the difference was 10 yuan to 1 yuan, then people might switch. But if it's just a difference between 1 yuan and 0.5 yuan, then people won't shift. It's all about consumer choice. I think that depends on the riding experience and the app-using experience, and maybe the convenience of finding a bike. It's a combination of factors, not just the price.
A lot of users will choose Mobike because it's easier to find Mobikes. Then there's safety: People say the safety of our bikes is greater than of others.
We have GPS in every lock, and we can deactivate a bike [remotely] from our system if we identify any issue with that particular bike. Some of our competitors don't have GPS. Without such technology, if you don't know where your bikes are — and if you don't have an operation team to look after bikes — then they become hidden risks in the street and may cause safety-related accidents.
Sixth Tone: Sometimes shared bikes are parked badly or abandoned by users. Instead of solving transportation problems, could companies like Mobike create problems in the urban landscape?
Michael Yao: I think we absolutely will meet this kind of problem. But the percentage is still very low. And these things will still happen for some time to come. But we've also seen a lot of users with social responsibility who would report such bad behavior to us from within our app when they see, for example, a bike abandoned in a park. We can then send our operation team to take out the bike and park it properly. We've also seen users voluntarily help move the bike or park it somewhere properly because they love the convenience Mobikes provide, and they'd like everyone to be able to continuously enjoy such convenience.
Sixth Tone: Some experts say the government will scrutinize bike sharing more closely and may want to exert greater control. Is that a concern?
Michael Yao: The government is very supportive of Mobike. It's not like the car-hailing industry that Uber operates in, where the government sets limits and regulates that industry. We can't presume what it will be like half a year or maybe a year from now, but at the current stage [of our development], the government is very supportive.
With contributions from August Rick.
(Header image: A man rides one of Mobike's vehicles past a line of the shared bicycles in a roadside parking area in Shanghai, Dec. 20, 2016. Guo Qichang/IC)