A group of Chinese artists were taken in for questioning by police Sunday evening following a sit-in protest against persistent smog in Chengdu.
Air pollution levels in the capital of the southwestern province of Sichuan have been consistently high over the last week. The municipal government on Dec. 3 issued a yellow smog alert, the lowest possible level, and the city's airport was shut down for hours on Dec. 4 due to poor visibility.
Throughout Sunday, the air quality index (AQI) in the city stayed above 150, a level considered unsafe according to U.S. Environment Protection Agency standards.
On Sunday evening a group of artists were taken away by police after they staged a sit-in protest in the city center. Wearing pollution face masks, they sat in a row in a small plaza located on Chunxi Road that has a statue of Sun Yat-sen.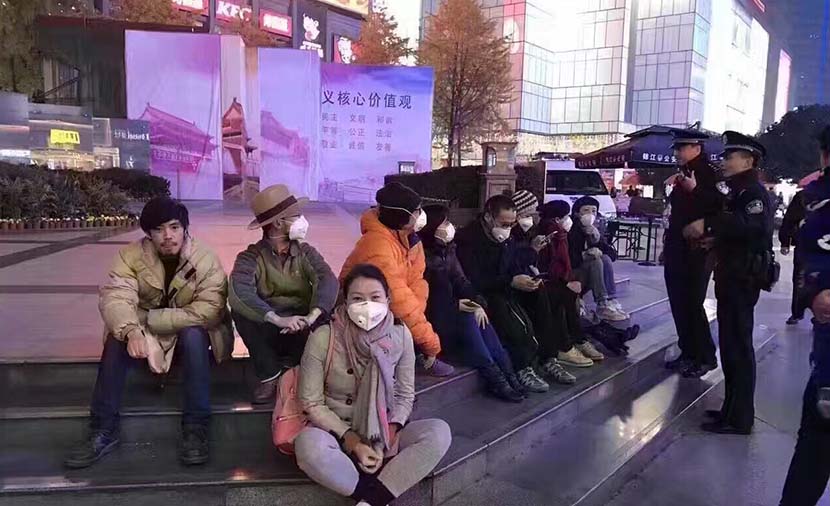 A group of artists protest pollution levels by wearing smog masks and sitting on the stairs of a plaza in Chengdu, Sichuan province, Dec. 11, 2016. From Weibo
Li, an artist who participated in the sit-in but was not taken away by police, told Sixth Tone that officers first asked the artists to leave. An argument erupted between police and protesters after one artist refused to show identification or put away his phone. Officers then put eight of the protesters and two middle-aged women who were simply passers-by but had taken photos of the scene in a police vehicle and drove them away. Li did not want to reveal his full name because of the sensitivity of the issue.
An officer surnamed Huang from the Hejiangting police station, located close to where the sit-in happened, confirmed to Sixth Tone that several people had been rounded up and taken into custody around 9 p.m. on Sunday. As of Monday morning, all had been released, the officer said.
An article published Monday morning on Wall-art, a public account on messaging app WeChat with 700,000 followers that focuses on art, brought greater attention to the event. Though the protest only involved around a dozen people, one protester who wished to remain anonymous told Sixth Tone he was surprised by the scale of the reaction.
The Wall-art article had around 300,000 views before it was deleted on Monday afternoon, the account's chief editor Li Yuxuan told Sixth Tone.
"Some artists had tried to apply for a protest permit but didn't succeed in obtaining one," Li Yuxuan said. He described the subsequent sit-in as "ad hoc."
Song, a friend of the artists who were taken in by police, told Sixth Tone he went to the police station in question around 9 p.m. to see what had happened to the group. He asked to be identified only by his last name. Together with between 40 to 50 family members and friends, Song ended up waiting until close to 2 a.m., when police told the crowd to disperse before they would release the artists as well as the two middle-aged women.
(Header image: People gather at Tianfu Square to watch the flag-raising ceremony on a smoggy day in Chengdu, Sichuan province, Jan. 1, 2016. Lu Jia/VCG)