The trademark of a renowned Chinese university's official crest expired in 2014 and has now been registered by a private company, a Weibo microblog from a self-described copyright expert claimed on Oct. 26.
Renmin University of China in Beijing, which this year was ranked the country's third best college, first used its famous "three-person" crest in 2003. According to the designer, Ye Qing, the emblem features a stylized image of three adjoining Chinese characters for the word for "person," symbolizing solidarity.
In 2004, the crest was registered with the State Administration for Industry and Commerce's trademark office for a 10-year validity period, China Youth Daily reported Friday. After the trademark's expiration, Quanzhou Quangang Chunhuidadi Electronic Technology Co. Ltd. in 2015 trademarked the emblem for another decade, beginning August 2016. Chunhuidadi is owned by Zhuang Xueen, the author of the Weibo post that started the fracas.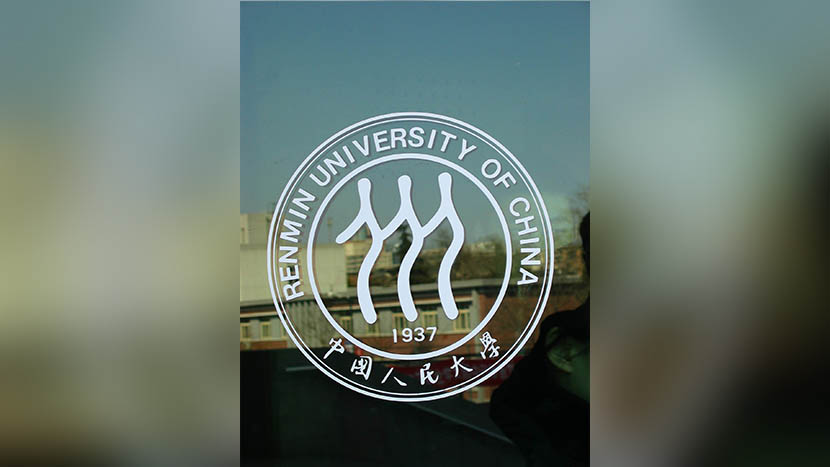 Renmin University of China's crest. Yin Guli/VCG
On his microblog, Zhuang poked fun at the university by referencing a page on the school's website that said its intellectual property faculty was "China's only academic team that participates in the legislation process of the country's intellectual property laws."
Zhuang told Sixth Tone on Friday he thought it was "unbelievable" for a school to make the mistake of not renewing one of its most important trademarks, adding that Renmin University had yet to initiate any legal action against him or his company.
Zhuang said he plans to use the trademark for education and training purposes, claiming he was not aware of its association with the university when he registered it. According to a government website, Chunhuidadi has 450 registered trademarks and is currently suing a Shanghai-based company for trademark infringement.
Renmin University did not respond to Sixth Tone's interview request.
Lu Yali, an intellectual property lawyer at Nanjing Zhishi Law Firm, told Sixth Tone that Renmin University has a strong chance of protecting its trademark through legal action. Lu said that although the trademark had expired, the university still had a copyright claim over the crest, as the institution had used it exclusively for many years. As a result, Lu said, the emblem is still protected by law.
Chinese universities have become more aware of intellectual property rights in recent years, according to Lu. However, some institutions may still overlook these matters, she said, thus creating loopholes for opportunists. "The trademarks of famous universities are well-known and reputable across society," Lu said. "Using one of these crests may lead people to believe that the user is in some way affiliated with the university."
Lu believes that academic institutions must learn more about how to protect their intellectual property. "Malicious copyright infringement happens a lot," she said. "In previous years, individual cases predominantly involved copying [of existing trademarks]. But now, trademark infringers are smarter about the law — they change the crest slightly so it becomes an imitation image, in order to avoid punishment. As a result, it's becoming more difficult to judge them."
Renmin University is not the only highly ranked college to have become embroiled in a copyright dispute. In a similar case, Fudan University in Shanghai found in 2014 that a company based in eastern China's Jiangsu province had registered a trademark under the name "Fudan Sunshine." Earlier this year, a Beijing court ruled that the name infringed upon the university's trademark.
(Header image: Students take photos during graduation season at the gate of Renmin University of China, Beijing, June 20, 2016. Wang Xibao/IC)