In a country where the doctor's plight is often depicted as one of great woe, Ren Liming's story offers a different, somewhat more fashionable take.
Ren, who is in his 40s and has been a doctor for more than 20 years, found himself in the middle of a heated online debate this week, centered on the question: Is it morally acceptable for medical professionals to generate wealth, and if so, should they be allowed to flaunt it?
The brouhaha erupted on Saturday when Ren, who lives in Chengdu, capital of southwestern China's Sichuan province, posted photos to his Weibo microblog of a birthday party he attended in the company of a government official. One photo showed a red packet containing 20 hundred-yuan notes (worth $290 in total).
The snapshots sparked backlash online, with net users accusing Ren of being too cozy with the official and some even suggesting that Ren was offering the man perks such as free medical care. Ren — who specializes in urinary ailments and is somewhat of a minor internet celebrity, with close to half a million followers on Weibo — was quick to defend himself, saying he had befriended the man after the official had resigned from public office.
But the story doesn't end there. Instead, on Sunday, Ren took to Weibo again, responding to the "malicious comments" by posting a picture of himself wearing a 10,000-yuan jacket from Moncler, a French luxury brand that enjoys a following among Chinese celebrities.
In the caption, Ren slammed those who seemed to imply that health care professionals have no right to pursue wealth. "A doctor pleading poverty always receives applause," he wrote. "A doctor presenting himself as middle-class receives condemnation both in speech and writing. Fuck, why do social morals demand that doctors be poor?"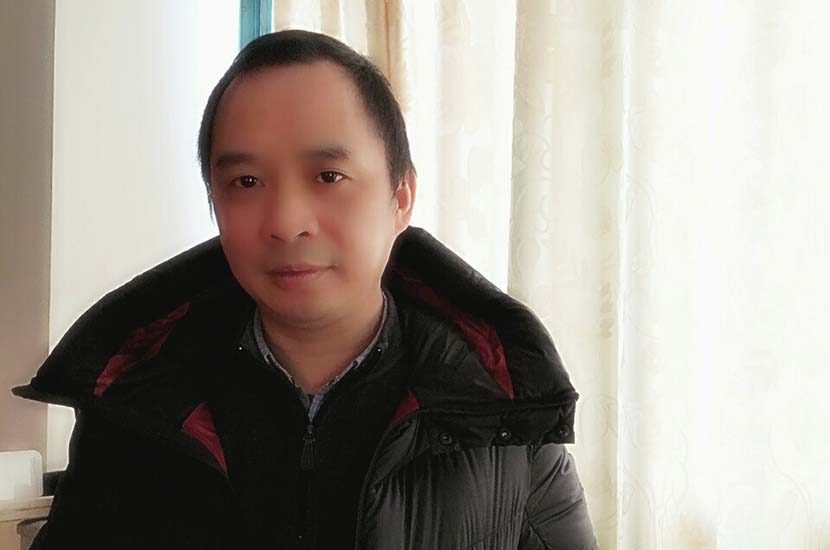 Dr. Ren Liming poses for a photo wearing a coat worth over 10,000 yuan. @chengduxiashuidao from Weibo
In China, doctors are generally depicted as being overworked, overstressed, and underpaid. The volume of patients seeking medical attention is so enormous that the number of doctors per capita in the nation falls well short of international standards, even in developed coastal cities such as Shanghai.
In addition, being a doctor in China is fraught with danger, including the threat of violence. Nearly 60 percent of Chinese medical professions have had to endure verbal abuse, and more than 13 percent have been attacked physically, according to a report from the Chinese Medical Doctor Association issued last May.
In one of many such cases, a retired doctor was killed in May by a former patient who claimed the doctor had "broken his teeth" in surgery. The following month, a health care worker's son was knifed by one of his former patients in a dispute over medical expenses.
Against this backdrop, the Moncler-wearing Ren paints an unusual picture, and his subsequent disclosure of his financial position suggests that doctors in China may be more prosperous than many perceive. On Tuesday, Ren returned to Weibo to elaborate further on his earnings and lifestyle-related spending.
Ren appears to be a fashion aficionado, spending around 200,000 yuan on clothes each year. In an earlier post, he showed off his attire, all big brands: Armani, Burberry, LV, and Prada. He owns three properties, including one in Dongguan, in the southern Chinese province of Guangdong. Ren said he's eyeing a fourth property for purchase later this year.
His doctor's income is more than 200,000 yuan annually. In addition, Ren receives some 300,000 yuan in income from the lectures he gives. An investment in a friend's company puts another half a million yuan per year in his pocket.
Ren said he has also invested in a number of other businesses, including a company that provides mobile health care. A 15-minute remote medical consultation can earn him 600 yuan, Ren wrote online. "But God knows how many books I have had to study!" he added.
Ren is also a frequent commentator on Fenda, a for-pay question-and-answer platform, where he charges 168 yuan per answer.
Still, Ren seemed compelled to explain why he has taken to the high life, saying that he wasn't always like this and attributing his transformation to a number of life-changing events — including a setback in his love life and his father's lung cancer diagnosis.
In an article in the Chengdu Business Daily on Wednesday, Ren said that his high income makes conflict with patients less likely. A wealthy doctor won't be tempted by bribes from patients or other "gray" sources of income, he explained.
Some net users came out in support of Ren. "Many people condemn you because they are jealous of your good income and popularity," wrote one Weibo user. "Spend money however you like; you don't have to care about what other people think."
"Doctors should eat and dress well. Otherwise they won't have the energy to heal patients," wrote another user, adding, "I support you, doctor! Live your own life and don't pay attention to others."
Other net users were not convinced, with one user accusing Ren of exacerbating the conflict between doctors and patients. "A person with high medical ethics would not be so materialistic," he wrote. "Pathetic; you did not realize how hard it is for students from the countryside to study medicine. You are not qualified as a doctor, no matter how strong your abilities."
Others did not pass judgement on Ren, saying only that he was an outlier in the medical world. "Please don't be mistaken!" wrote a user whose profile says he is an OB-GYN. "His situation does not represent most doctors in China!"
With contributions from Wang Yiwei.
(Header image: WavebreakMedia_RF/VCG)