Very few terminally ill Chinese children are getting the care they need, an industry expert said at a recent forum on hospice care in China.
Lynda Gould, who founded China's first children's hospice, told Sixth Tone on Saturday that not more than 500 of the total 4.5 million children in China who are in need of palliative services — specialized medical care aimed at providing relief from the symptoms of serious illnesses — are actually receiving the proper care.
"There are so many orphanages in China, and every one of them has dying children," Gould said at China's Second Forum on Hospice Care for Children held in Shanghai over the weekend. "Almost none of those children are receiving palliative care," Gould said, adding that there are children being sent home from hospitals every day. "The hospitals say to the parents that they can't do anything more for them, and the parents have to watch their child suffer at home."
Gould, a retired British nurse, started Butterfly Children's Hospices in Changsha, central China's Hunan province, in cooperation with the Changsha No. 1 Social Welfare Institute in 2010. The hospice organization has taken in 200 children over the past six years, Gould said.
The World Health Organization and the International Children's Palliative Care Network estimate that globally, more than 21 million children need this specialized care — with around 4.5 million in China alone, according to figures released at the forum. But aside from Butterfly Children's Hospices and Nanjing Rainbow Center, which was established in 2013 and modeled off of the Changsha institute, there are only a handful of doctors providing such care to young patients at children's hospitals in Beijing and Shanghai.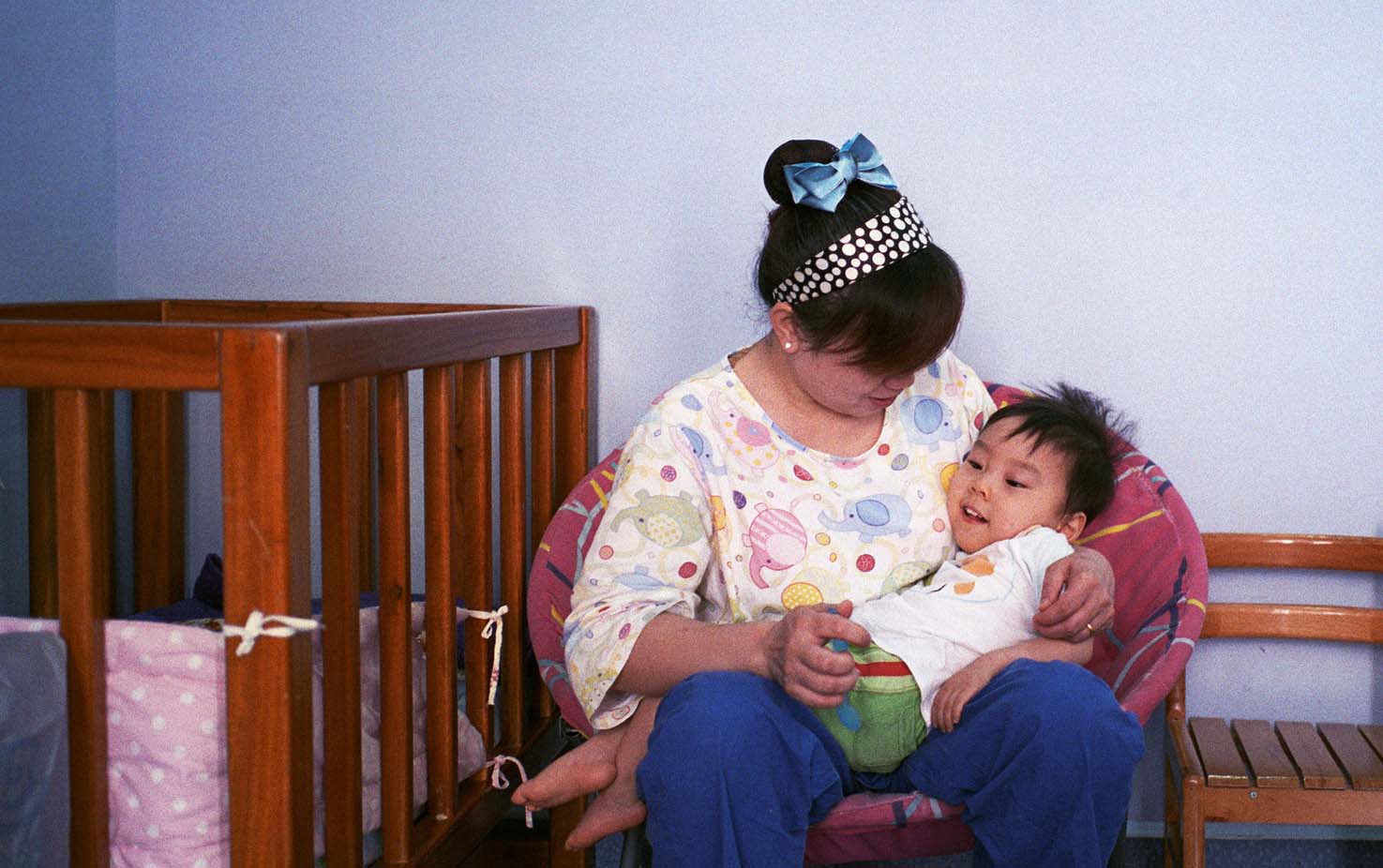 A professional caretaker holds a young patient at Butterfly Children's Hospices in Changsha, Hunan province, May 30, 2013. Zhong Ruijun/Southern Metropolis Daily/IC
Cao Bin, head of the Department of Maternal and Child Health under the National Health and Family Planning Commission, admitted at the forum that while the country has long emphasized lowering infant mortality and infant deformity rates, "It was very rare that our attention was drawn to children when hospice care was discussed [in the past]," adding that such care is more commonly associated with the elderly.
Shi Hongyan, vice secretary-general of the Chinese Association for Life Care, has focused on increasing the availability of hospice care in China for the past 10 years. However, she told Sixth Tone that she only recently became aware of the issue among children. "It's heartbreaking and shocking to learn that the need for hospice care services for children is so high," she said, adding that the demand is likely linked to the growing occurrence of fatal childhood diseases — like leukemia and kidney failure — in recent years.
The concept of hospice care first entered China in 1988 with the founding of a hospice care research center in the northern city of Tianjin. According to the Chinese Association for Life Care, there are now around 100 hospice care institutes in China that provide services for adults. Over the past decade, Shi said the general public has grown more familiar with and receptive to palliative care, a concept that was not well-received initially.
"When we started in 2006 and tried to give out pamphlets to introduce hospice care, the vast majority of the general public couldn't accept it," she said. "Traditionally, when people are healthy, they believe it will bring them bad luck to learn about what's available when they fall sick or are even close to death. It won't be easy to promote the concept of hospice care for children in the country, either."
However, Gould said that cultural resistance to such care for children is common worldwide when a country first starts to promote awareness of the concept. "We need to help [people] understand the importance and value of this type of care," she said. "It's about giving families hope when there is no hope in their child's life."
Long Huan, head of the Changsha No. 1 Social Welfare Institute, said at the recent Shanghai forum that quality hospice care can achieve miraculous results for patients.
"For 176 children accepted into Butterfly Children's Hospices, doctors said they wouldn't survive for more than six months, but half of them actually lived beyond that," Long said. "It's a brand-new mode of care for dying children, and this mode can be duplicated. Every child's right to live needs to be better guaranteed."
(Header image: Lynda Gould (left) and a nurse examine a sick child at Butterfly Children's Hospices in Changsha, Hunan province, May 30, 2013. Zhong Ruijun/Southern Metropolis Daily/IC)