Twenty-six-year-old Chen Siying is six months pregnant. She isn't single, but she goes to prenatal examinations on her own, while other mothers-to-be are accompanied by their spouses. "Those are the moments when I really want my husband to be with me," Chen tells Sixth Tone as she sits in her office, having just woken up from a midday nap.
Chen and her husband, Wang Yan, 28, are both from Chongqing, a city in southwestern China, but Wang now lives and works in another city about 350 kilometers away. They see each other twice a month, when Wang takes the high-speed train home.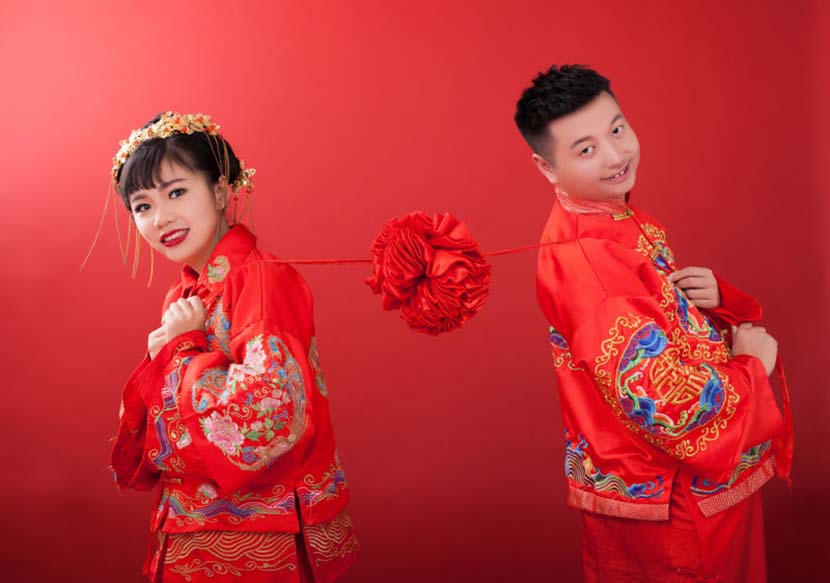 Chen Siying and her husband Wang Yan pose for a wedding photo in Chongqing, August 2016. Courtesy of Chen Siying
It's common in modern China for rural migrant workers to take jobs in big cities to earn more than what they could at home, leaving behind children, spouses, and elderly parents for long periods of time. Now, more and more middle-class urban couples are finding themselves in similar situations: They're known as "weekend couples" because they only get to see each other on weekends and holidays while pursuing work or study opportunities in different locations.
Long-distance relationships are becoming more acceptable to urban professionals in China, even after marriage. For couples in which both partners are young and ambitious, chasing career excellence, intellectual pursuits, and a more secure material future is worth the emotional cost of living separately. Statistics released in May by Jiayuan.com, one of the largest online dating platforms in China, show that about 40 percent of urban white-collar women support "weekend marriages," also known as "5+2" marriages for five days apart and two days together.
With increasing competition in the workforce, the "5+2" mode of marriage has grown more common, particularly among younger couples, according to Shu Xin, director of the China Marriage and Family Affairs Consulting and Research Center, a nongovernmental organization based in Beijing.
In Chongqing, Chen lives alternately with her parents and parents-in-law. As Chen and Wang haven't bought an apartment of their own yet, the financial pressure is on Wang, who works as a salesman at a privately owned animal feed company in Chengdu, the capital of southwestern China's Sichuan province. He budgets carefully, living in a cheap motel room so he can save up for the couple to purchase their own property.
Wang now makes 16,000 yuan ($2,330) per month, in addition to a 280 yuan per diem, while Chen earns 3,500 yuan at a state-owned company back home. As Wang has built a solid client base in Chengdu, the couple both believe that it's best if he keeps working there to support the family. He plans to move back home to be with his wife when he has the capital to launch his own business. "But it will take a few years to realize this goal," Wang says, adding that "love needs bread."
Shu agrees that financial stability is important in a marriage but adds that a couple "needs to figure out how to balance love and money, especially after they have a child."
It's not only money that drives young couples to live apart. The generations born after 1980 are more open to alternative ways of living because they value individuality, Shu says.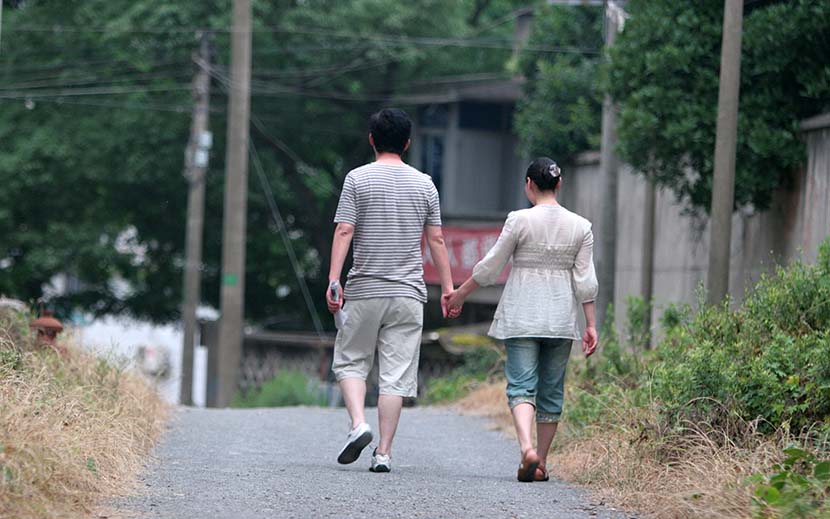 A pregnant woman walks holding hands with her husband, who comes home once a week from his island workplace, Zhoushan, Zhejiang province, Sept. 14, 2007. VCG
While Chen and Wang are enduring the long-distance nature of their relationship reluctantly, another couple who live separately in Shanghai and Quzhou, a city in the eastern province of Zhejiang, are satisfied with their "5+2" marriage.
Zhang Yun, 28, works as a lawyer in Shanghai, sharing a rental apartment with her cousin. On weekdays, she is busy dealing with complex civil litigation on behalf of her clients. On weekends, she spends time with her newlywed husband in either Shanghai or their hometown, Quzhou.
"I actually don't feel like we live in different cities, as we see each other every weekend, which is often," she giggles.
Zhang and her husband, Jerry Zhu, 29, married in June after dating since junior high school. They have already survived the long-distance test once before, when Zhang went to the U.K. to pursue postgraduate studies for 18 months.
Because there are more opportunities to try civil litigation cases in Shanghai than back home in Quzhou, Zhang made the decision to work in Shanghai while Zhu stays in their hometown and works for a local highway administration bureau. Zhang says that she'll move back to Quzhou if their marriage requires her to make the sacrifice. "But so far, we don't think it's necessary," she says.
Zhang says the "weekenders" phenomenon is common in Shanghai, especially in her industry. Many lawyers travel often for work and may only see their spouses a few days per month, even if they live together. "If they can make the marriage work, so can we," Zhang says.
Recently, the couple has been busy decorating their Quzhou apartment when Zhang is in town, and they plan to have a baby next year. "I might move back to Quzhou after we have a child," Zhang says. "Or maybe my parents-in-law could move to Shanghai and help me take care of the baby."
Though Zhang and Zhu's marriage is based on a 14-year emotional foundation, the couple has never lived together for longer than two weeks. But Zhang believes that distance is not a problem.
"A couple living together is like reading a book. It's terrifying if every story is the same," she says. "It doesn't matter whether the couple physically live in one place, as long as they are both developing and have fresh ideas to share with each other."
Distance can help keep a relationship fresh and exciting, which is why Shanghai residents Lin Ling and her husband choose to live separately. The couple, who married in September 2014, spend two days a week together; the rest of the time, 30-year-old Lin lives alone in their jointly purchased apartment, while her husband stays with his mother, just 10 minutes away.
There are no practical obstacles to the couple living together, but separation is what they're accustomed to: For eight years, Lin worked in Shanghai while her husband studied in Beijing, and they only saw each other once a month. Lin says she enjoyed her freedom, and he could focus on getting his Ph.D. in physics.
"We talked on the phone for at least an hour a day," Lin recalls. "I shared gossip about work, and he told me about the research he was conducting."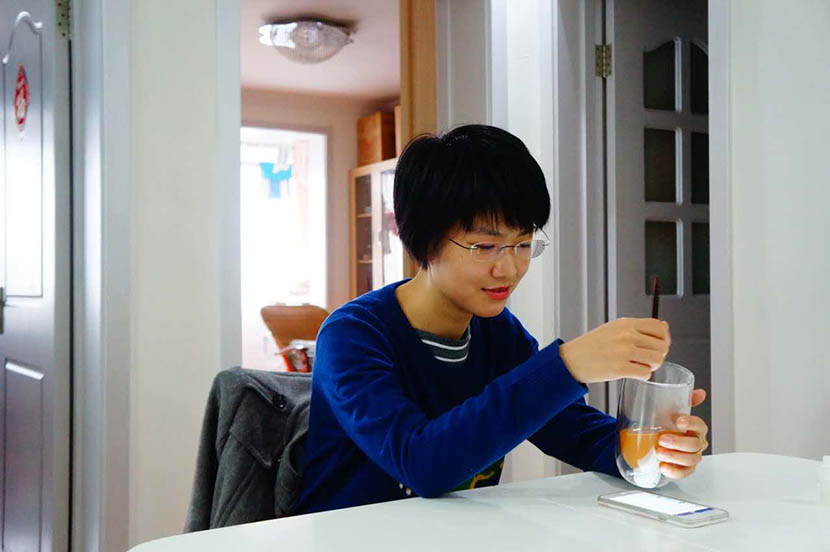 Lin Ling chats with her husband on the phone at their apartment in Shanghai, Nov. 8, 2016. Fan Yiying/Sixth Tone
However, their relationship dynamic started to change after Lin's husband finally moved back to Shanghai early last year. The couple constantly argued over small matters, which threatened their marriage. "I was really upset that I was the only one who did housework," Lin recalls.
The couple felt that living together left them with nothing to talk about, so two months ago they chose to start living separately once more. "The separation allows us to do what we want independently, and when we get together, it feels like we are dating again," Lin tells Sixth Tone with excitement. Next week, the couple have made plans for a dinner date, followed by a visit to a Japanese cartoon exhibition.
But while Lin and her husband's living arrangement has given their marriage variety and more space for independence, psychologist Zhang Ji warns that a long-distance relationship can create the illusion of the ideal marriage. Zhang, who provides divorce counseling at Shanghai's Putuo District marriage registry, believes that a loose "weekenders" arrangement can allow couples to avoid family responsibilities and obligations.
"It may make them feel as free as they did when they were unmarried, but it also makes it easier to have extramarital affairs," Zhang explains.
Zhang says she often encounters couples who want to divorce because of the "weekenders" mode of marriage. "They get used to living without the other half and form a new social circle around themselves to meet their emotional needs," she explains. Gradually, she adds, they will demand and expect less and less of each other.
Back in Chongqing, Chen longs for her husband to be by her side when she delivers their baby next February. But she's afraid that he won't make it if she goes into labor prematurely. "We live two hours away from each other by high-speed train, after all," she sighs.
(Header image: A red cut-paper decoration shows the Chinese 'Double Happiness' design at a newlywed couple's apartment, Tangshan, Heibei province, Aug. 7, 2017. VCG)