Singles' Day may be over, but its ramifications are still being felt throughout China, especially by owners of brick-and-mortar shops. This year, the online shopping extravaganza netted close to 120 billion yuan ($17.5 billion) for its creator, Alibaba.
All over China, deliverymen on motorbikes piled high with boxes scoot here and there, frantically delivering mountains of packages — the spoils of Nov. 11 — cluttering up the lobbies and entrances of houses, apartment buildings, and even some offices. It's barely worth repeating that online shopping is booming throughout the country.
According to a report last year by consumer analysis company Nielsen, China's e-commerce sales outpaced the U.S., growing at a rate of 52 percent from 2013 to 2014, compared with 17 percent in the U.S. over the same span.
But while online retail is surging, sales in real-life shops and department stores are stumbling. In-store shopping at hypermarkets — large supermarkets — fell 11 percent over the same period, according the Neilsen report.
"Offline is suffering as a result of growth in online," said Ann Bierbower, a senior manager with marketing research agency China Skinny in Shanghai.
Compared to the relative razzmatazz surrounding Singles' Day, the vibe earlier this week on one of Shanghai's main shopping thoroughfares, Huaihai Road, was much more sedate. The street, in the heart of the city's former French Concession, is among the most expensive stretches of real estate in the city, if not the country, and is home to a large number of luxury stores and shopping malls, including Gucci, Versace, and the swanky new IAPM complex. But many of the street's key retail tenants are facing commercial difficulties. British department store Marks & Spencer, which has one of its largest stores in China on the east end of Huaihai, announced recently that it would shutter all 10 of its China locations.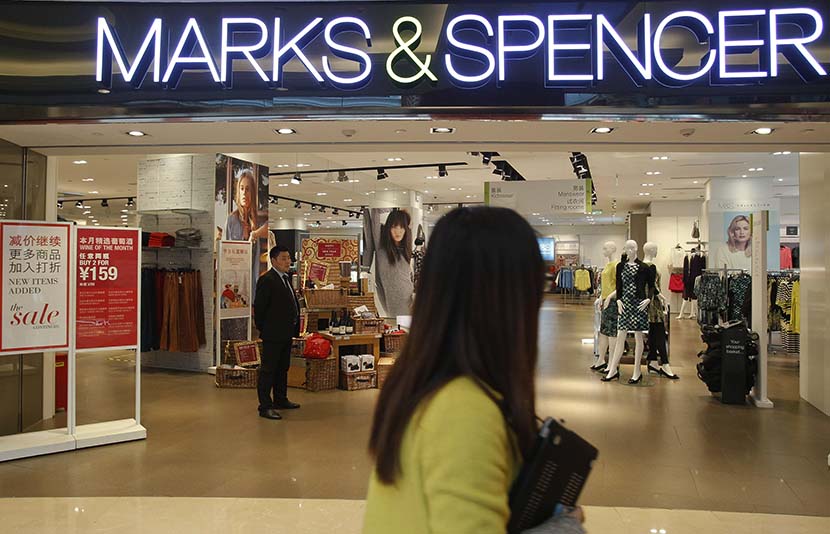 A woman passes by a Marks & Spencer store in Shanghai, March 4, 2015. Gao Zheng/Sixth Tone
On Monday morning a member of the sales staff at Parkson, a Malaysia-owned department store on the same street, said the store had been fighting back against the onslaught of Singles' Day for the past three years by offering discounts to encourage people to come in and shop. The woman, who would not give her name, said sales of cosmetics and clothing were strong. This year, for example, shoppers who forked out more than 5,000 yuan at Parkson received free tickets to see Hong Kong crooner Jacky Cheung, while those who spent more than 1,000 yuan could buy tickets at an 80 percent discount.
But efforts like this may not be enough to save the retailer. In September, Parkson closed one of its struggling stores in Beijing. The retail chain has so far closed 12 stores in China since 2012. Still, it would be shortsighted to lay all the blame on increased competition from e-commerce. Instead, Bierbower describes the current situation in China's retail landscape as a "realignment" driven by the sector's changing economics.
Rental considerations play a role. The cost of renting and operating large shops in central parts of Chinese cities is expensive, leading more companies to think of brick-and-mortar locations as a means to promote — rather than sell — products to consumers. There is now an expectation that consumers will browse these shops, noting prices, then leave and go online to make the purchase.
Bierbower said the range of products offline leaves a lot to be desired. Online consumers, meanwhile, can compare products, reviews, and prices, and even have questions answered by customer service agents. Compare that to offline shopping, said Bierbower, where the selection is limited and the service typically poor at best.
Twenty-five-year-old Zoe Zhu, who works at an advertising company in Shanghai, said that while she prefers to shop online, she will still go to a brand's flagship store and ask friends to buy items for her when they go overseas. "But I don't go to department stores anymore," she said.
Some shoppers who spoke to Sixth Tone suggested that offline stores need to do more to attract — and keep — customers. Nico Lee, a 29-year-old office worker from Shanghai, said she opted out of the online rush for bargains, which began at midnight, as it was simply "too tiring." Special holidays notwithstanding, Lee said she likes online shopping for its convenience and cheaper prices. "I didn't have many good shopping experiences at offline stores," she said. "While foreign brands like Apple have done a much better job [at catering to customers' needs], local stores still need to improve their services." Lee added that even when department stores offer discounts, they're seldom enough to compete with online prices.
Zoe Huang, a 28-year-old self-described housewife, said she generally prefers online shopping for its economic advantages. Still, for certain items such as cosmetics and baby food, which she buys based on quality rather than price, Huang said she prefers real-life stores. "Because there are so many fake products on the internet, I prefer to go to offline stores [for these products]," she said, adding that low online prices could be losing their edge to outlet stores, or large retail premises usually in the suburbs that sell branded goods at a discount.
Duncan Clark, an entrepreneur and the author of "Alibaba: The House That Jack Ma Built," said that online is replacing offline, even for less obvious categories such as foodstuffs. More packaged goods are being sold online than offline, although this is not yet the case for fresh food. Still, the impact in this market is visible, he said, pointing to the diminishing presence of hypermarkets like Carrefour as an example.
Earlier this year, Carrefour announced it would be pivoting away from large retail operations to focus on building a network of smaller convenience stores. Clark said that by adding more dining options and promoting novel uses for what was once retail space, shopping malls in China are finding new ways to "repurpose" themselves. But even strategies like these, he added, don't come with a guarantee of success.
In spite of the seemingly unfair fight, Bierbower said offline is not be underestimated. She pointed to Xiaomi, which initially sold mobile phones and other products exclusively through online channels but is now looking to open 300 brick-and-mortar stores early next year, as a prime example of integrated marketing strategy resulting in online-to-offline success.
And there is evidence to suggest that the marriage of online and offline might very well be the wave of the future. "Even though it seems as though offline is giving way to online, offline is an important part of a product — whether seeing it in-store or at a pop-up shop," said Bierbower. "There are still smart ways to show a brand's uniqueness though offline means."
(Header image: A saleswoman disarms a mannequin at the Pacific Department Store on Huaihai Road in Shanghai, Nov. 13, 2016. The store will close by the end of this year. Zhu Weihui/Sixth Tone)