A man from Hebei province whose death sentence sparked debate among both legal experts and net users was executed Tuesday morning, according to reports in Chinese media.
In February last year, Jia Jinglong, 30, shot dead a senior local official with a modified nail gun in a dispute over land requisition.
Last month, China's Supreme People's Court upheld Jia's conviction, and netizens reacted with dismay. The case struck a chord with social media users concerned about citizens who lose their homes to government expropriation schemes.
Jia, who then lived near the northern city of Shijiazhuang, alleged that He Jianhua ordered the demolition of his home after Jia refused a compensation package that included an apartment in a new high-rise block and a small monetary sum. In November, Jia was tried and convicted of intentional homicide.
During the trial, legal experts argued that Jia deserved leniency on the grounds that the village chief had no authority to order the demolition, that the young man immediately turned himself in to authorities, and that he had acted out of passion. Despite such mitigating circumstances, the death sentence was upheld, first by the Hebei provincial court in May and then by the Supreme People's Court last month.
In a rare display of transparency, members of the Supreme People's Court held a press conference on Tuesday to discuss their decision. A spokesperson for the court said that the severity of Jia's crimes left no option but to sentence him to death. At the trial, Jia was found guilty of planning his revenge on He, carrying a lethal weapon, resisting arrest by onlookers at the murder scene, and deliberately choosing to carry out his crime during a public holiday, when it was likely to draw the most attention.
The spokesperson continued: "Although the methods used [to ensure the demolition of Jia's home] were slightly inappropriate, they were not down to He Jianhua's actions alone, and cannot excuse Jia Jinglong's reasons for ignoring the law and willfully killing him."
In addition to the legal experts and netizens who disagreed on the handling of Jia's case, even state media carried varying opinions. A commentary published Tuesday on the website of party newspaper People's Daily took aim at experts, scholars, and internet users who have opposed the court ruling. The piece, entitled "Jia Jinglong's Case Shows How Groundless Online Opinions Undermine Legal Authority," stated: "Online opinion with no factual basis should be a cause of great public concern and subject to greater resistance."
It continued: "While privately, dinner table conversations about the outcomes of individual cases may carry different views, this justifiably falls within the category of freedom of expression, as it does not affect public opinion. However, if citizens, including experts and scholars, publicly express contrary opinions to a particular sentence, they will affect public opinion in some way. Unlike private discussions, they should be fully thought through."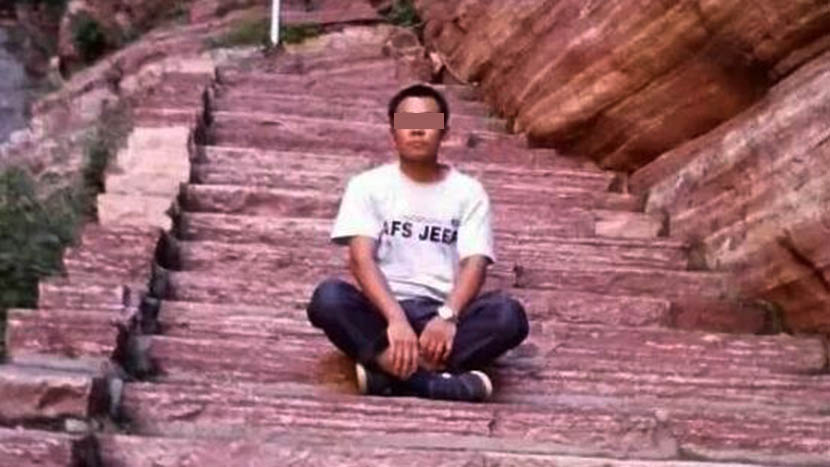 Jia Jinglong poses for a picture. From the official Weibo account of the People's Court of Fushun County
Online opinion in response to Jia's case had "overstepped the legal limits of freedom of speech," the article concluded. It favored subjecting such opinion to "appropriate legal sanctions," in order to "purify the online atmosphere" and "uphold the authority of the law."
Tuesday's commentary struck a very different tone to media reports from a year ago. Alongside public voices calling for leniency, a number of state media outlets discussed Jia's case in unusually candid terms.
In late October, state newspaper China Daily came to Jia's defense in an editorial that stated he might not have acted in such a violent manner if the loss of his home had been properly managed. Similarly, an article in party tabloid Global Times quoted a number of Chinese legal experts who insisted that the mitigating circumstances should permit Jia a stay of execution.
On Tuesday, many internet users welcomed the news that the sentence had been carried out. "The punishment fits the crime," one user commented on the website of The Paper, Sixth Tone's sister publication. "In a society governed by rule of law, you should expect to be sentenced if you break the rules!"
Others, however, highlighted perceived double standards in the legal process. "How come the cop from Taiyuan only got five years then?" asked another user, referring to a recent case in which Wang Wenjun, a police officer in Shanxi province, was only given a custodial sentence for standing on the hair of a rural migrant woman for over 20 minutes. The woman later died from injuries sustained during the struggle.
The crime of intentional murder in China carries a number of sentences, ranging from a minimum 10-year custodial sentence to the death penalty, depending on the severity.
Jia's case can be traced back to November 2010, when his father signed an agreement with local authorities in Beigaoying Village permitting the eventual expropriation and demolition of the family's property in return for a resettlement and compensation package. Jia vehemently opposed the agreement at the time and continued living on the family estate.
In May 2013, as Jia was finalizing arrangements for his upcoming wedding, a demolition team showed up at the house and abruptly began tearing it down while Jia was still inside. After escaping through an upper-floor window, he was beaten up in the street. Left homeless, destitute, and injured, Jia was soon abandoned by his fiancee.
Over a year later, in October 2014, Jia purchased three nail guns, a mock handgun, and nails for use as ammunition. Over the course of the following few months, he made repeated modifications to the nail guns. Finally, in February 2015, Jia drove back to Beigaoying to take part in the village's Spring Festival gathering. As He descended from the podium after a speech, Jia approached from behind and fired into the back of his head.
Additional reporting from Cai Yiwen.
(Header image: Corbis-RF/VCG)