On the surface, Lu Qinqin's family is like any other. She's up at 7 in the morning to make breakfast for the kids, get them washed, and dress them for the day. Soon after breakfast, her husband, Tao Honghu, sets off for work, returning at 5 p.m. to join the family for dinner. It isn't until 11 p.m. that an exhausted Lu finally gets to bed.
Similar daily routines are found in households the world over — only in this case, the four children are not Lu's, and she is not their nanny.
Instead, Lu and Tao are contracted parents, on the payroll of a state-run child care institution in eastern China that arranges for married couples to act as live-in caretakers for disabled children who are either orphaned or have been abandoned by their birth parents. Their home — Apartment 304 — houses one of the Suzhou Social Welfare Institute's many "simulated families," which may sound like they belong in a virtual-world computer game but have very real requirements.
As simulated parents, Lu and Tao are tasked with providing round-the-clock physical and emotional care for the center's mentally and physically disabled children, who are unlikely to be chosen by prospective adoptive or foster parents.
Li Songlan (left) plays with four children in her 'simulated family' apartment in Suzhou, Jiangsu province, Oct. 31, 2016. Fan Yiying/Sixth Tone
In August this year, Lu and Tao made the 400-kilometer journey from Tongling, in eastern China's Anhui province, to Suzhou, in neighboring Jiangsu province, to join the simulated family initiative that was set up in 2013 by the Suzhou Social Welfare Institute.
For the couple, both 54, the move to the institute in Suzhou was an easy choice. Back home in Anhui, Lu was a farmer, her husband a miner. For work that is much less physically demanding, Lu now receives a monthly salary of 4,280 yuan (around $630), almost 80 percent higher than Tongling residents' average salary according to government figures for 2015.
Combined with Tao's income as a cleaner at nearby Soochow University, the couple's total salary easily matches their revenue back home. On top of that, they now have a newly built three-bedroom apartment to call their own. But more importantly, they have the chance to relive the joys of parenthood — their adult son lives with his own young family, and their daughter has graduated from university.
The Suzhou Social Welfare Institute has simple-but-rigid requirements: The simulated parents must be married couples, have experience raising children, and agree to at least one year of "family life." As per traditional notions of the nuclear family, the roles are gendered; the "mother" is required to stay at home and take care of the children full time, while the "father" is free to work during the day, provided he is back at home in the evening to help create a family atmosphere. Both parents are also required to have junior high school degrees or above.
But most importantly, the parents must be able to foster and maintain an emotional bond with the children, says the institute's vice president, Chen Yongzhen. Otherwise, she says, "the existence of the simulated family is entirely meaningless."
According to the Ministry of Civil Affairs' figures for 2015, China has around 502,000 parentless — orphaned or abandoned — children under the age of 18. Of those, around 92,000 are in the care of state welfare institutes, leaving the overwhelming majority in the care of relatives, individuals, and private institutions.
Chen says that of the parentless children who are taken in by the Suzhou Social Welfare Institute, those without mental or physical disabilities have no problem finding foster or adoptive families.
But it's another story for the institute's disabled children. Prospective adoptive families either lack the expertise to offer the specific care that such children require, explains Chen, or do not view them as welcome additions to their households. "It's very unlikely that they will be adopted or fostered," says Chen, "but we will not give up looking for a home for them."
The children's bedroom at Li Songlan's 'simulated family' apartment in Suzhou, Jiangsu province, Oct. 31, 2016. Fan Yiying/Sixth Tone
The simulated family initiative seeks to counter the problem, offering both a financial incentive to parents who take part and on-site professional care to support couples who have no experience in caring for disabled children. The children attend special education classes on the grounds of the institution during the day, and staff are on standby at all times.
Nonetheless, parents are given an intensive half-month training course before entering the program, followed by a three-month probation period during which they are monitored to ensure they are up to the task. "It's both a job and more than just a job," says Yu Haiying, the institution's chief of child welfare. The center holds the couples to high standards and expects them not only to provide a safe environment for the children but also to make a proactive effort to build emotional connections with them. Children often address their simulated parents as "Mom" and "Dad."
Between October 2013, when the initiative began, and June of this year, only three couples made it through the training course. Of those, two dropped out after the probation period. "Some people have lost their patience with the children during training and the probation period," Chen tells Sixth Tone.
But after an intensive recruitment drive on social media, the number of simulated households has now risen to 11, taking in over 25 percent of the institution's children. "Most of these kids have changed a lot since they started living with their families," Yu says, citing improvements in the children's emotional well-being and interpersonal communication skills.
Next door to Lu in Apartment 303 is Li Songlan, another of the "mothers" hired this year. The 53-year-old has four kids in her simulated family: a 4-year-old girl and three boys ranging in age from 4 to 11, all of whom call one another "brother" and "sister."
Lu Qinqin (left) sits with Shan Shan, her 'son,' as he sings along with a musical rabbit toy in their 'simulated family' apartment in Suzhou, Jiangsu province, Oct. 31, 2016. Fan Yiying/Sixth Tone
Originally from Lianyungang in Jiangsu province, Li and her husband came to Suzhou in July after hearing about the project from friends. Like Lu and Tao, the couple have adult children, all of whom now have kids of their own. "I have retired from taking care of my own kids," Li tells Sixth Tone. "I just love to be around the little ones," she adds. "I have nothing to do at home."
After a moment's contemplation, however, she concludes that she doesn't miss being around her grandchildren. Back at home in Lianyungang, she finds herself at the mercy of their demands, whereas in her new simulated family, she experiences a more fulfilling emotional connection with the children. "My kids here get me my slippers when I return home," she says, "while my own grandchildren only ask me to do things for them."
Under Li and her husband's care, 4-year-old Jin Jin, who suffers from microcephaly — a congenital condition that stunts the growth of the head and can severely impair intellectual development — is making steady progress. Every morning he greets the couple, calling them "Mommy" and "Daddy," and is now able to toddle around the apartment and count to 10.
Lu and Tao have also found that it hasn't taken long for them to build a rapport with the children of their simulated household. "Now I know that when Shan Shan wants water, he makes an 'Ahh' sound," Lu says of their 10-year-old "son," who has Down syndrome. "And when he eats something he likes, he gives me a thumbs-up."
This is the kind of progress that the Suzhou institute hopes all parents will achieve with their "offspring." But the reality remains that the simulated parents are not contractually obligated to serve as parents beyond a year, and as the institution's past record demonstrates, not all parents even make it through the full 12 months. If a couple wants to terminate their contract early, the institution has little choice but to allow it, since reluctant parents are deemed harmful to the well-being of the children.
Tan Heping, associate professor of special education at East China Normal University, is concerned that children will experience psychological harm if their hired parents are changed too frequently. Given the children's mental and physical vulnerability, Tan believes that parents should stay with the children for at least five years. Otherwise, he tells Sixth Tone, "their sense of security and belonging, which do not come easily, will be easily damaged again."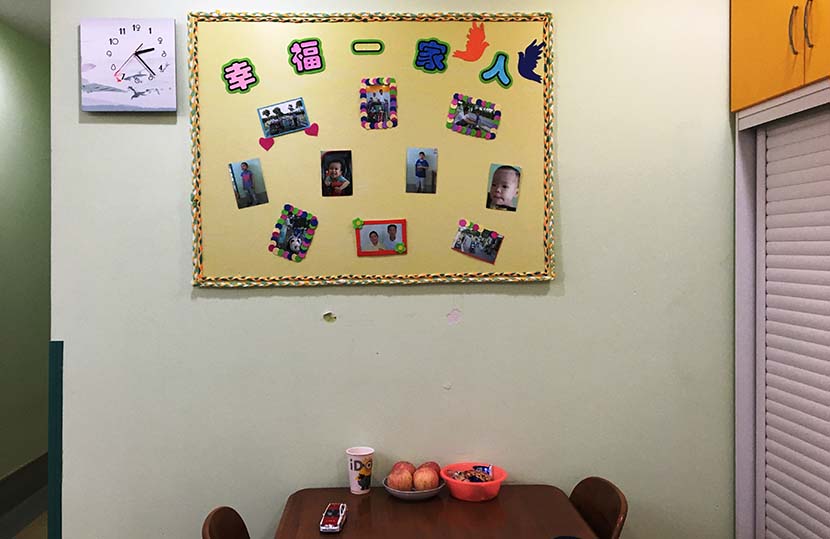 Photos of the 'simulated family' on a bulletin board at Lu Qinqin's apartment in Suzhou, Jiangsu province, Oct. 31, 2016. The Chinese characters read: 'A happy family.' Fan Yiying/Sixth Tone
While she acknowledges the pain that such separation may cause the children, Chen views it all as part of the experience of growing up and insists that the initiative's overall impact on the children is positive. "We believe that the benefit of having some years of a normal household is greater than all else," she says. "It's better than no household at all."
Yet the Suzhou institute has decided that the family experience is not for everybody. Suggesting that communication is integral to building the emotional bridges between parent and child that the institution strives for, Chen says that only children with the ability to communicate are selected, "otherwise there's no difference to caring for them in a large group." Children who have no communicative faculties are destined to remain in groups of up to 20 children, supervised by two to three caretakers.
Back at Apartment 304, new "parents" Lu and Tao remain hopeful that they can do their part for the children in their care and hope to stay on long past their probation period, which ends in mid-November. Tao admits that when he first moved to the institute, he only considered it a job. But after just three months, it appears he has built the emotional connections with his four children that the institution desires for every parent: "I don't think I could live without them."
(Header image: Jia Lina/VCG)