Among the millions of visitors to Shanghai's recently opened Disney Resort were a couple of flower thieves apparently so enamored with the park's grandeur that they decided to take a small part of it home with them.
The city's Pudong New District police posted on their Weibo microblog on Thursday that they had arrested a middle-aged married couple under suspicion of stealing flowers from Disney property. Hu Zhanjun, a police officer stationed in the area, told Sixth Tone's sister publication The Paper that the two allegedly cut down 2,500 yellow coneflowers under cover of night.
The male suspect, identified only by his surname, Qian, told police that he and his wife, surnamed Li, had been in the seedling business for many years and had planned to sell the coneflowers in another city. Qian told police he and his wife thought they had only been cutting the leaves and did not know that they were breaking the law. He did not explain why they had opted to work after dark.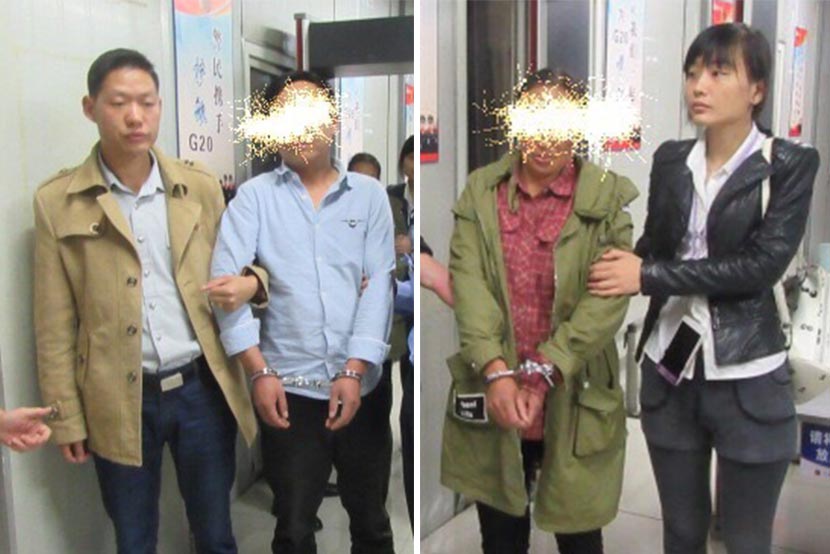 Combined photos of Qian and Li after being arrested police, November 2016. From the official Weibo account of the Pudong police department
Shen Qing, a representative for the tourist zone's police department, told Sixth Tone that the case happened in a remote area of the resort. Although guard patrols keep watch over the property during the night, they focus on the areas with more human traffic, such as the subway station. "We have some loopholes when it comes to inspecting the whole resort," Shen said, adding that it is challenging to keep around-the-clock tabs on such a large area.
Qian and his wife aren't the only ones trying to clandestinely cash in on Disney's flower arrangements. Since September, the police have arrested over 10 suspects for stealing flowers in the resort zone. Police say the value of all the stolen flora totals to around 300,000 yuan ($44,000).
Horticulture professor Ma Nan of China Agricultural University told Sixth Tone that the yellow coneflowers were an odd choice for the thieves, given their poor rate of survival once they have been taken out of the ground or detached from a nutrition source. In addition, Ma said, they are rarely used in flower arrangements.
Kang Jun, a criminal lawyer at Yingke Law Firm in Beijing, told Sixth Tone that for the theft of objects valued at more than 5,000 yuan, suspects can expect to face criminal punishment.
Since the Shanghai Disney Resort opened five months ago, the park has never strayed far from headlines, with concerns over steep ticket prices and outrage over tourists behaving badly.
According to a report from the Shanghai Municipal Statistics Bureau in October, the Disney park has resulted in a 50 percent growth in citywide entertainment revenue since opening its doors in June. During the five-month span, it has welcomed over 4 million visitors.
(Header image: A security guard stands in front of a patch of flowers at Shanghai Disney Resort, May 21, 2016. Yang Shenlai/Sixth Tone)