Like many of China's rising middle class, Shanghai mother Zhou Xiaoyu sees private education for her child as a necessary investment. To send her 8-year-old daughter to one of the city's elite bilingual schools, the family spends nearly 200,000 yuan (about $29,400) a year — monthly, the tuition amounts to almost double the average salary in the city.
But when the Standing Committee of the National People's Congress passed a new education law on Monday prohibiting private schools from profiting off of Chinese students' tuition during the nine years of "compulsory education," there was little celebration from parents like Zhou.
The compulsory education system is free for local students in grades one through nine, supported by central government funding, but around 10,700 private schools enrolling some 12 million students in these grades have sprung up outside of the system to educate those who can afford it, according to Ministry of Education figures. Officials say the new law, which will take effect on Sept. 1, 2017, is aimed at pushing back against prohibitively expensive fees in a private education sector valued at 800 billion yuan.
However, private school tuition costs may be just a small piece of the puzzle.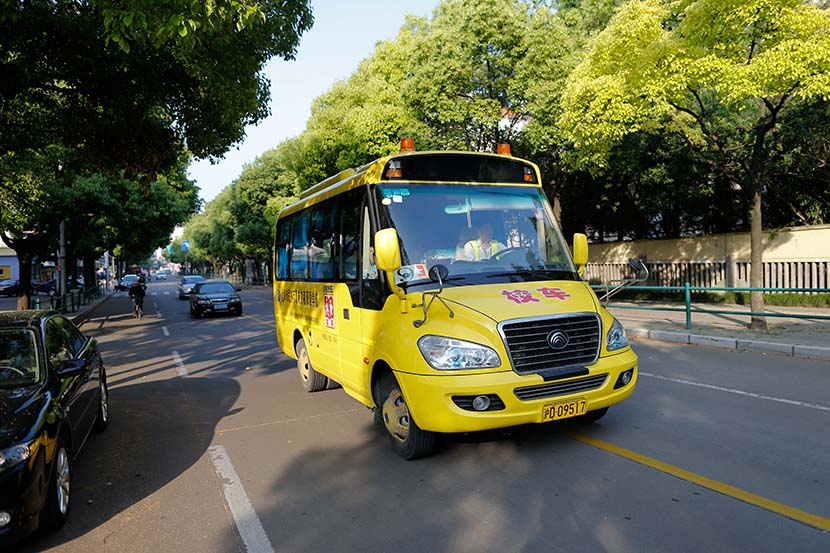 A school bus drives down a street in Shanghai, May 13, 2013. Liu Xingzhe/Sixth Tone
Zhou told Sixth Tone that her daughter's private school is the most affordable option for quality education in a city where entry into reputable public schools comes at the expense of skyrocketing property costs. Students are eligible for public school enrollment based on home address, and a xuequfang, or apartment in a favorable school district, is a coveted commodity.
"Xuequfang fetch around 100,000 yuan per square meter," said Zhou, "and given the uncertain future for xuequfang policies, we know there are huge risks in investing millions of yuan into such a property."
This is to say nothing of migrant families without a city hukou, or household registration document, which limits them to the often less-developed public school systems in their hometowns. Furthermore, though highly competitive in admissions, private schools are an all-inclusive deal that save parents the time and expense of organizing after-school activities and tutoring — all of which affects a student's performance on the fate-deciding gaokao, or college entrance exam.
"In public schools, parents have to send their children to various extracurricular classes during weekends," said Zhou. "These classes are costly as well, and both the children and their parents have literally no weekends off. That's hard to imagine."
In the wake of the new legislation, Ministry of Education officials quieted parental fears that all pricey private schools would be forced to shut down, clarifying that schools can be considered nonprofit regardless of tuition costs, as long as they put profits back into the school. In fact, officials said that none of the existing private elementary and junior high schools covered by the law are considered for-profit, according to a report by state news agency Xinhua.
This means the law is also unlikely to bring down the cost of private education, say school representatives; on the contrary, tuition will continue to rise alongside the cost of living in China's urban hubs like Shanghai, Beijing, and Shenzhen. In Shanghai, private providers like Xiehe Education Group have run campuses across the city for over two decades, while newcomers like Nord Anglia Chinese International School (NACIS) just opened this year.
Shanghai HD Bilingual School is also among the new openings in the city and is affiliated with British private school Hurtwood House, with another campus in Ningbo. The Shanghai school charges an annual tuition of 150,000 yuan for primary students.
Gao Yang, a marketing representative at Shanghai HD Bilingual School, told Sixth Tone that the school is already registered as a private nonprofit institution, so the new rules won't affect them much. "The tuition fees we charge comply with relevant standards," Gao said.
An informal conversation with the school admissions office confirmed that the ban will not reduce what families already pay; rather, an employee said tuition fees were likely to climb in the future to match rising commodity prices and incomes. Annual tuition fees don't cover additional expenses like meals, transportation, and uniforms, the employee explained, adding that the school must also bear the significant costs of campus property rental and maintenance.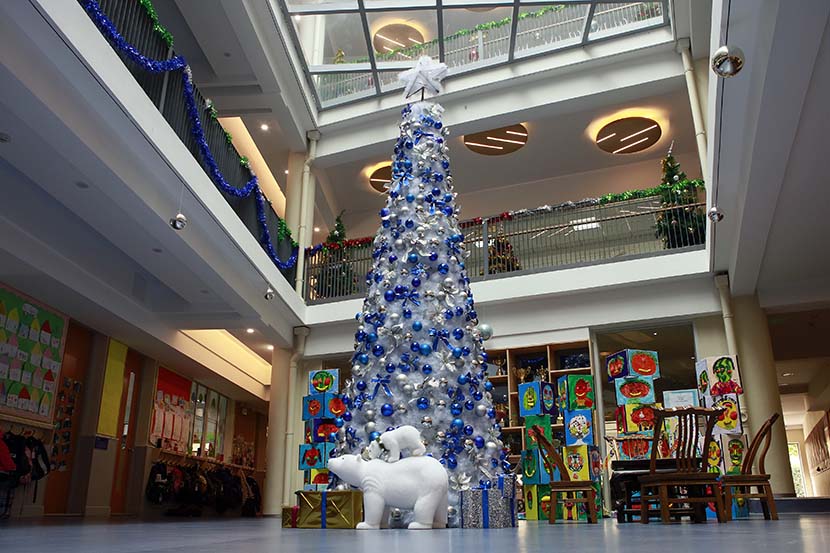 Holiday decorations at Shanghai United International School, Dec. 1, 2015. Yong Kai/Sixth Tone
The new private school law — an amendment to 2002 legislation — coincides with recent moves by authorities to tighten control over the domestic education sector. Last month, the Shanghai Municipal Education Commission called for stricter adherence to government restrictions on foreign curricula in international schools with Chinese students.
There were a total of 162,700 licensed private schools for all ages in the country as of 2015, according to the Ministry of Education, with an increase of 24 percent from 2011. While the law may have little effect on existing schools, it signals a return to the roots of the compulsory education philosophy and could slow the wild growth of the private education industry, say education experts.
"The ban aims to maintain the 'public welfare' nature of compulsory education," Yang Dongping, president of nonprofit think tank 21st Century Education Research Institute, told Sixth Tone. "Compulsory education is free for every child. If [the education] becomes expensive, it goes against its purpose."
Liu Haifeng, director of Xiamen University's Institute of Education, agrees, adding that the law could impact future investment in the private education sector. "For those who want to profit from running primary and middle schools, it will definitely affect them," Liu told Sixth Tone. "Without profit, some might keep running [such schools], but others might no longer have much motivation."
Demand is unlikely to drop anytime soon, considering the growing number of local families who can afford to pay more for better education for their children, said Wang Haifeng, father to a 5-year-old son. Wang decided three years ago to put his son into the public education system. He paid 2.8 million yuan for a xuequfang — an old 33-square-meter apartment in Pudong — so his son can attend a quality public institution when he reaches primary school age.
Wang doesn't believe the new law will bring down tuition costs for private education, since "schools have their ways to convince the authorities that they're not making any money without lowering the tuition fees," he told Sixth Tone. "Above all, I have seldom heard local parents complain about the pricey private education services," he added. "On the contrary, I've only heard more discussions about how to get their children into these schools."
Additional reporting by Li You.
(Header image: Parents and their kids enter Shanghai Pinghe Bilingual School for admissions interviews, May 7, 2016. Yang Shenlai/Sixth Tone)