From the point of view of senior U.S. army staff, the future looks grim. As U.S. relations with former Cold War opponent Russia keep plummeting over the Ukrainian and Syrian conflicts and tensions with China over the South China Sea are rising, war is now "almost guaranteed," U.S. Army Chief of Staff Gen. Mark Milley said last week during the Army's annual meeting in Washington.
Engaging in cyber-warfare is one challenge the army will have to meet, but it must also prepare to operate without the help of satellites, on which communications and precision navigation are based, Milley said.
Taking out even a small number of enemy satellites would likely render military communications impossible, which would put any military at an immense strategic disadvantage. This means that a future war on Earth will likely be fought in outer space as well, said Theresa Hitchens, a senior research scholar at the University of Maryland's Center for International and Security Studies.
"The world's major powers seem to believe that there can be a major war in space, and that's new," she told Sixth Tone, adding that she believes we are currently at a tipping point.
"Things could go either way," said Hitchens, who used to work at the nonprofit Center for Defense Information in Washington.
While any attack against a satellite network would harm a country's ability to communicate, it would also be a serious blow to every single resident, preventing people from watching the Super Bowl or the FIFA World Cup, making cellphone calls, or using the internet. Even bank ATMs could stop working.
The exact outcome, Hitchens said, can't be predicted. "It's very frightening, and it ought to be — we all should be frightened," she said.
Although experts believe that any armed conflict between the world's superpowers would turn space into a battleground, the world's orbits also hold an untapped opportunity to help prevent conflict between the U.S. and China. Scientists and astronauts could be used for track-two diplomacy, a strategy that has worked before.
"Space was a communications passway between the U.S. and Russia," Hitchens said. "It's a classic route of creating trust between two nations where there isn't any."
Hitchens and other experts — like Frank Rose, an assistant secretary at the U.S. State Department — have argued for better cooperation in outer space, pointing to the diplomatic benefits.
Alexey Leonov (left), commander of the Soyuz spacecraft's Soviet crew, and Thomas Stafford, commander of the Apollo's American crew, shake hands in space somewhere over West Germany after completing Apollo-Soyuz docking maneuvers, July 17, 1975. VCG
"Let both sides seek to invoke the wonders of science instead of its terrors. Together, let us explore the stars," John F. Kennedy said of U.S.-USSR relations during his inaugural speech in 1961. While proxy wars between the two superpowers raged, space diplomacy slowly blossomed, beginning with modest cooperation, such as the exchange of weather data. After USSR-supported North Vietnam defeated the U.S.-backed South in 1975, the two superpowers launched the Apollo-Soyuz Test Project, their first joint space flight.
Leroy Chiao, who spent most of his career working as an astronaut for NASA, became one of the first Americans ever to visit Russia's space program. He was skeptical, he told Sixth Tone. "All throughout my childhood, I grew up thinking of the Soviet Union as this big threat, and that we had to protect ourselves from their missiles, although their technology was bad," he said.
But once he met his Russian counterparts, he saw that their technology wasn't necessarily worse, just different, and that Russians were "nice people and good people.... The partnership has helped in very real ways, and in political ways because it spills over into other parts of your relationship if you are linked together in this one big project," he said.
After he retired from NASA, Chiao started working as a quasi-diplomat, and in 2006 became the first American to visit China's astronaut research and training center — albeit never in an official capacity. Chiao believes that the same could work for the U.S. and China today, more than 35 years after the two nations' relations officially normalized.
"We don't want to give them [China] the opportunity to take advantage of our technology, and we have nothing to gain from dealing with them," said Frank Wolf, who oversaw the U.S. space agency as chairman of a House of Representatives committee that oversees several science agencies.
In 2011, Wolf introduced a federal spending bill that prohibits NASA from pursuing a "policy, program, order, or contract of any kind to participate, collaborate, or coordinate bilaterally in any way with China or any Chinese-owned company." In effect, the law renders any partnership between NASA and China impossible.
When the Endeavour space shuttle launched from Kennedy Space Center the same year the bill was passed, Chinese journalists were barred from attending — although Chinese scientists had built key parts of the shuttle. Under the law, NASA employees are barred from even placing phone calls to their counterparts in China.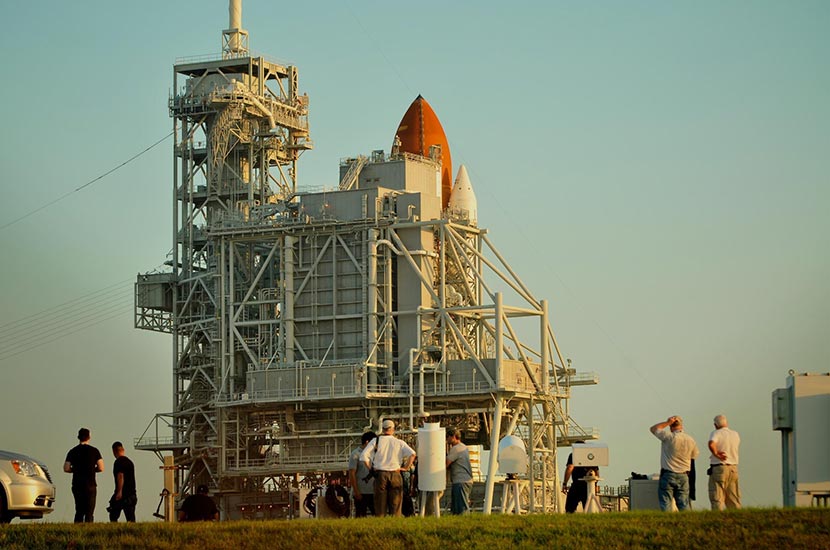 Photographers and observers place their cameras at the base of the space shuttle Endeavour in preparation for the following day's launch at the John F. Kennedy Space Center in Cape Canaveral, Florida, U.S., April 28, 2011. Roberto Gonzalez/GettyNorthAmerica/VCG
The International Space Station, built by the U.S., Russia, the European Union, Japan, and Canada, has never welcomed a Chinese astronaut due to a veto by the U.S. Funding for the International Space Station has so far only been extended until 2024, at which point the largest-ever man-made structure in space could be taken offline. China wants to fill that impending void.
Last week, China launched a 30-day manned mission to its Tiangong 2 space station, the country's longest human space mission to date.
Tiangong 2 is a precursor to a more permanently manned space station expected to be operational by 2022. In June, China invited scientists and astronauts from other countries to its future space station and proposed that manned missions be conducted under the umbrella of the United Nations, and not China.
Cooperation with the U.S., they said, is also welcome.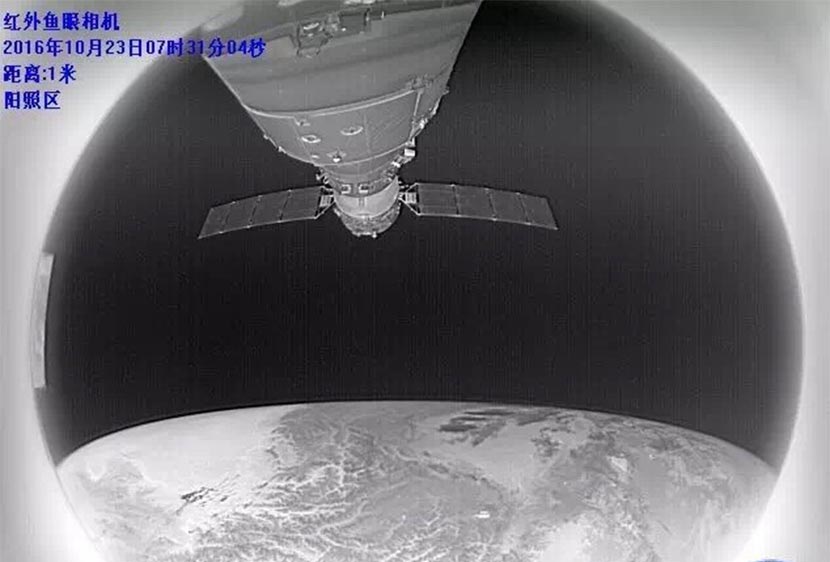 An infrared photo of China's Tiangong 2 space station taken with a camera on board, Oct. 23, 2016. @tiangongerhao from Weibo
"I think [working together] would be very good. Scientists are good diplomats," Wang Feiyue told Sixth Tone at a forum last month. In the '90s, Wang worked with NASA on an intelligent robot that could be used for space exploration — a collaboration that would not be possible today.
"China is eager to collaborate, but nothing has come through from the U.S. side because of the 2011 spending bill," said Ji Wu, director-general of China's National Space Science Center, in an interview with Nature two years ago. The center declined Sixth Tone's request for comment.
Meanwhile, the European Space Agency (ESA) is already cooperating with China on astronaut training, scientific experiments that could be conducted on China's future space station, and questions of space station infrastructure, such as electricity, said Karl Bergquist, an administrator for the ESA's international relations department in charge of developing partnerships with China.
"It's been a very enriching process for ESA and also, I suppose, for the Chinese side because we can learn from each other," Bergquist told Sixth Tone.
Other countries could serve as examples of how vital collaboration in space can be to overall relations, Zhao Yun, a professor who has researched space relations at the University of Hong Kong, told Sixth Tone.
Chinese astronauts Jing Haipeng (left) and Chen Dong wave at a camera in the Tiangong 2 space station, October 2016. @tiangongerhao from Weibo
China and Brazil, for example, agreed to cooperate on a joint satellite program in the '80s, after Brazil emerged from the rule of a military junta. Several joint satellites launched since have pushed the bilateral relationship "to a new level, strengthened mutual trust, and enlarged the scale, fields, and depth of the two countries' cooperation," Zhao said. Earlier this month, China and Brazil agreed on a $20 billion fund for industry and infrastructure projects in Brazil.
Over the past few years, NASA Administrator Charles Bolden has paid several unofficial, low-key visits to China. In May, Bolden said that collaboration between NASA and Russia represented a great use of soft power. "I think we will get there [with China]. And I think it is necessary," he told reporters.
China should work harder to break down barriers to cooperation and more effectively promote its manned space missions, said Wu Xiaodan, an expert on space security at the Central University of Finance and Economics in Beijing. But at the same time, she believes that collaboration is becoming inevitable, as space missions — such as a future manned mission to Mars, or the ESA-proposed Moon village — grow ever more complicated and expensive.
Once cooperation is established, Wu hopes that it will "reduce misunderstanding and enhance transparency.... Scientists will also impact the domestic government."
But right now, the 2011 bill introduced by Wolf, who has since retired, remains the main obstacle to Chinese and American astronauts working together and possibly helping their two nations establish more mutual trust. "The fact is, space diplomacy works," Chiao said. "But we have to convince our own politicians of this first."
With contributions from Li You and Yin Yijun.