A television program in Xian, the largest city in northwestern China, put high-ranking city officials on the hot seat last Saturday night when it broadcast video footage of chengguan, or city management officials, behaving badly.
The producers of "Moment of Government Inquiry" showed the chengguan ­— who are tasked with maintaining order on China's streets — neglecting their duties and abusing their power, newspaper Chinese Business View reported Saturday.
One clip showed footage of officials playing on their phones during work hours, and captured a city management official taking merchandise from a street-side vendor without paying. The vendor told the cameraman: "They're chengguan — you can't ask for money from them."
Unfortunately for the chengguan featured in the video clips, their bosses had been invited to review the footage in front of a live audience of 300 people.
Sixteen district chengguan chiefs and municipal government officials took the stage, in front of an audience in part composed of their peers from various levels of government, to observe the unscrupulous chengguan at work on a program broadcast live on state-owned Xian local TV, as well as via radio, the internet, and an app.
Chengguan have a bad reputation in China because their work occasionally results in violent clashes with street vendors who sell their wares without the required permits.
After each video clip, the audience was asked to cast their votes on whether they were satisfied with the officers' behavior, and in a final vote 60 percent said they were dissatisfied overall.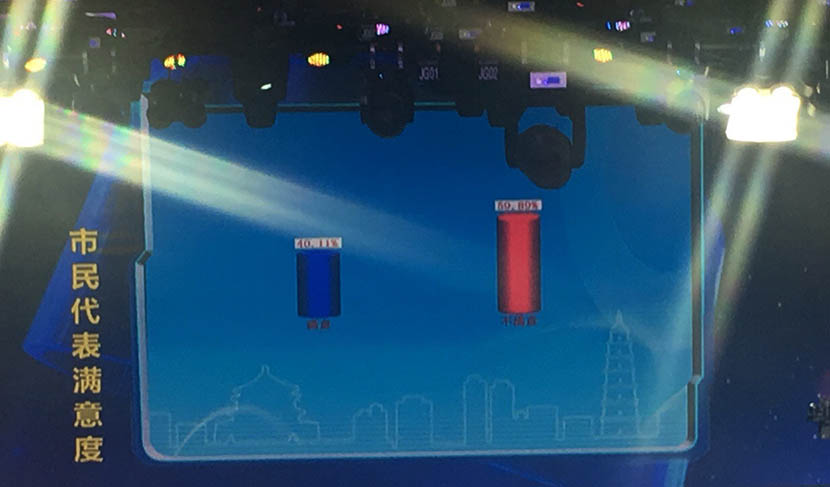 A graph shows that nearly 60 percent of the 'Moment of Government Inquiry' audience said they were dissatisfied after watching video clips of city management officials behaving badly in Xian, Shaanxi province, Oct. 8, 2016. @xianwang from Weibo
At the end of the show Yan Shi, the head of city management for Xian, said that although he and the other officials had mentally prepared for a rough evening, the video clips showed they had truly been falling short in their work. He said they would work through the night to draw up plans to improve their performance.
Yan was then presented with a gift chosen by city residents through an online vote: a symbolic magnifying glass.
Saturday's broadcast was the fourth episode of "Moment of Government Inquiry." The program first aired in April, and previous episodes have featured officials from the city's housing management department and food and drug administration, as well as officials in charge of the area surrounding the city's train station.
Reactions to the show online were mostly positive. "This event is very good, and should be extended to all cities," wrote one commenter. In a poll on the show's website, almost a third of respondents said they would like to see the city's education department appear on the show next.
Correction: A previous version of this article said the first episode of "Moment of Government Inquiry" aired in May. It aired in April.
(Header image: City management officials sit facing the audience for questions during an episode of the TV show 'Moment of Government Inquiry' in Xian, Shaanxi province, Oct. 8, 2016. @xianwang from Weibo)