Skyrocketing housing prices have Chinese buying increasingly tiny living spaces. Nine apartments in Shenzhen, in southern China's Guangdong province, measuring around 6 square meters each were all sold in a single morning, Guangzhou Daily reported Sunday.
Each tiny home is equipped with a bed that folds into the closet to make the most of the limited space available. And the new homeowners will receive an extra 6 square meters free of charge in the form of a kitchen-cum-bathroom setup. The homes sold for an average price of 150,000 yuan ($22,500) per square meter.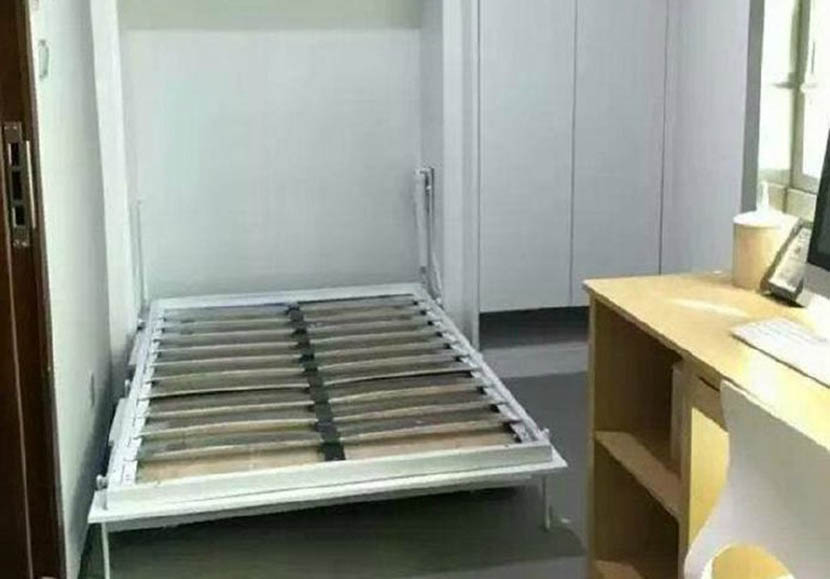 The bed can be folded into a closet during the day to maximize living space. @xinhuawang from Weibo
The apartment building, located in Shenzhen's Nanshan District, was refurbished from a hotel built in 2004. The "pigeon cage" apartments, as they have been referred to by media, range in size from 5.73 to 7.48 square meters.
The municipal land management committee said in a statement posted to its Weibo microblog on Sunday afternoon that it is investigating the case. According to national regulations residential apartments should not be smaller than 22 square meters.
Guangzhou Daily suggested that the apartments might not be affected because the building is a remodeled hotel built in 2004. But Yan Yuejin, director of the Shanghai E-House Real Estate Research Center, told Sixth Tone that the property developer had changed the building's zoning designation, which could be against regulations.
A computer desk in the approximately 6-square-meter apartment. @xinhuawang from Weibo
Yan said he suspected the property developer of pulling a publicity stunt. "They have captured the pain point of the market," he said, referring to the difficulties of buying an apartment in the country's sprawling megalopolises.
In March, Shanghai announced its farthest-reaching restrictions yet on home purchases to control soaring property prices. Under the new rules, home buyers need to put down between 50 to 70 percent of the price of a second home, compared to 40 percent previously. It also raised requirements for non-local residents buying homes in the city.
Many of China's largest cities have implemented restrictive house-buying policies to cool markets used by many as investment sinks for their savings. Last Monday, Hangzhou, capital of eastern China's Zhejiang province, suspended selling houses to families who already own one or more homes. So-called second-tier cities like Nanjing, Wuhan, Xiamen, and Suzhou have recently taken similar measures.
According to a survey conducted by China's central bank and published earlier this month in party newspaper People's Daily, a small majority of respondents believe that current home prices are "high and hard to accept." But the number of people who said they planned to buy a house within the next three months has nevertheless increased.
Statistics show that the average price of new apartments in Shanghai increased 13.6 percent between July and August. In August the rising prices led to long lines at divorce counters in Shanghai, with still-committed couples hoping they could avoid rumored restrictions that would make it more difficult for them to purchase a second home as husband and wife.
In Shenzhen, housing prices increased just 1.3 percent over the same time frame, but Yan predicts that they will steadily climb up until at least the end of the year, and probably beyond. "The turnover might decrease next year, but prices won't fall," he said.
Additional reporting by Wang Lianzhang.
Correction: Housing prices in Shanghai increased 13.6 percent between July and August, not 11 percent.
(Header image: The toilet is conveniently tucked away in a small corner of the kitchen. @xinhuawang from Weibo)